67RIEFNS No. 63: Thunder's young guns
1

Comment
The NBA is full of talent, personality and suspense. During the offseason, It's easy to forget how wonderful the league can be. So, I've assembled 67 Reasons I'm Excited For Next Season (67RIEFNS). They'll be presented in no particular order.
The Thunder have won playoff series in 2011, 2012, 2013 and 2014 – a noteworthy feat, to be sure. But they're hardly alone.
Since the NBA adopted its current eight-team-per-conference playoff format, 52 teams have won a postseason series four consecutive years .
What sets Oklahoma apart is the number of first-round picks accumulated during this span. While most contending teams are drafting low, where finding quality prospects is more difficult, and/or trading picks for immediate help, the Thunder are going the opposite direction.
Here are the number of first rounders each of the 52 teams have acquired – either by drafting them directly or through trade prior to the season – during their four-year run of playoff success: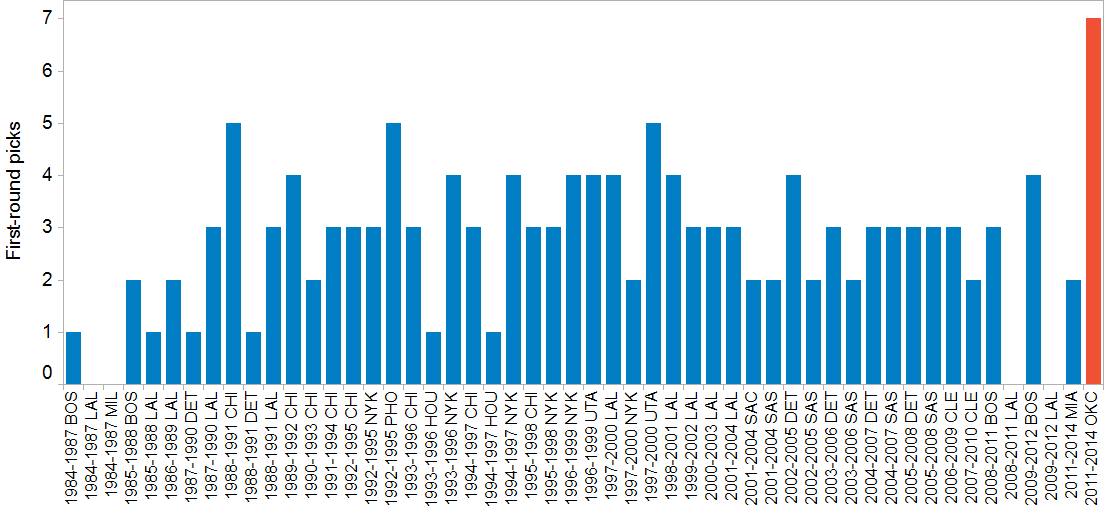 In the last four years, the Thunder have drafted or acquired before their debut:
2014: No. 21 Mitch McGary, No. 29 Josh Huestis
2013: No. 12 Steven Adams, No. 26 Andre Roberson
2012: No. 12 Jeremy Lamb, No. 28 Perry Jones
2011: No. 24 Reggie Jackson
Oklahoma City still has the rights to all seven, though Huestis is in the D-League.
Now, more than ever with Kevin Durant injured, the Thunder need these young players to step up.
Adams, Jones and Roberson will start to begin the season.
Adams supplanting Kendrick Perkins is a big deal. The younger center is frankly the better player now, and the Thunder will be better of in the long run once they develop chemistry with Adams.
Roberson can be a tough defender in the Thabo Sefolosha mold, though if Oklahoma needs more scoring, Reggie Jackson – injured to begin the season – could supplant him next to Russell Westbrook in the backcourt.
It would be easier to start Jackson if the Thunder can rely on Lamb to lead the second unit. Lamb is a streaky scorer who must either become more reliable in that department or develop a better all-around game, especially defensively.
Jones is likely just a place-holder in the starting lineup until Durant returns, but maybe major minutes will help his confidence. His athleticism and raw talent are eye-opening, but that's been the case for a few years now.
If Perkins, one of the NBA's most ineffective players last year, is headed down the depth chart, maybe McGary can pass him, too. Though McGary is just a rookie, there's a chance he's already better than the aging Perkins.
There's a lot to like in this group, which was bolstered by the James Harden trade. That deal sent Lamb and the draft pick that became Adams to the Thunder. Not only has Oklahoma City drafted well with its own picks late, few contenders add lottery picks in consecutive years.
But not many contenders trade a player the caliber of Harden, either.
The Thunder have chosen their path, and it's netted them an intriguing mix of young talent. Now, they must maximize it.
The NBA is full of talent, personality and suspense. During the offseason, It's easy to forget how wonderful the league can be. So, I've assembled 67 Reasons I'm Excited For Next Season (67RIEFNS). They'll be presented in no particular order.
Josh Huestis and the Thunder conspired for Oklahoma City to draft the small forward No. 29 and for him to sign in the D-League rather than the NBA this season.
The unprecedented move drew plenty of attention, most of it focused on whether such an arrangement was legal and how the players' union responded. (Quick summary from my point of view: I can't even imagine how it was done legally, and the union is misreading the situation.)
But that's all done now. The NBA hasn't sanctioned the Thunder, and the union isn't protesting the move.
Now, we're left with the under-asked questions about just how well this will work for Oklahoma City.
For Huestis, pegged as a mid-to-late second rounder, it's a victory as long as the Thunder sign him next offseason. Though they could always back out – part of the reason I'm interested in monitoring this – I'd be shocked if they did. They just made good on a similar arrangement with 2013 second rounder Grant Jerrett, and he was injured.
But did the Thunder really come out ahead by drafting Huestis?
Presumably, they wouldn't have picked him had he not agreed to sign in the D-League this season. If they gave him a first-round grade – differing from essentially other known draft rating – this is all moot. I don't think this all moot, though.
The Thunder are essentially betting they can do more with Huestis in five years – one year in the D-League plus a four-year rookie-scale contract – than they could have with their top-rated available prospect in four years. Oklahoma City has a good record of player development, but this would really stretch it. Having a D-League team in the same city could help, though it does only so much.
I think the Thunder would have been better off drafting a better player – say Kyle Anderson, whom the Spurs drafted No. 30 – and paying him how most first-round picks get paid. They'd still be below the tax line, though with less flexibility for a mid-season acquisition.
But most importantly, they'd have a more promising rookie.
If the Thunder are going to come out ahead on Huestis, that starts with developing him this season. Will he be better in five years than Anderson is in four? That's the important question for Oklahoma City now.
It was a Blue day.
In the silliest of sequiturs, the Thunder named their D-League team the Oklahoma City Blue and the Wizards signed Vander Blue.
I like one of those moves much more than the other.
Let's start with the bad.
The Thunder were cursed the moment they decided not to nickname their D-League team the Lightning. Thunder and Lightning! Maybe it was too perfect.
As an alternative, Blue is fine, though uninspiring. Here's the Thunder's crack at getting you excited about it, though:
"Blue is one of our primary Thunder colors, but it has become more than just a color for us. It has come to represent the passion, loyalty and unity of our fans and our community in their support for our team. Our players wear it proudly on their uniforms, our fans sport Thunder blue shirts, Thunder blue flags fly across Oklahoma and our statewide Blue Alliance fan groups show their connection to our team and what it stands for," said Brian Byrnes, Thunder senior vice president of Sales and Marketing.

"It is only fitting that our development team, which is such an integral part of our organization, be called the Blue to represent the cohesion it has with the Thunder. We think this new name accurately reflects the enhanced unity between the two teams, which are now geographically and philosophically aligned in Oklahoma City and focused on development."
The logo is also pretty bland and harmless:
https://twitter.com/okcthunder/status/514823394701758464
The Rockets are using the D-League for daring experiments, and the Thunder are trotting out this.  At least Josh Huestis will make the Blue interesting.
On the flip side, via Shams Charania of RealGM:
https://twitter.com/ShamsCharania/status/514794042581069824
Blue is a nice addition to the shooting-guard competition that also includes Rasual Butler and Xavier Silas. All three are vying for a spot on the regular-season roster and maybe even the role as Bradley Beal's primary backup.
After leaving Marquette early, Blue went undrafted in 2013. He played for eight teams on three continents last season, which led to this fantastic anecdote while he was in the D-League:
The Stampede's bus finally pulls into a budget hotel on the outskirts of Dallas, and Blue checks into a room he has been assigned to share with a teammate. They are both hungry, so Blue volunteers to order a pizza. He calls to place the order and gives the clerk his credit card number.

"Sorry," the clerk says. "That card was denied."

"Again?" Blue says. The credit card company had blocked his account for suspicious activity at least half a dozen times in the past year; his moves are so incessant that the company often believes his card has been stolen. He had been declined when trying to buy dinner for a date at an Applebee's in Delaware. He had been declined again while buying shoes at a mall in Israel.

"Hello," he says, when a representative from the credit card company finally answers. "You all blocked my card again."
Blue's journey including an NBA stop, playing 15 minutes for the Celtics. He can get to the basket and has the athleticism to defend well, but he must improve his jumper.
He won't necessarily beat out Butler or Silas, but he definitely increases the Wizards' chances of finding a suitable backup shooting guard in training camp.
The Bucks finished an NBA-worst 15-67 last season.
Being bad stinks, but it's a lot worse when you're trying to be good. That's why Milwaukee's season was much more problematic than that of the 76ers, who went a similar 19-63.
But the Bucks realized the hole they're in, so now they're truly rebuilding. And owner Marc Lasry thinks they're doing a good job.
Is Lasry right? Do the Bucks really have the best collection of players under age 23?
Here's how I rate the NBA's top dozen teams by the collective value of their under-23 players:
12. Thunder
Jeremy Lamb
Steven Adams
Perry Jones
Andre Roberson
Mitch McGary
Josh Huestis
Grant Jerrett
Semaj Christon
This is a deep group of players who could become long-term NBA starters, but Adams is the only one I think gets there. Still, there's a lot of talent between McGary, Lamb and even Jones. And maybe Roberson, who has a knack for doing the little things, ends up better than all three.
11. Raptors
Jonas Valanciunas
Lucas Nogueira
Bruno Caboclo
DeAndre Daniels
Valanciunas is on track to become an All-Star, but there's no guarantee he gets there and he's the only under-23 Raptor of significant value. It's not ideal to put all your eggs in one basket.
10. Hornets
Bismack Biyombo
Michael Kidd-Gilchrist
Cody Zeller
Noah Vonleh
P.J. Hairston
This list includes multiple players – Vonleh, Kidd-Gilchrist and Biyombo – I know I'm higher on than most. So, I struggled to rank Charlotte, and I'm not sure whether I overcompensated or undercompensated for my personal preferences. Zeller really looked more comfortable late last season, and between him and Vonleh, I think the Bobcats have a strong future at power forward.
9. Jazz
Enes Kanter
Trey Burke
Rudy Gobert
Dante Exum
Rodney Hood
Burke and Exum could each become one of the NBA's better guards, though it's unclear whether they can reach that level together. Kanter hasn't panned out as hoped, though it's soon to close the book on him. Gobert, as Zach Lowe of Grantland detailed, has intriguing upside, though he didn't play much last season. Essentially, it's easy to find reasons for optimism, but just as easy to find reasons for pessimism.
8. Wizards
It might not be long until Beal is the NBA's best shooting guard, and though I don't think he ever hits that level, he's still very good. Porter had a rough rookie year, but I'm not giving up him yet.
7. Magic
Tobias Harris
Maurice Harkless
Victor Oladipo
Evan Fournier
Aaron Gordon
Elfrid Payton
Roy Devyn Marble
Outside of Oladipo, I'm not that high on any of these players – and I'm not even totally, absolutely, 100 percent sold on Oladipo. But it's a deep collection of young talent, and I bet at least one other player emerges as quality.
6. Timberwolves
Shabazz Muhammad
Anthony Bennett
Andrew Wiggins
Zach LaVine
Glenn Robinson III
Wiggins has incredible potential. He went No. 1 in a loaded draft, after all. LaVine has tremendous upside, but he's extremely raw. Maybe Bennett, who was awful last season, capitalizes on his impressive summer and turns around his career.
5. Bucks
Brandon Knight
Giannis Antetokounmpo
Jabari Parker
Damien Inglis
Johnny O'Bryant III
Lasry's Bucks didn't quite make it to the top spot. There's a major disconnect between Antetokounmpo current production (not great) and potential (great), and I want to see more from him before I'm convinced he'll bridge that gap. I would have taken Parker No. 1 in the draft, though I essentially viewed him and Wiggins as a tossup. Knight made major strides next year, and I'm interested to see whether he continues progressing as he settles into a larger role.
4. Pistons
Andre Drummond
Kentavious Caldwell-Pope
Tony Mitchell
Spencer Dinwiddie
Drummond is a singular force individually lifting Detroit so high on this list. Underrated for what he already does, Drummond has potential to become the NBA's top center – and it's not a far climb. Caldwell-Pope, who could be a nice 3&D threat next to Drummond, boosts the Pistons, too.
3. Cavaliers
Kyrie Irving
Dion Waiters
Joe Harris
Alex Kirk
Irving is already a two-time All-Star, a true offensive game-changer. I think his defense could come around to at least competent now that Cleveland is ready to win. I'm not big on Waiters, but he has talent, and the Cavaliers are here due to Irving anyway.
2. 76ers
Michael Carter-Williams
Tony Wroten
Nerlens Noel
Joel Embiid
Dario Saric
K.J. McDaniels
Jerami Grant
Pierre Jackson
Adonis Thomas
Carter-Williams just won Rookie of the Year, and he's a good athlete with great size for his position. Noel, for my money, was the best prospect in the 2013 draft ignoring his injury. We'll soon see how much that affected him long-term. Embiid would have gone No. 1 in this draft if healthy. And Saric has impressed in the World Cup. The 76ers might be years away, but I like where they're going.
1. Pelicans
Anthony Davis
Austin Rivers
Patric Young
Davis is just that good. He could be the NBA's third-best player as soon as this season, so if you can get him, you do. Worry about depth or hedging bets later. Davis is the real deal.