As James Harden – the NBA's most-infamous foul-drawer – stepped to the line in the first quarter, he had a quick back-and-forth with a San Antonio fan.
Fan: "No one wants to see a free-throw shooting contest."
Harden: "Nobody wants to see fouls either, goddammit."
Neither got what they wanted. Harden shot 24 free throws in the Spurs' 135-133 double-overtime win over the Rockets last night. Remarkably, Harden made all 24 attempts.
That broke Dominique Wilkins' record for free throws without a miss in a game (23-for-23 in 1992). Dirk Nowitzki also shot 24-for-24 from the stripe in Game 1 of the 2011 Western Conference finals, but playoff games don't count for these records.
Here are the most free throws made without a miss in a game in NBA history: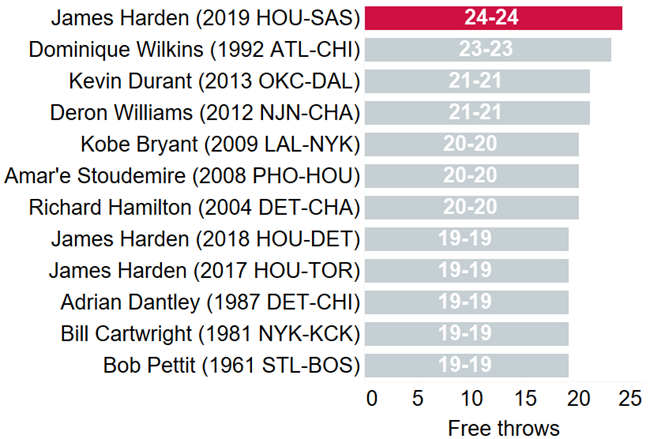 However, if the Rockets get their way, this record won't stand. Houston could protest the game after officials didn't count a Harden dunk that went through the net in the middle of the fourth quarter. Harden made nine free throws after that play, including seven in overtime.
The Rockets have talked about the NBA simply reversing the result and giving them a win. That seems far-fetched. More likely (though not necessarily likely), the league will uphold a protest and have the teams replay the final 7:50 of the fourth quarter. That'd wipe away all stats from that point in last night's version of the game.
Would Harden still draw and make nine free throws during a replayed 7:50? Extremely doubtful. But if anyone can, it's him.