The big question about P.J. Washington in the draft: Was his outside shooting sustainable?
Washington made 42% of his 3-pointers as a Kentucky sophomore. But that came on just 78 attempts. He shot just 24% from beyond the arc as a freshman (on only 21 attempts). His free-throw percentage – often a good indicator of shooting ability – was an underwhelming 61% and 66%.
The early returns: A resounding yes.
Washington scored 27 points on 7-of-11 3-point shooting in the Hornets' 126-125 season-opening win over the Bulls on Wednesday.
Washington's 27 points were the most in a season debut since Gordan Giricek scored 29 for the Grizzlies in 2002. Some all-time great players – including LeBron James, Dwyane Wade and Kevin Durant – have entered the NBA since. None scored so much in their debut.
Here's everyone in NBA history who scored more than 25 points in their first game: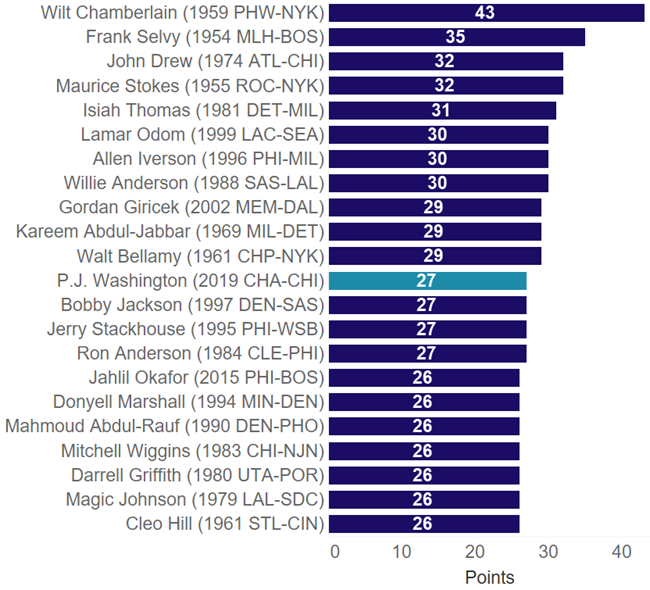 Washington's seven 3-pointers broke the all-time record for a career debut. The previous record was five by Jake Layman (2016 Trail Blazers) and Donyell Marshall (1994 Timberwolves)
Here's everyone to make more than three 3-pointers in his first game:
Washington's hot shooting was only one aspect of a thrilling game. Bulls forward Lauri Markkanen had 35 points and 17 rebounds. Charlotte used a late 15-1 run for the comeback win.
But Washington, the No. 12 pick, stole the show and made an early argument in a Rookie of the Year race that suddenly looks far more open with Zion Williamson sidelined.