If Lonzo Ball is going to have a breakout season in New Orleans — and there are plenty of front office people around the league who think it's a possibility — two things have to happen:
He has to stay healthy (he's missed a combined 65 games the past two seasons).
And he has to become a better shooter. Take a look at his shot chart from last season (which is a dramatic improvement over his rookie season).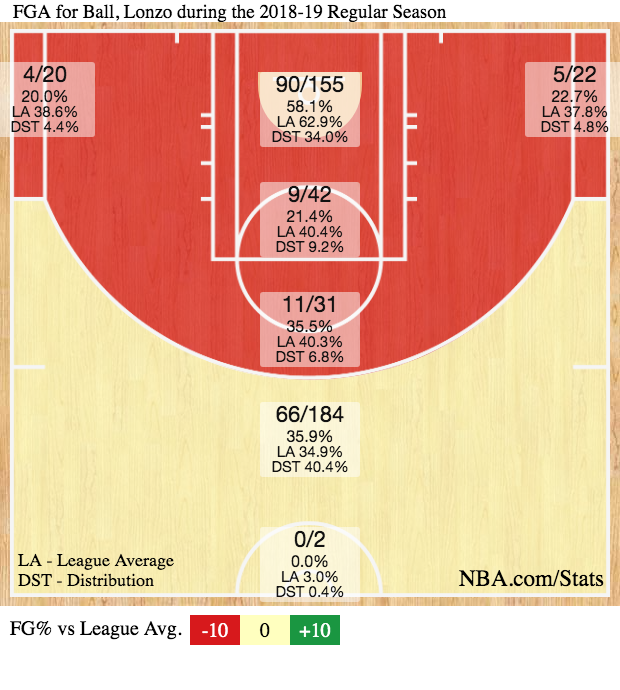 He's scoring better if he gets all the way to the rim or has time to set his feet on a three, but he has to be more of a scoring threat — develop a floater, hit the corner threes and midrangers he gets — to get defenses to really respect him. Right now, the book is still to let him shoot rather than pass and create.
Looks like Ball has been working on his shooting form.
Video of NBA players knocking down unhurried, uncontested jumpers in an open gym are worth less than your "Jon Snow will sit on the Iron Throne" Reddit posts. Utterly meaningless.
Ball's form does look better in this video, but until we see it in live action — what happens on a contested pull-up jumper in transition? — it's just speculation on everyone's part. He needs to do it when it matters.
That said, the trade gave Ball a clean slate and Alvin Gentry's up-tempo style should suit him. Ball could have a breakout year as a Pelican, especially if his jumper is falling. We just need to see it in a game now.