How will the Lakers handle huge expectations with LeBron James, Anthony Davis and a giant Los Angeles market? How will the Warriors, without Kevin Durant and with D'Angelo Russell, mesh? How will Russell Westbrook and James Harden coexist on the Rockets?
The NBA is clearly banking on those storylines to draw viewers.
The Lakers (30), Warriors (30) and Rockets (26) have the most major nationally televised games scheduled for next season. I count ABC, ESPN and TNT (not NBA TV).
Here's how every team stacks up: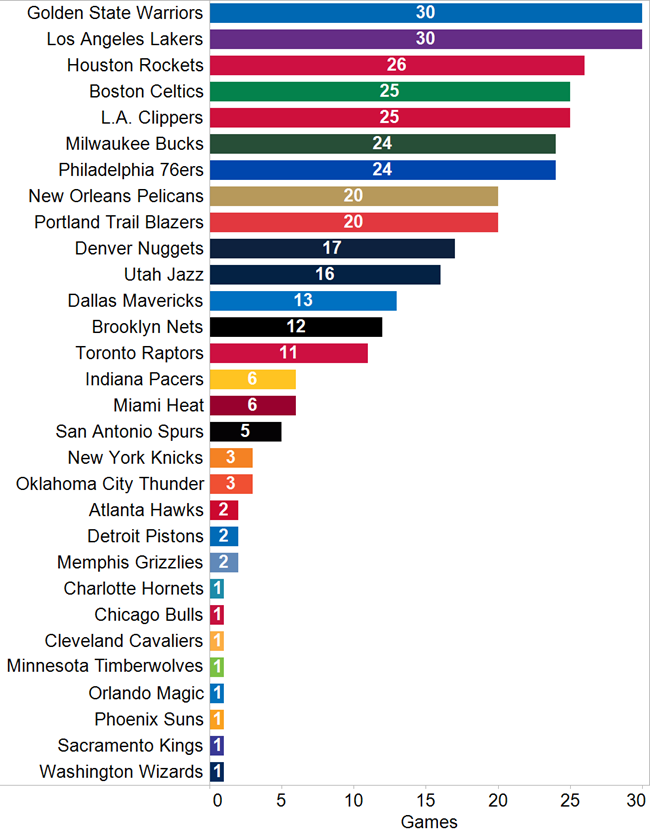 The TV schedule can be flexed. So, these aren't final.
Observations on the current plan:
I thought the Clippers (25) would get more. Maybe the NBA is concerned about aggressive load management with Kawhi Leonard and maybe even Paul George. This reduces opportunities for that fight to come to the forefront.
That's a lot of faith in the Celtics (25). They just lost Kyrie Irving and Al Horford. Kemba Walker will help at point guard, but it's a bigger drop to Enes Kanter at center.
The Pelicans (20) are suddenly a draw with Zion Williamson.
It's surprising the Knicks got just three nationally televised games. That's close to what they deserve, but I thought the New York market would count for more.
The Kings are so fun. They don't belong with the rest of the one-national-TV-game group.