TORONTO – About six years ago, Pascal Siakam received a basketball scholarship to New Mexico State.
His brother laughed at him.
"I said, 'You? Basketball?," said James Siakam, who played at Vanderbilt. "I don't believe it.'"
Thursday, Siakam scored 32 points to lead the Raptors over the Warriors in Game 1 of the NBA Finals.
That's a long way from his own family doubting his ability to secure a scholarship from a mid-major team.
"At that time I didn't even know if I really dreamed of being at this level," Siakam said. "I couldn't even think about this moment because it wasn't reachable for me."
Thursday night, when he starred in the Finals opener, might have been the first time casual fans heard of him. This season, when he became overwhelming favorite to win Most Improved Player, might have been the first time moderately enthusiastic fans heard of him. Draft night 2016, when the Raptors surprisingly picked him in the first round, might have been the first time even hardcore fans heard of him.
But Siakam isn't an overnight success. He has been plugging away for years, putting in work to rise from his native Cameroon to prep school in Texas to New Mexico State to Toronto.
He has been doing it with a heavy heart since 2014, when his father – who urged him to take basketball seriously – died in a car crash.
What would he think of how far Siakam has come?
"It's a question that I ask myself every single day," Siakam said. "I know I wish I had the answer. I know people always usually tell me, 'I know he's proud of you.' I kind of want to hear it from his mouth."
Siakam continues to provide reasons to be proud.
His 32 points  are the most in a player's first NBA Finals game since Kevin Durant scored 36 in 2012.
But Durant had already established himself as a superstar by then. Siakam hasn't even been an All-Star.
This was Siakam's breakout game.
Among players without an All-Star or all-league selection under their belt, nobody has ever scored more points in his first Finals game. Jason Terry also scored 32 for the 2006 Mavericks.
Here are the highest-scoring first NBA Finals games by players who weren't yet All-Stars or all-leaguers: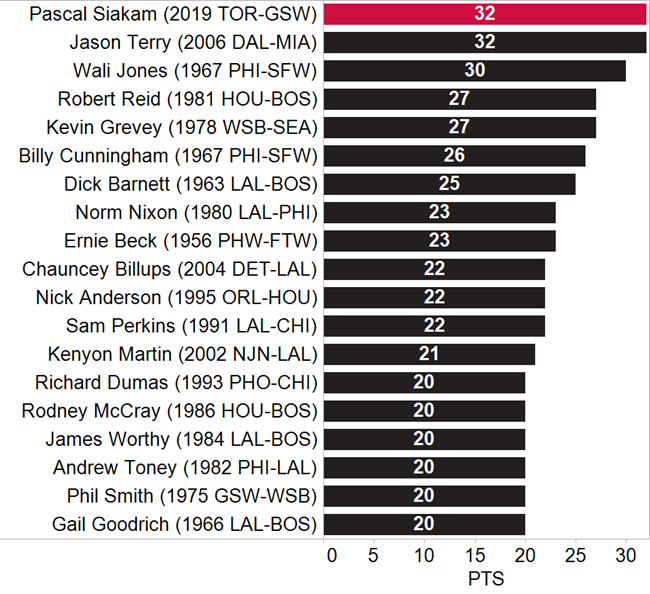 Siakam played an efficient and excellent all-around game, shooting 14-for-17 and adding eight rebounds, five assists, two blocks and a steal. He was everywhere – often leaving the Warriors in his dust in transition.
Siakam scored nine fastbreak points. For perspective, LeBron James led the league with 5.3 fastbreak points per game in the regular season.
"His motor is pretty much nonstop," Stephen Curry said. "So even if you feel like you're in transition, you're running shoulder to shoulder with him, he has another gear he can get to."
Siakam even repeatedly attacked Draymond Green, an elite defender.
"I got to take him out of the series and that's on me," Green said.
Then, Green exited the interview room, looked to his left and saw Siakam coming in. Green went right toward the exit.
The Warriors aren't backing down. But Siakam's incredible Finals debut signals a new challenge for this Golden State dynasty.