Mohamed Bamba posted the longest wingspan ever in the NBA draft combine.
His record stood only one year.
Central Florida center Tacko Fall now owns the top combine's top all-time marks for height with shoes (7-foot-7), wingspan (8-foot-2.25), standing reach (10-foot-2.5) and hand length (10.5 inches).
The tallest players in NBA history are Gheorghe Muresan and Manute Bol, who were both 7-foot-7. So, Fall could match them.
If he plays in the NBA.
Whether Fall even gets drafted looks like a tossup. He's an excellent shot-blocker, and he scores well around the basket. He's even mobile for his size. But mobile for his size doesn't mean mobile, and the modern NBA shreds anchored bigs. Fall's free-throw shooting is also a major weakness.
Boban Marjanovic's occasional dominance could provide a road map and cause a team to pick Fall in the second round. Fall is a project. He's also also is already 23, though he didn't start playing basketball until 16.
Here are the players with the largest measurements in the NBA's database, which dates back to 2000:
Height with shoes:
Wingspan:
Standing reach: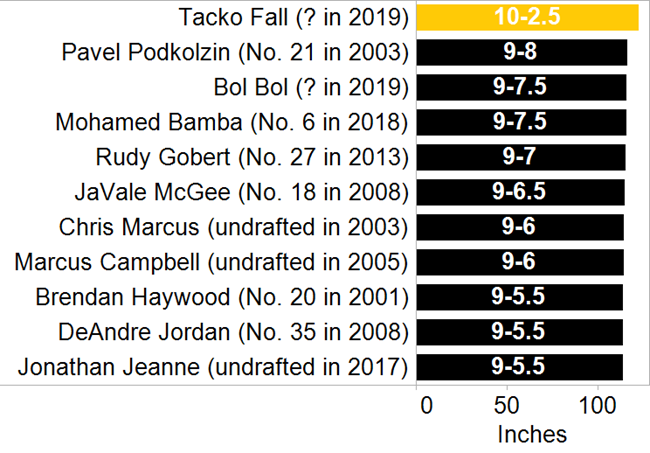 Hand length: