When the Spurs drafted him out of France in 2001, Tony Parker was still a novelty. Gregg Popovich summarized the concern: "Everybody knows you don't get point guards from Europe, because they're generally not quick enough and they don't have a grasp of the NBA game."
Now, Parker is one of the standard-bearers for having a grasp of the NBA game. He became the starting point guard on a playoff team as a teenage rookie, and he has sustained his success nearly two decades.
That's part of the reason the Hornets signed him last summer. Unfortunately for Parker, that move will also end his playoff streak.
After reaching the postseason all 17 of his seasons with San Antonio, Parker will fall short with Charlotte, which was eliminated from the playoff race yesterday.
Only Karl Malone and John Stockton (19 seasons each) have longer postseason streaks. Parker is tied with Jason Kidd at 17.
Here are the longest playoff streaks of all-time: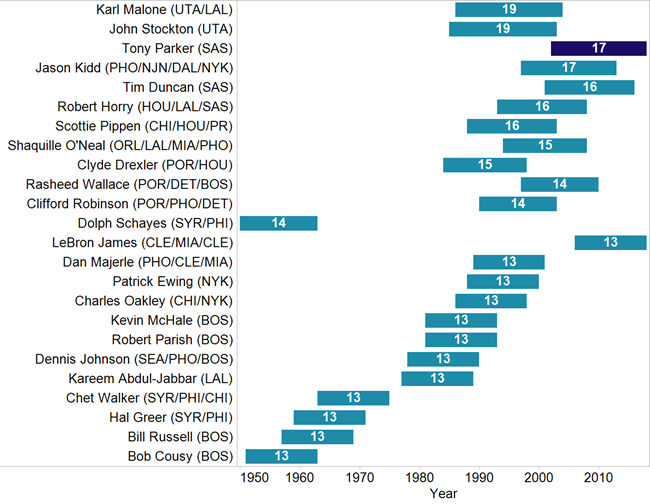 With LeBron James' Lakers also missing the playoffs and ending his 13-year postseason streak, Parker's exclusion puts 76ers guard J.J. Redick in line to take over the longest active playoff streak. Redick has played in the last 12 postseasons.
Here are the longest active playoff streaks among players on teams headed to the 2019 postseason. Players are listed with the teams they made the postseason with during their streaks. If they haven't reached the playoffs in their stint with their current team, that team is listed in brackets: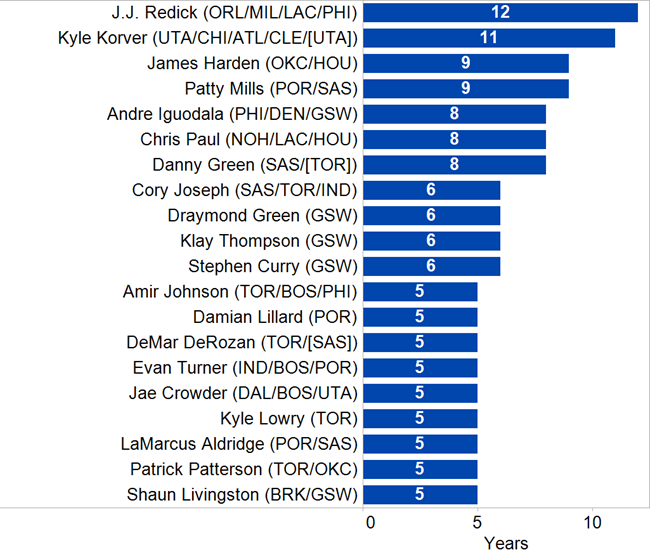 Correction: Patty Mills was added to the above graphic.
Meanwhile, the Spurs are still humming.