During the entire 2012-13 season, three players scored 50 points in a game.
By the end of last October, four players – Blake Griffin, Stephen Curry, Klay Thompson and Derrick Rose – already had 50-point games this season.
James Harden has since scored 50 six times. Kemba Walker, LeBron James, Kevin Durant, LaMarcus Aldridge, Damian Lillard also dropped 50 in a game.
Giannis Antetokounmpo's 52-pointer yesterday made him the 11th different player to score 50 points in a game this season – a record. Ten players scored 50 in a game each of the last two seasons.
This is definitely a record geared toward modern times. Scoring is up. There have never been more games (30 teams playing 82-game schedules). Those conditions give individuals a chance to shine.
And so many of them have taken advantage with a big scoring night, at least once.
Harden is the only player with multiple 50-point games this season, so this year won't come close to the record for total 50 point games. The 16 this season are fourth-most all-time – behind 1961-62 (57), 1962-63 (34) and 2006-07 (18). Wilt Chamberlain alone had 45 in 1961-62 and 30 in 1962-63. Kobe Bryant had 10 in 2006-07.
But in terms of variety of 50-point games, this season is unmatched.
Here are how many different players had a 50-point game each season, followed by a list of them all: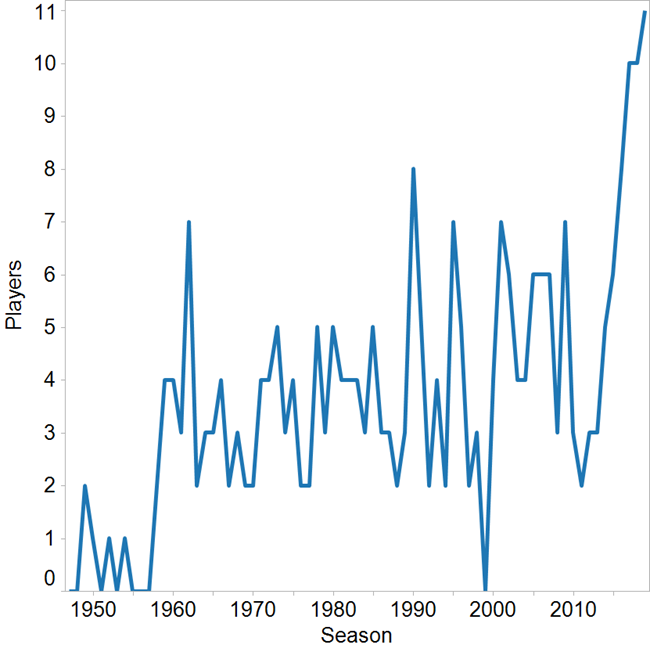 2018-19: 11
James Harden (HOU), 6
LaMarcus Aldridge (SAS), 1
Giannis Antetokounmpo (MIL), 1
Damian Lillard (POR), 1
Derrick Rose (MIN), 1
Klay Thompson (GSW), 1
Stephen Curry (GSW), 1
Blake Griffin (DET), 1
Kevin Durant (GSW), 1
LeBron James (LAL), 1
Kemba Walker (CHA), 1
2017-18: 10
James Harden (HOU), 4
C.J. McCollum (POR), 1
Lou Williams (LAC), 1
DeMar DeRozan (TOR), 1
Anthony Davis (NOP), 1
Kevin Durant (GSW), 1
Damian Lillard (POR), 1
Karl-Anthony Towns (MIN), 1
LeBron James (CLE), 1
Bradley Beal (WAS), 1
2016-17: 10
Russell Westbrook (OKC), 4
James Harden (HOU), 2
Jimmy Butler (CHI), 1
Devin Booker (PHO), 1
Damian Lillard (POR), 1
Anthony Davis (NOP), 1
Isaiah Thomas (BOS), 1
DeMarcus Cousins (SAC), 1
John Wall (WAS), 1
Klay Thompson (GSW), 1
2015-16: 8
Stephen Curry (GSW), 3
Damian Lillard (POR), 2
DeMarcus Cousins (SAC), 1
Kemba Walker (CHA), 1
Jimmy Butler (CHI), 1
Anthony Davis (NOP), 1
Kobe Bryant (LAL), 1
James Harden (HOU), 1
2014-15: 6
Kyrie Irving (CLE), 2
James Harden (HOU), 2
Klay Thompson (GSW), 1
Mo Williams (MIN), 1
Stephen Curry (GSW), 1
Russell Westbrook (OKC), 1
2013-14: 5
Kevin Durant (OKC), 2
Terrence Ross (TOR), 1
Carmelo Anthony (NYK), 1
LeBron James (MIA), 1
Corey Brewer (MIN), 1
2012-13: 3
Kevin Durant (OKC), 1
Stephen Curry (GSW), 1
Carmelo Anthony (NYK), 1
2011-12: 3
Kevin Durant (OKC), 1
Kevin Love (MIN), 1
Deron Williams (NJN), 1
2010-11: 2
Carmelo Anthony (DEN), 1
LeBron James (MIA), 1
2009-10: 3
Andre Miller (POR), 1
Carmelo Anthony (DEN), 1
Brandon Jennings (MIL), 1
2008-09: 7
Dwyane Wade (MIA), 3
LeBron James (CLE), 3
Kobe Bryant (LAL), 1
Kevin Martin (SAC), 1
Tony Parker (SAS), 1
Jamal Crawford (GSW), 1
Brandon Roy (POR), 1
2007-08: 3
LeBron James (CLE), 2
Kobe Bryant (LAL), 2
Allen Iverson (DEN), 1
2006-07: 6
Kobe Bryant (LAL), 10
Gilbert Arenas (WAS), 3
Michael Redd (MIL), 2
Jamal Crawford (NYK), 1
Ray Allen (SEA), 1
Richard Hamilton (DET), 1
2005-06: 6
Kobe Bryant (LAL), 6
LeBron James (CLE), 2
Paul Pierce (BOS), 1
Dirk Nowitzki (DAL), 1
Vince Carter (NJN), 1
Allen Iverson (PHI), 1
2004-05: 6
Allen Iverson (PHI), 3
Damon Stoudamire (POR), 1
Jermaine O'Neal (IND), 1
Amar'e Stoudemire (PHO), 1
LeBron James (CLE), 1
Dirk Nowitzki (DAL), 1
2003-04: 4
Tracy McGrady (ORL), 2
Jamal Crawford (CHI), 1
Rashard Lewis (SEA), 1
Allen Iverson (PHI), 1
2002-03: 4
Kobe Bryant (LAL), 3
Allan Houston (NYK), 2
Jamal Mashburn (NOH), 1
Tracy McGrady (ORL), 1
2001-02: 6
Allen Iverson (PHI), 1
Kobe Bryant (LAL), 1
Tracy McGrady (ORL), 1
Shareef Abdur-Rahim (ATL), 1
Michael Jordan (WAS), 1
Tim Duncan (SAS), 1
2000-01: 7
Allen Iverson (PHI), 2
Antawn Jamison (GSW), 2
Chris Webber (SAC), 1
Tony Delk (PHO), 1
Stephon Marbury (NJN), 1
Jerry Stackhouse (DET), 1
Kobe Bryant (LAL), 1
1999-00: 4
Clifford Robinson (PHO), 1
Vince Carter (TOR), 1
Allen Iverson (PHI), 1
Shaquille O'Neal (LAL), 1
1997-98: 3
Tracy Murray (WAS), 1
Karl Malone (UTA), 1
Shaquille O'Neal (LAL), 1
1996-97: 2
Michael Jordan (CHI), 2
Allen Iverson (PHI), 1
1995-96: 5
Hakeem Olajuwon (HOU), 1
Alonzo Mourning (MIA), 1
Michael Jordan (CHI), 1
Karl Malone (UTA), 1
Mahmoud Abdul-Rauf (DEN), 1
1994-95: 7
Michael Jordan (CHI), 1
Dana Barros (PHI), 1
Glen Rice (MIA), 1
Jim Jackson (DAL), 1
Jamal Mashburn (DAL), 1
Cedric Ceballos (LAL), 1
Willie Burton (PHI), 1
1993-94: 2
David Robinson (SAS), 2
Shaquille O'Neal (ORL), 1
1992-93: 4
Michael Jordan (CHI), 4
David Robinson (SAS), 1
Nick Anderson (ORL), 1
Reggie Miller (IND), 1
1991-92: 2
Michael Jordan (CHI), 2
Dominique Wilkins (ATL), 1
1990-91: 5
Bernard King (WSB), 2
Vernon Maxwell (HOU), 1
Michael Adams (DEN), 1
Patrick Ewing (NYK), 1
Charles Smith (LAC), 1
1989-90: 8
Michael Jordan (CHI), 3
Karl Malone (UTA), 2
Tom Chambers (PHO), 2
Terry Cummings (SAS), 1
Patrick Ewing (NYK), 1
Hakeem Olajuwon (HOU), 1
Larry Bird (BOS), 1
Dale Ellis (SEA), 1
1988-89: 3
Michael Jordan (CHI), 5
Clyde Drexler (POR), 1
Alex English (DEN), 1
1987-88: 2
Michael Jordan (CHI), 4
Dominique Wilkins (ATL), 2
1986-87: 3
Michael Jordan (CHI), 8
Dominique Wilkins (ATL), 3
Moses Malone (WSB), 1
1985-86: 3
Larry Bird (BOS), 1
Dominique Wilkins (ATL), 1
Alex English (DEN), 1
1984-85: 5
Bernard King (NYK), 3
Larry Bird (BOS), 1
Kevin McHale (BOS), 1
Purvis Short (GSW), 1
Moses Malone (PHI), 1
1983-84: 3
Bernard King (NYK), 2
Kiki Vandeweghe (DEN), 2
Purvis Short (GSW), 1
1982-83: 4
Kelly Tripucka (DET), 1
Larry Bird (BOS), 1
Joe Barry Carroll (GSW), 1
Adrian Dantley (UTA), 1
1981-82: 4
Moses Malone (HOU), 1
George Gervin (SAS), 1
Ray Williams (NJN), 1
Adrian Dantley (UTA), 1
1980-81: 4
Adrian Dantley (UTA), 3
Bernard King (GSW), 1
Moses Malone (HOU), 1
Billy Knight (IND), 1
1979-80: 5
George Gervin (SAS), 2
Freeman Williams (SDC), 1
Larry Kenon (SAS), 1
Adrian Dantley (UTA), 1
Mike Newlin (NJN), 1
1978-79: 3
George Gervin (SAS), 1
Truck Robinson (NOJ), 1
John Drew (ATL), 1
1977-78: 5
Rick Barry (GSW), 2
Calvin Murphy (HOU), 1
George Gervin (SAS), 1
David Thompson (DEN), 1
John Williamson (NJN), 1
1976-77: 2
Pete Maravich (NOJ), 4
Phil Smith (GSW), 1
1975-76: 2
Bob McAdoo (BUF), 2
Phil Smith (GSW), 1
1974-75: 4
Kareem Abdul-Jabbar (MIL), 2
Rick Barry (GSW), 1
Gail Goodrich (LAL), 1
Bob McAdoo (BUF), 1
1973-74: 3
Rick Barry (GSW), 3
Bob McAdoo (BUF), 1
Fred Brown (SEA), 1
1972-73: 5
Tiny Archibald (KCO), 3
Geoff Petrie (POR), 2
Rick Barry (GSW), 1
Spencer Haywood (SEA), 1
Phil Chenier (BAL), 1
1971-72: 4
Kareem Abdul-Jabbar (MIL), 5
Pete Maravich (ATL), 2
Tiny Archibald (CIN), 1
Chet Walker (CHI), 1
1970-71: 4
Kareem Abdul-Jabbar (MIL), 2
Dave Bing (DET), 1
Walt Wesley (CLE), 1
Elvin Hayes (SDR), 1
1969-70: 2
Kareem Abdul-Jabbar (MIL), 1
Lou Hudson (ATL), 1
1968-69: 2
Wilt Chamberlain (LAL), 2
Elvin Hayes (SDR), 1
1967-68: 3
Wilt Chamberlain (PHI), 4
Earl Monroe (BAL), 1
Willis Reed (NYK), 1
1966-67: 2
Rick Barry (SFW), 6
Wilt Chamberlain (PHI), 1
1965-66: 4
Wilt Chamberlain (PHI), 5
Jerry West (LAL), 2
Sam Jones (BOS), 1
Rick Barry (SFW), 1
1964-65: 3
Wilt Chamberlain (SFW/PHI), 9
Oscar Robertson (CIN), 2
Jerry West (LAL), 1
1963-64: 3
Wilt Chamberlain (SFW), 9
Hal Greer (PHI), 1
Bob Pettit (STL), 1
1962-63: 2
Wilt Chamberlain (SFW), 30
Elgin Baylor (LAL), 4
1961-62: 7
Wilt Chamberlain (PHW), 45
Elgin Baylor (LAL), 5
Jerry West (LAL), 2
Richie Guerin (NYK), 2
Cliff Hagan (STL), 1
Rudy LaRusso (LAL), 1
Bob Pettit (STL), 1
1960-61: 3
Wilt Chamberlain (PHW), 8
Elgin Baylor (LAL), 5
Bob Pettit (STL), 1
1959-60: 4
Wilt Chamberlain (PHW), 5
Elgin Baylor (MNL), 2
Jack Twyman (CIN), 1
Richie Guerin (NYK), 1
1958-59: 4
Bob Pettit (STL), 2
Jack Twyman (CIN), 1
Elgin Baylor (MNL), 1
Dolph Schayes (SYR), 1
1957-58: 2
George Yardley (DET), 2
Bob Pettit (STL), 1
1953-54: 1
Neil Johnston (PHW), 1
1951-52: 1
George Mikan (MNL), 1
1949-50: 1
George Mikan (MNL), 1
1948-49: 2
George Mikan (MNL), 2
Joe Fulks (PHW), 1