Before a game last month against the Pacers – who beat the Bucks in December – Milwaukee superstar Giannis Antetokounmpo led the pregame huddle.
"We don't lose twice to the same team," Antetokounmpo declared.
The Bucks backed it up with a win over Indiana that night. Milwaukee hadn't lost multiple games to any team all season.
Until falling to the Suns last night.
The Suns!
Phoenix's 114-105 victory yesterday followed a 116-114 win in November. The Bucks' latest loss is understandable, the final game of a five-game road trip. And in the November game, Brook Lopez shot 0-for-12 on 3-pointers. Sometimes, these things just happen.
Still, of all teams to get swept by, Phoenix seemed highly unlikely. The Suns have been a mess from top to bottom. Milwaukee, on the other hand, has been the NBA's best team throughout the season.
The Bucks (48-16) have won 75% of their games. Phoenix has won just 22%.
By the 53-percentage-point difference in record, this is on pace to be the most unlikely season-series sweep in NBA history. The current record is the Bulls (21-61) winning both games over the Lakers (58-24) in the 2001-02 season. Those Lakers had a 45-percentage-point advantage in record over Chicago.
Here are the biggest record disparities of season-series sweeps against a better team (minimum: two games). The sweeping team's win percentage is on the left. The swept team's win percentage is on the right. The difference is in the middle: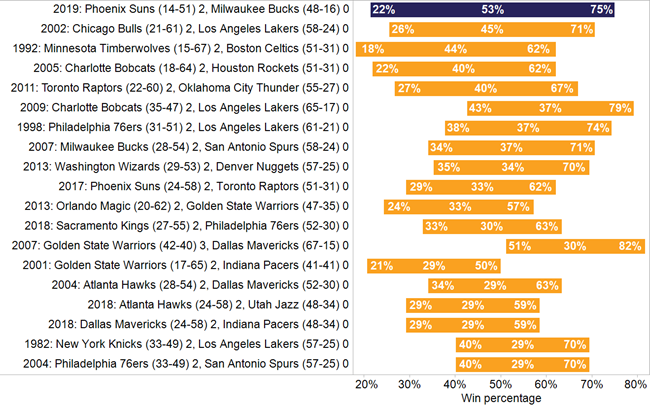 The only season series with more than two games to crack the leaderboard: The Warriors (42-40) winning all three games against the Mavericks (67-15) in 2006-07. Of course, No. 8 seed Golden State – "We Believe" – upset No. 1 seed Dallas in the playoffs that season.
Thankfully for the Bucks, they won't have to worry about facing Phoenix in the postseason.