On Feb. 24, 1962, the Celtics held Wilt Chamberlain to just 26 points, ending his streak of 30-point games at 65. The next day, he scored 67 to start a 31-game streak of 30-point games.
Chamberlain was on a different level. He also had 25- and 20-game streaks of 30-point games. His numbers just warp so many statistical achievements.
Otherwise, James Harden would get even more credit for his scoring binge. The Rockets star has scored 30 points in 19 straight games, the longest such non-Chamberlain streak of all-time.
Here are the longest 30-point-game streaks in NBA history: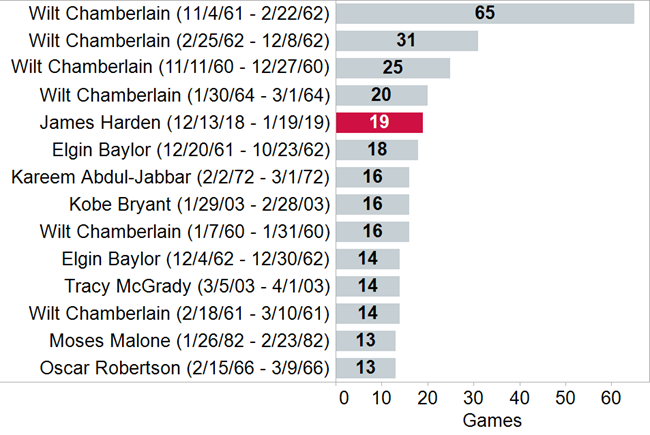 Harden will attempt to continue his run against the 76ers tonight.
He has been clearing a much higher bar lately. In his last three games, Harden has scored 57, 58 and 48 points.
So, maybe "just" 30 points will be easy. But definitely not as easy as Chamberlain made it look.