A matchup between the Warriors and Nuggets for first place in the Western Conference appeared to highlight yesterday's NBA schedule – at least if Golden State cared. Already having proven themselves as back-to-back defending champions, the Warriors have been disinterested in other hyped games.
In one way, we got our wish. Golden State cared. But too much to make the game interesting. The Warriors scored an NBA-record 51 first-quarter points and put Denver away early in a 31-point win.
Yet, that was only the fourth-most-lopsided game of the night.
The 76ers beat the Timberwolves by 42. The Bucks beat the Heat by 38. The Pacers beat the Suns by 34.
Yesterday's full slate:
76ers 149, Timberwolves 107
Bucks 124, Heat 86
Pacers 131, Suns 97
Warriors 142, Nuggets 111
Hawks 142, Thunder 126
Lakers 107, Bulls 100
With an average margin of 28.0 points per game, that was the most-lopsided day in NBA history (minimum: four games), breaking the previous record of 27.8 on Feb. 11, 1968 and demolishing the previous record for a day with more than four games of 23.8 on Feb. 21, 1994.
Here are the most-lopsided days in NBA history (more than three games):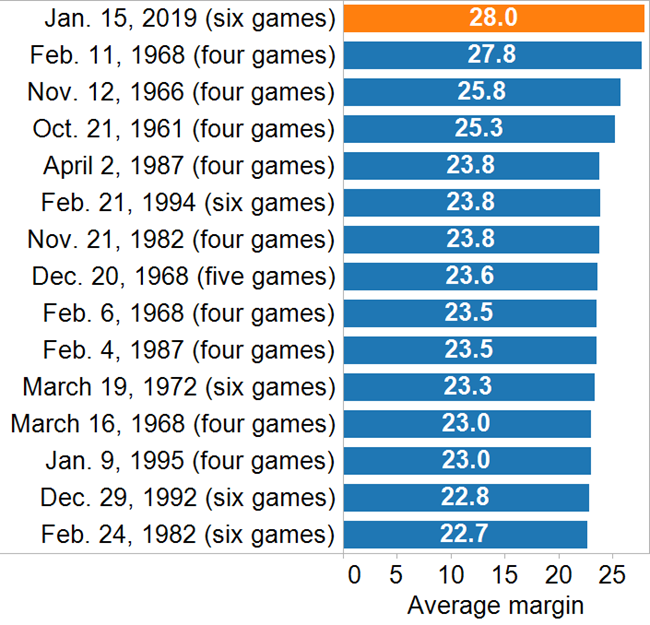 Jan. 15, 2019 (six games)
Philadelphia 76ers 149, Minnesota Timberwolves 107
Milwaukee Bucks 124, Miami Heat 86
Indiana Pacers 131, Phoenix Suns 97
Golden State Warriors 142, Denver Nuggets 111
Atlanta Hawks 142, Oklahoma City Thunder 126
Los Angeles Lakers 107, Chicago Bulls 100
Feb. 11, 1968 (four games)
Los Angeles Lakers 141, Boston Celtics 104
Seattle SuperSonics 146, San Francisco Warriors 118
Philadelphia 76ers 119, St. Louis Hawks 93
Baltimore Bullets 136, San Diego Rockets 116
Nov. 12, 1966 (four games)
Los Angeles Lakers 144, Detroit Pistons 88
St. Louis Hawks 115, Boston Celtics 92
Philadelphia 76ers 112, Cincinnati Royals 98
New York Knicks 134, Baltimore Bullets 124
Oct. 21, 1961 (four games)
Philadelphia Warriors 132, New York Knicks 95
Boston Celtics 137, Detroit Pistons 102
Syracuse Nationals 123, Chicago Packers 103
Cincinnati Royals 138, St. Louis Hawks 129
Feb. 21, 1994 (six games)
Miami Heat 128, Washington Bullets 98
Utah Jazz 119, Philadelphia 76ers 92
Phoenix Suns 112, Sacramento Kings 86
San Antonio Spurs 114, Minnesota Timberwolves 89
Chicago Bulls 118, Charlotte Hornets 93
Dallas Mavericks 98, Detroit Pistons 88
Nov. 21, 1982 (four games)
Portland Trail Blazers 129, Cleveland Cavaliers 79
New Jersey Nets 111, Seattle SuperSonics 91
Los Angeles Lakers 143, Denver Nuggets 129
Milwaukee Bucks 109, Indiana Pacers 98
April 2, 1987 (four games)
Detroit Pistons 119, Indiana Pacers 73
Denver Nuggets 132, Golden State Warriors 96
Sacramento Kings 125, Los Angeles Clippers 115
Los Angeles Lakers 117, Seattle SuperSonics 114
Dec. 20, 1968 (five games)
New York Knicks 135, Detroit Pistons 87
Los Angeles Lakers 133, San Francisco Warriors 101
Baltimore Bullets 125, Chicago Bulls 102
Milwaukee Bucks 100, Seattle SuperSonics 92
Philadelphia 76ers 116, San Diego Rockets 109
Feb. 6, 1968 (four games)
Los Angeles Lakers 146, Cincinnati Royals 102
Detroit Pistons 120, San Diego Rockets 93
New York Knicks 121, St. Louis Hawks 100
San Francisco Warriors 126, Chicago Bulls 124
Feb. 4, 1987 (four games)
Los Angeles Lakers 128, Sacramento Kings 92
Dallas Mavericks 124, Seattle SuperSonics 94
Philadelphia 76ers 121, New Jersey Nets 95
Boston Celtics 104, Cleveland Cavaliers 102
March 19, 1972 (six games)
Los Angeles Lakers 162, Golden State Warriors 99
Cincinnati Royals 136, Buffalo Braves 105
Philadelphia 76ers 115, Seattle SuperSonics 100
Baltimore Bullets 125, Boston Celtics 112
Atlanta Hawks 115, Cleveland Cavaliers 105
Chicago Bulls 115, Detroit Pistons 107
March 16, 1968 (four games)
Los Angeles Lakers 135, Detroit Pistons 108
Boston Celtics 136, Baltimore Bullets 111
Philadelphia 76ers 144, Chicago Bulls 122
St. Louis Hawks 124, Seattle SuperSonics 106
Jan. 9, 1995 (four games)
Portland Trail Blazers 129, Los Angeles Lakers 83
Phoenix Suns 119, Milwaukee Bucks 102
Utah Jazz 106, Dallas Mavericks 90
Boston Celtics 114, Washington Bullets 101
Dec. 29, 1992 (six games)
Sacramento Kings 139, Dallas Mavericks 81
Seattle SuperSonics 111, Boston Celtics 87
Golden State Warriors 132, Houston Rockets 112
Cleveland Cavaliers 114, Atlanta Hawks 96
Chicago Bulls 114, Charlotte Hornets 103
New York Knicks 97, Indiana Pacers 91
Feb. 24, 1982 (six games)
Boston Celtics 132, Utah Jazz 90
Phoenix Suns 131, Cleveland Cavaliers 97
Indiana Pacers 118, New York Knicks 87
Portland Trail Blazers 123, Kansas City Kings 111
Houston Rockets 120, Denver Nuggets 110
Milwaukee Bucks 113, New Jersey Nets 106