The Bucks are killing it.
The Knicks are… not.
This was fairly predictable. Milwaukee – led by Giannis Antetokounmpo – looked so good entering the season, the NBA gave the small market its first Christmas game since 1977. On the other hand, the Knicks were always projected to be quite dreary.
But the gap between the teams has been even larger than expected. The Bucks are outscoring opponents by a league-best 8.4 points per game. The Knicks are closer to meeting expectations, but there's always more wishful thinking for a team in a big market. Especially with Kristaps Porzingis still out due to injury, the Knicks are falling way short of those dreams, getting outscored by 7.3 points per game.
The result: One of the most-lopsided Christmas matchups in NBA history. The difference in Milwaukee's (+8.4) and New York's (-7.3) point difference per game – 15.7 – is the fifth-largest all-time entering a Christmas matchup and largest since 2008 (Cavaliers-Wizards).
Here are the largest point-difference-per-game spreads entering a Christmas matchup. The lower point difference per game is on the left, the higher on the right and the gap in the middle. Favorites winning the Christmas game are in green, underdogs in orange.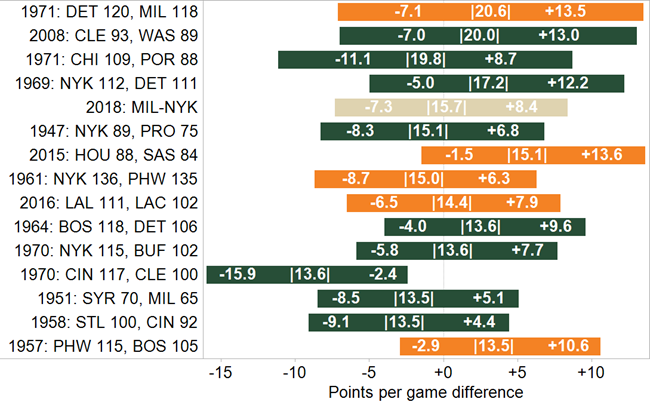 This obviously doesn't guarantee Milwaukee a win today. After all, the Bucks were favored in the most lopsided matchup in Christmas history, when they were outscoring opponents by 13.5 points per game entering a 1971 Christmas matchup with the Pistons, who were getting outscored by 7.1 points per game. Despite that 20.6-point-per-game-difference gap, Milwaukee lost, 120-118.