In 2014, the Raptors had the NBA's second-best record entering Christmas – just a half-game behind the leader – among teams without a Christmas game. In 2015, same thing. In 2016, 2017 and 2018, the Raptors had the very best record entering Christmas among teams without a Christmas game.
This year, the Raptors have the best record in the entire league and… still no Christmas game.
Toronto (25-10) will sit out the NBA's premier regular season date once again.
It's no accident. The Raptors reportedly pushed hard for a Christmas game, and their on-court success is no surprise. They won 59 games last season then traded for Kawhi Leonard. They were a safe pick to provide quality play.
Especially because they've been so consistently good over the last several years. Here's every team in the last six seasons with a winning percentage over 60% and no Christmas game: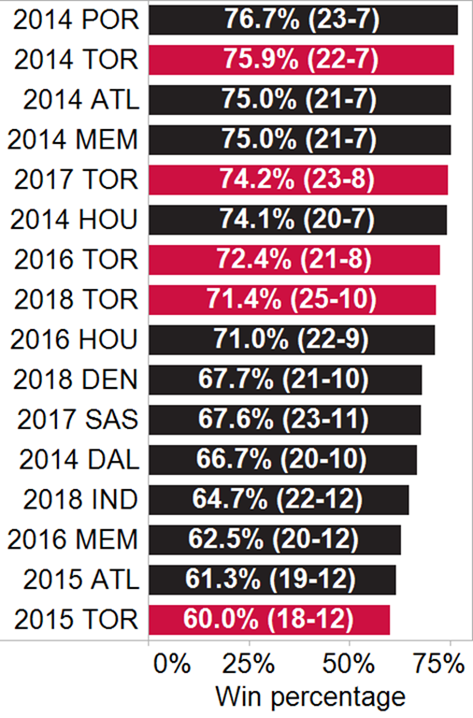 Toronto appears on the list more than twice as often as any other team.
The biggest problem: Canadian viewers don't count the same toward ratings as American viewers. The NBA is a business, after all. I have no problem with the league showcasing the teams that will generate the most revenue. That's why the lowly Knicks – even with Kristaps Porzingis' absence long-presumed – will play tomorrow.
Toronto has gotten one Christmas game before, in 2001. With the Bucks playing this year, only the Hawks (1989), Jazz (1997), Hornets (never) and Grizzlies (never) have longer Christmas-game droughts.
Here's the last time each team played on Christmas, including this year's games:

So, it's not impossible the Raptors get a Christmas game. But at this point it's clear: Winning isn't enough for them.