Nerlens Noel ranked No. 1 in his high school class. After his lone season at Kentucky, I placed him atop my 2013 NBA draft board. Noel, based on circumstantial evidence, had the logo of the Cavaliers – who had the No. 1 pick – sewn into his draft-night jacket. He made the All-Rookie first team. After his rookie-scale contract, the Mavericks reportedly offered him a four-year, $70 million deal. Multiple advanced statistics peg his production this season as elite.
Also: Nerlens Noel is on his third team in four years. He's a backup averaging just 14 minutes per game and earning a minimum salary.
Is Noel on or off track?
"I feel like I'm at a really good point in my career, in my life, my mindset, my mentality," Noel said. "And I'm not slowing down."
In his first season with the Thunder, Noel is quietly making good on the promise he showed entering the league. But this has come only in a limited role and only after his stock hit rock bottom.
Noel entered the NBA amid disappointment. He slipped to No. 6 in the draft and missed his first season with the 76ers due to injury. While out, he racked up several fines for tardiness and other issues. Philadelphia then drafted Joel Embiid and Jahlil Okafor and wisely chose Embiid as the center to build around. But it took a while – and plenty of frustration – until the 76ers unloaded Noel. In the meantime, his reputation tumbled.
Philadelphia finally sent Noel to Dallas just before the 2017 trade deadline. Noel performed well enough to draw a reported four-year, $70 million offer from the Mavericks as a restricted free agent that summer. But when he rejected the deal, Dallas never made him another offer. Noel accepted his qualifying offer, and everything went sideways between him and the Mavericks last season.
They questioned his work ethic. Noel eating a hot dog was treated as a major incident. He missed the final five games of the season due to suspension for a drug violation (almost certainly marijuana).
Instead of earning a $17.5 million annual salary, Noel made just $4,187,599* last season and is making just $1,757,429 this season.
*Noel's qualifying offer would have been $5,848,910 – $1,661,311 higher than his actual qualifying offer – if he started just one more game during his first season in Dallas. He initially came off the bench after the trade, but he worked his way into the starting lineup, starting 11 of his final 12 games that season. Curiously, he came off the bench for one game against the Bucks in that span. "I have no comment on that," Noel said.
Why didn't Noel just take the large contract offer from the Mavericks?
"I just wanted to maximize myself with no restrictions, go out there and show why I feel like I'm the player that I am and just make smart decisions," said Noel, who repeatedly praised Dallas and Coach Rick Carlisle. "Regardless, the past is the past. I'm just really looking forward to the future and just putting myself in the right position with people that want me to succeed."
Noel says he has that in Oklahoma City, but he's also playing even less than he did with the Mavericks last season. In a career-low 14.0 minutes per game, Noel is averaging 5.9 points, 5.4 rebounds, 1.3 blocks and 1.0 steals per game. That's why he hasn't drawn more attention for what might be his breakout season.
Playing-time-agnostic advanced stats show someone having a heck of a year. Noel is among the league leaders in PER (25.0), box plus/minus (+6.8) and win shares per 48 minutes (.300).
In fact, Noel's win shares per 48 minutes rates as one of the best marks of all-time. He's sandwiched between two Michael Jordan and two LeBron James seasons. Here's the full win-shares-per-48-minutes leaderboard (must qualify for minutes per game leaderboard):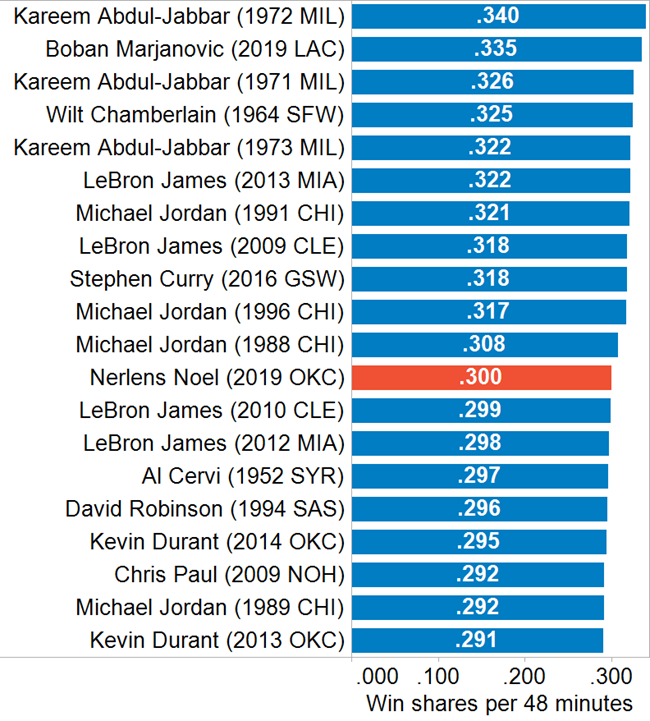 This is not to suggest Noel is as good as the all-time greats listed here. He's obviously not. And though 309 minutes is a meaningful sample, it's hardly conclusive.
But maybe Noel deserves a second look.
Noel is a heck of a defensive disruptor. He's quick and bouncy, and when he's active, he covers a lot of ground. He generates so many steals and blocks.
The 6-foot-11 Noel is posting a steal percentage this season (3.4%) higher than any 6-foot-10-or-taller rotation regular has ever has in a full season. His block percentage (7.8%) ranks fourth among rotation regulars this season, behind only Mitchell Robinson, Myles Turner, Hassan Whiteside, JaVale McGee.
No rotation regular has ever matched the combination of Noel's steal percentage (3.4%) and block percentage (7.8%) over a full season. Only David Robinson – 3.1%, 7.4% in 1992 – has come particularly close.
Noel might gamble too much chasing steals and blocks. "That could be better," Thunder coach Billy Donovan said. But Noel has the athleticism to wreak havoc. And it seems Noel is striking enough of a balance. Oklahoma City is allowing 2.9 fewer points per 100 possessions with Noel on the court than when he's off.
On the other end, Noel is excellent finisher, shooting 75% in the restricted area. Playing with downhill point guards Dennis Schroder and Russell Westbrook, Noel can build a head of steam toward the rim in the pick-and-roll, as the opposing big often must help contain the point guard. The guards' driving attracting help defenders also frees Noel to crash the offensive glass like never before. With his ability to finish above the rim, that makes him so dangerous.
There's probably a ceiling on Noel's contributions with the Thunder. Steven Adams is their established starting center and locked up two seasons after this.
But Noel, still just 24, can become an unrestricted free agent next summer by declining his minimum-salary player option. Though it's a tough market for centers, Noel has the mobility to thrive defensively in the modern NBA. In a spread offensive system, there'd be a lot of space for him to catch lobs and tip-in offensive rebounds.
It's too early to declare Noel has turned a corner, but it's time to acknowledge he might have.
"I've always felt like, in the right position, I could do this," Noel said. "…I think I'm in the right position. "