Entering the 2016-17 season, John Wall said he and Bradley Beal have a "tendency to dislike each other on the court."
That year, the Wizards won 49 games and a playoff series – their best season in nearly four decades.
Dysfunction in Washington is nothing new. Losing through it is a change from the recent past.
The Wizards have not had a losing record in the previous five years. They made the playoffs in four of those years and won a postseason series in three.
Talent tends to win out, and with Wall and Beal, Washington has plenty.
But that hasn't been enough this season. Washington is 5-11 and reportedly open to trading Wall and Beal.
This is the bottom falling out like never before in NBA history.
Wall and Beal have both proven themselves as All-Stars. Wall is just 28, and Beal is 25. Neither has missed a game this season.
Here's every time since the NBA-ABA merger a team has had two prior All-Stars age 28-and-under play at least a third of team's games and had a losing record, sorted by win percentage: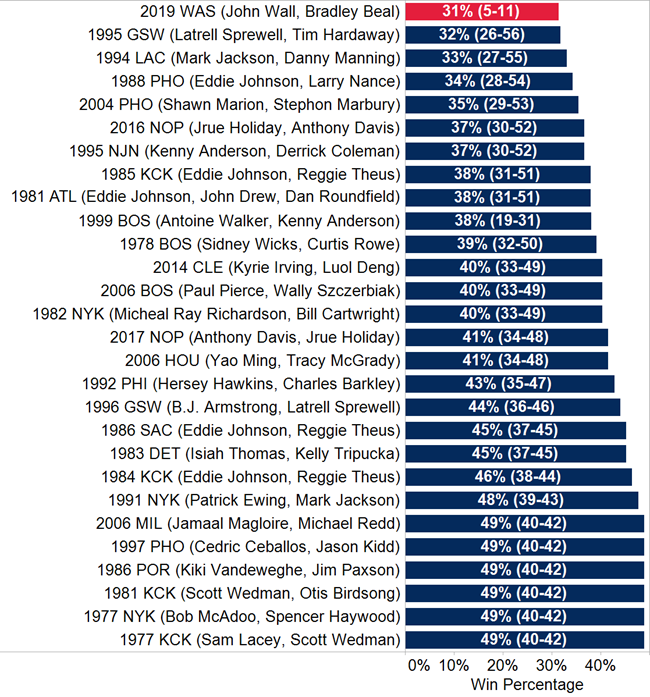 Wall and Beal can blame their teammates – and they will. They can blame Dwight Howard's injury, as he fills a major hole on the team. They can blame the distortion of a small, 16-game sample. That's all valid.
But Wall and Beal must be better. Every other team with two healthy prior All-Stars under age 28 has been better. Other such teams have had surrounding problems, too. They still found a way to top this.
I'm not convinced Washington will actually trade Wall or Beal. This seems more like testing the waters. But the pairing certainly isn't worth insisting on keeping together.
As good as Wall and Beal seem on paper, this just isn't working.