Every day in the NBA there is a lot to unpack, so every weekday morning throughout the season we will give you the three things you need to know from the last 24 hours in the NBA.
1) Derrick Rose drops 50 helping everyone forget about the Jimmy Butler nightmare for a while. We can all use a good distraction once in a while — and nobody could use a distraction like Timberwolves fans. They spent their day learning that Jimmy Butler was not going to play against the Jazz that night because he wanted to send a message about trading him… or, he's just sore and needed a night off. Whichever. The Timberwolves are still Chaos.
Then Derrick Rose took the court.
With Butler and point guard Jeff Teague both out, Rose was thrust into the role of starter and primary ball handler. It was his night from the start — 13 points on 4-of-6 shooting plus two assists in the first quarter alone — and it kept piling up. Rose hit the go-ahead shot for the Timberwolves with :30 seconds left, then sealed the game with :13 seconds remaining, hitting a couple of free throws.
Rose finished with 50 points on 19-of-31 shooting, including 4-of-7 from three.
He was hitting from everywhere — at the rim, midrange, and from three.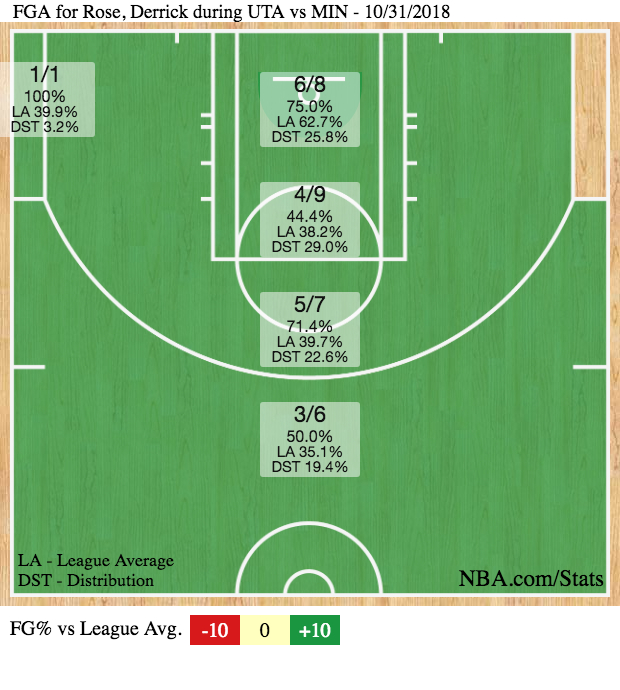 After the game, it was an emotional Rose who talked about his long journey — an ACL surgery, two meniscus surgeries —  and how he could have easily walked away from basketball kept fighting because he loved the game and just wanted to play.
That's a story everyone can get behind.
For a night, until the chaos of the Jimmy Butler situation returns.
2) Shot of the night: Paul Millsap hits putback jumper to get Nuggets a win in OT. Give the Chicago Bulls credit, they played one of the five best teams in the NBA to start the season to a standstill, forcing overtime. Zach LaVine continues to light it up this season with 28 points and rookie Wendell Carter Jr. added a career-high 25.
It was just a point short. In overtime, Denver was down a point with 3.5 seconds left, they got the ball to their star Nikola Jokic who got a pretty clean look at a 19-footer and back rimmed it, but Paul Millsap was there.
Denver is 6-1 on the season
3) This time, LeBron James gets bailed out by a veteran two guard making a mistake. The Lakers had this, a 14-point lead with four minutes to go in the game, they just had to close out the Dallas Mavericks on the road with a couple of buckets and a couple of stops…
And it's never that easy for the Lakers. Los Angeles didn't score a field goal the final 4:15 of the game and were just 3-of-6 from the free throw line. A Luka Doncic drive and baseline eight-foot fadeaway tied the game at 113-113 with seven seconds left. The Lakers gave the ball to LeBron, who brought it up and… Wesley Matthews fouls him on the dribble 35 feet from the basket. The Lakers were in the bonus, LeBron got two free throws with :02 seconds left, hits the second and ballgame. Lakers win, 114-113. Matthews foul led to a lot of these memes on NBA Twitter, because why would you foul that far from the basket unless you thought you had a foul to give?
Matthews said after the game he knew the Mavericks didn't have a foul to give, but he was trying to be aggressive and make a play, to force a turnover. He also admitted it was not a smart move.
Either way, LeBron and the now 3-5 Lakers will take it. Also, all of that paled in comparison to JaVale McGee talking to the media after the game in a custom-made, full-size Grinch costume.