Every day in the NBA there is a lot to unpack, so every weekday morning throughout the season we will give you the three things you need to know from the last 24 hours in the NBA.
1) Rockets "lost our swagger," build a brick house with shots on the way to a fourth straight loss. It's far too early to panic. It's far too early to panic. It's far too early to panic.
The Rockets keep repeating the mantra, but they also know last season it was almost Christmas before they lost their fifth game (Dec. 20) and they had won 25 games by then. This year the fifth loss came before Halloween.
That fifth loss was ugly. Even without James Harden (he could be back this weekend from his sore hamstring), Tuesday night was a game Houston should have controlled. For Portland, this was supposed to be a "schedule makers' loss" — second night of a road back-to-back (with travel across time zones), the third game in four days and the fourth in sixth. At that point, teams tend to look like they lost their legs a couple of flights ago and get steamrolled.
Except, after a lackluster first quarter by both teams, Portland played with more energy and passion than well-rested Houston. The result was a 104-85 Trail Blazers' win, dropping the Rockets to 1-5 on the young season. After the game, coach Mike D'Antoni said. "Right now, we're playing like crap… We lost our swagger. We're on our heels."
The Rockets found a new way to lose Tuesday. While their defense has been the bigger problem through the first five games, this time it was the offense. Harden or no, the Rockets still had elite bucket getters in Chris Paul, Eric Gordon, and Carmelo Anthony on the roster — except they shot a combined 12-of-49 (24.5 percent). Off the bench, Gerald Green was 1-of-10. Houston shot 23.3 percent from three. Rather than list the ugly numbers, just look at the Rockets' shot chart for the game.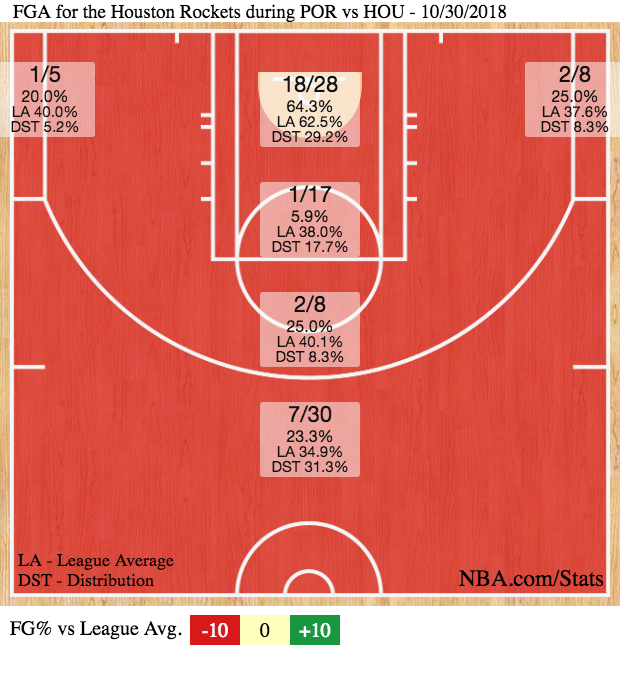 Houston is a mess, a team that is bottom seven on offense and defense to start the season. Some excuses have some merit, the team has missed Chris Paul a couple of games (suspension) and Harden a couple now, but that doesn't explain the depth of the troubles. Nor can all the woes be blamed on Carmelo Anthony. It's both of those things and the loss of defensive coach Jeff Bzdelik and much more. However, the biggest thing is a consistently lackluster effort, especially when the team is challenged. The Rockets are playing with no heart.
Friday the Rockets head out on a five-game road trip that feels like it could help define the entire season. For good or bad will be the question.
2) Patrick Beverley crashes into Russell Westbrook's knees. Again. And soon police were on the court. Before this season started, Russell Westbrook had "clean up" surgery on his left knee, his fourth surgery on that knee. The issues date back to the 2013 playoffs, when Patrick Beverley (then with Houston) went for a steal, took out Westbrook's knee, which led to a meniscus tear and a couple of surgeries. Westbrook and Beverley have had a beef ever since then.
Tuesday night this happened and it felt like Deja' Vu.
Westbrook was not injured — but he was hot. So were his Thunder teammates. So much so that the police came onto the court just to keep the peace.
Westbrook was given a technical foul for his reaction (and probably a few choice words). Doc Rivers may not have liked it, but Beverley was given a Flagrant 1 foul. If anything that was soft. Beverley was going for a loose ball (which Westbrook had already controlled) but was reckless with his body in a way that could have led to a serious injury. Fortunately, this time Westbrook wasn't hurt.
The Thunder got the win 128-110. These teams meet up again Dec. 15, circle that one on the calendar.
3) Cavaliers win! Cavaliers win! They can't hire a coach but Cavaliers Win! Larry Drew is 1-0 as the Cavaliers' coach… except he's not the coach. Drew is the voice of the head coach right now, whatever that means. Maybe there's a puppet involved. Technically, the Cavaliers were without a coach.
Whatever. It worked.
Cleveland picked up its first win of the season in the first game since Tyronn Lue was fired, easily handling the Atlanta Hawks 136-114. Rodney Hood had 26 points to lead seven Cavaliers players in double figures in scoring. The Cavaliers hit 54 percent from three, which helped, as did the fact they attacked the rim and played fast. Neither team defended well, but the Hawks turned the ball over on 21.6 percent of their possessions and let the Cavaliers get the offensive rebound on 31.4 percent of their missed shots, and that was the difference.
It was a welcome respite for a team that has had nothing but bad news to start the season. The ugly coaching situation still looms, and the team has started shopping Kyle Korver again, but a win at least makes the optics a little better for all of it.