Tuesday night the NBA season tips-off and the race for the playoffs begins, the first steps of a race that runs through June with some team lifting the Larry O'Brien Trophy. We've already made our predictions for who will win MVP, Rookie of the Year, Coach of the Year, Defensive Player of the Year and more.
Now it's on to the team predictions: Who's getting in the playoffs? Who will have home-court advantage? And which team will win it all?
Here are our picks:
EASTERN CONFERENCE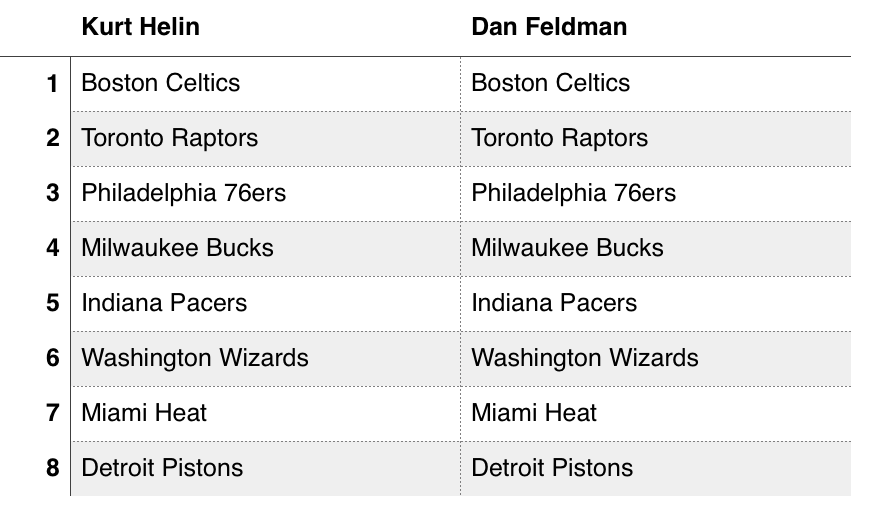 Kurt Helin: A little odd Dan and I agree up and down the line here. Putting the Raptors second is a bet that both Kawhi Leonard is his old self and new coach Nick Nurse can diversify the offense. The Pacers could finish fourth, but I'm very high on the Bucks with Mike Budenholzer so I'll go with them getting home court. Also, Charlotte easily could best Miami or Detroit for one of those lower playoff seeds, and I'm not counting the Cavaliers out completely.
Dan Feldman: The Bucks are rising, to the point I thought about putting them over the 76ers. The bottom of the East playoff picture is ugly (and also includes the Hornets a small step behind Detroit).
WESTERN CONFERENCE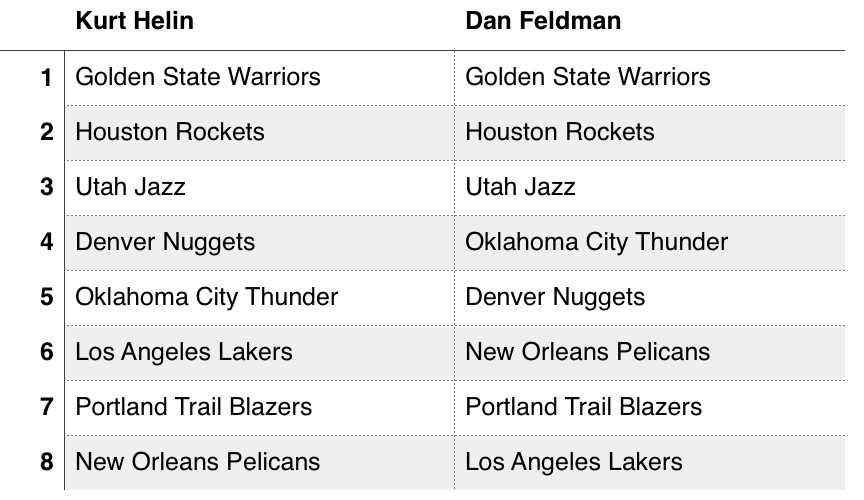 Kurt Helin: Much like last season, I expect Golden State and Houston to be in and after that a razor-thin margin (five games or less) separating the three seed and the 10 seed. I'd have the Thunder higher but I think missing Andre Roberson the first couple months of the season is a big blow. I have the Timberwolves and Spurs missing the playoffs, but either could make it. I have Minnesota out on the assumption they trade Jimmy Butler. With the Spurs, I think the Dejounte Murray injury is a bigger blow than people realize.
Dan Feldman: The Spurs' injuries and the Timberwolves' [gestures at every Jimmy Butler link in the sidebar) made it easier to exclude them, but they still have a chance. So do the Clippers, Mavericks and Grizzlies. Too bad they're all stuck in the West.
PLAYOFF PREDICTIONS:
Kurt Helin
ECF: Celtics over Raptors
WCF: Warriors over Rockets>
FINALS: Warriors over Celtics
I don't think the Warriors are a title lock, both Houston in the West and Boston in the East have a legitimate shot to dethrone them. However, assuming health, I just can't pick someone else.
Dan Feldman
ECF: Celtics over 76ers
WCF: Warriors over Rockets
FINALS: Warriors over Celtics
Golden State isn't guaranteed another title by any means, but there's no way I'm picking someone else.