A few weeks back, Cleveland's J.R. Smith lost it when he was told by the league he had to cover up his tattoo of the Supreme clothing brand logo during games. Smith complied, but he wasn't happy about it.
Smith is not alone.
The Lakers' Lonzo Ball is playing with a patch on his arm to cover up the Big Baller Brand tattoo he has of his father's company, something first reported by TMZ. Ball has a "BBB Born" tattoo on his right arm using the company logo, and it is covered now when he plays, as you can see on his arm in the photo above, or in this one.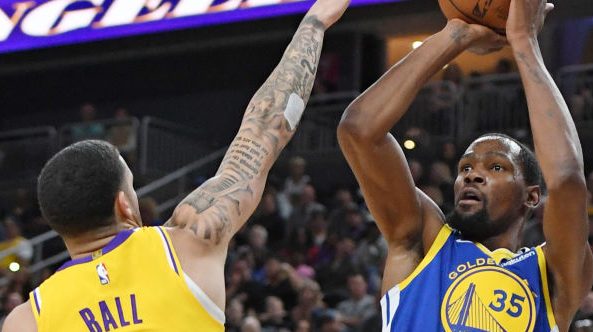 The NBA's rule is not new and is clear.
"NBA rules prohibit players from displaying any commercial logos or corporate insignia on their body or in their hair," a league spokesman told NBC Sports back during the Smith incident.
If you want more clarification, here is the exact wording out of the Collective Bargaining Agreement.
Other than as may be incorporated into his Uniform and the manufacturer's identification incorporated into his Sneakers, a player may not, during any NBA game, display any commercial, promotional, or charitable name, mark, logo or other identification, including but not limited to on his body, in his hair, or otherwise.
Ball, however, is not pushing back like Smith did.