LeBron James has the largest global brand of any NBA player, and is one of the most recognized and followed athletes in the world.
The Los Angeles Lakers are the NBA's biggest brand.
Combine those two and ticket sales surge — demand for Lakers tickets increased by 427% over last season on StubHub, the online secondary ticket market's leader told NBC Sports. How much has it blown up? The Lakers outsell the Golden State Warriors and the New York Knicks, StubHub's next top-selling teams, by 130 percent and 160 percent, respectively.
"When Lebron announced he was moving to LA in July, our site traffic spiked over 7,000 percent compared to the same time last year, so we expected the increased ticket demand that comes with a star player moving to one of the league's marquee franchises," Scott Jablonski, general manager of NBA for StubHub told NBC Sports. "And we're not only seeing this at home – fans from all over the country are vying for tickets when Lebron and the Lakers come to town."
That starts with Game One of the Lakers' season — the fourth most in-demand NBA game at StubHub is the Lakers' season opener in Portland. The single most in-demand ticket on StubHub is LeBron's home opener at Staples Center against the Rockets Oct. 20, and seven of the top 10 most in-demand games are Lakers games.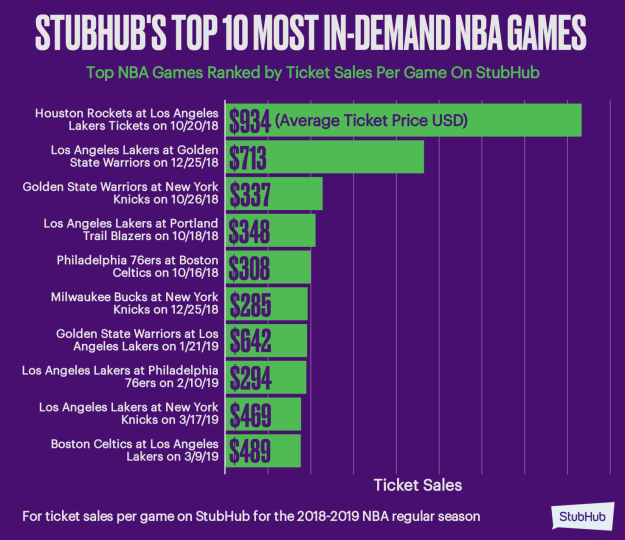 While the top four in-demand teams did not change, the order did: the two-time defending champion Warriors have not burned out fans and are second in demand, with the Knicks third and the Celtics fourth.
Notice that Portland, a smaller market but one with a passionate fan base and popular stars, has climbed into the top 10 of StubHub's rankings.
"Portland has always been a strong basketball market with some of the league's most dedicated fans, and it's helped to have likable players such as Damian Lillard and C.J. McCollum," Jablonski said. "The NBA is such a star-driven league, even small-market teams will drive demand when those standout players are performing well and consistently leading their franchises to the playoffs. The Blazers also have a few early season matchups that are driving a lot of the demand, including LeBron and the Lakers coming to town on October 18th."
Driven by LeBron, tickets for Western Conference team games have a higher demand than Eastern Conference teams for the first time in five years.
The LeBron effect isn't just limited to ticket sales, eBay — the popular online marketplace — has seen a spike in LeBron and Lakers merchandise sales. It has seen more than 200 LeBron Lakers' jerseys sold a day since July 2. Also, LeBron's shoes — specifically the LeBron 15s — lead the sales of all shoes on eBay as well since July 1 (the Kyrie Irving 4s are second).
On eBay, though, Eastern Conference teams still lead demand overall, with the Bulls out front.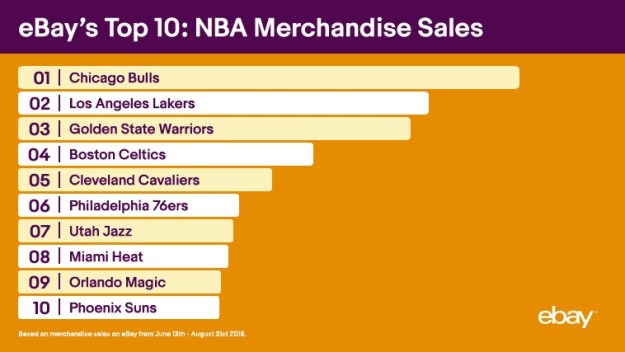 In the end, it ends up being all about LeBron. We don't know how good these Lakers will ultimately be on the court, but we know people want to see it and represent it in a way the team has not seen since Kobe was pushing this team to titles.
"There are only a handful of athletes in the world who can make an impact on ticket demand like Lebron can," Jablonski said.