On paper, and from a distance, it doesn't appear that the Portland Trail Blazers have become much better over the summer. The largest contract for a new player that general manager Neil Olshey handed out was to Seth Curry for $2.8 million. Hoping to find a veteran either by trade or with the mid-level exception, the Blazers instead will move forward with young, cheap talent to bolster a roster built around a core that looks awfully familiar.
So the question both in the Pacific Northwest and around the league is this: What is Portland's plan, exactly?
Assists and creating 3-point shots was Portland's biggest issue, and in theory this is exactly what the Blazers have tried to address with their limited financial input this offseason.
Coach Terry Stotts saw his team ranked sixth or higher in terms of of 3-point attempts every season under his reign until 2016-17. The past two seasons, Portland has dipped to 10th and then finally 19th this last year. Olshey tried to remedy this shooting issue — caused in part by teams keying on Damian Lillard and CJ McCollum but also thanks to inconsistent play by Blazers wings — by bringing in veteran talent.
Olshey has said that he was unable to secure shooting on the wing either via the TPE from the Allen Crabbe trade with his mid-level exception, having targeted six players but being outbid for all of them.
Having struck out, Olshey quickly moved to plan B: duck the tax, and try to get less experienced shooting on the cheap.
With his limited means, the Blazers GM drafted Gary Trent Jr. then signed Curry and Nik Stauskas. They were added to a core of Zach Collins, Maurice Harkless, Al-Farouq Aminu, and Jusuf Nurkic, all anchored around Lillard and McCollum. Evan Turner will return as a non-shooting ball handler, acting as the primary point guard for the bench.
That's the idea, anyway.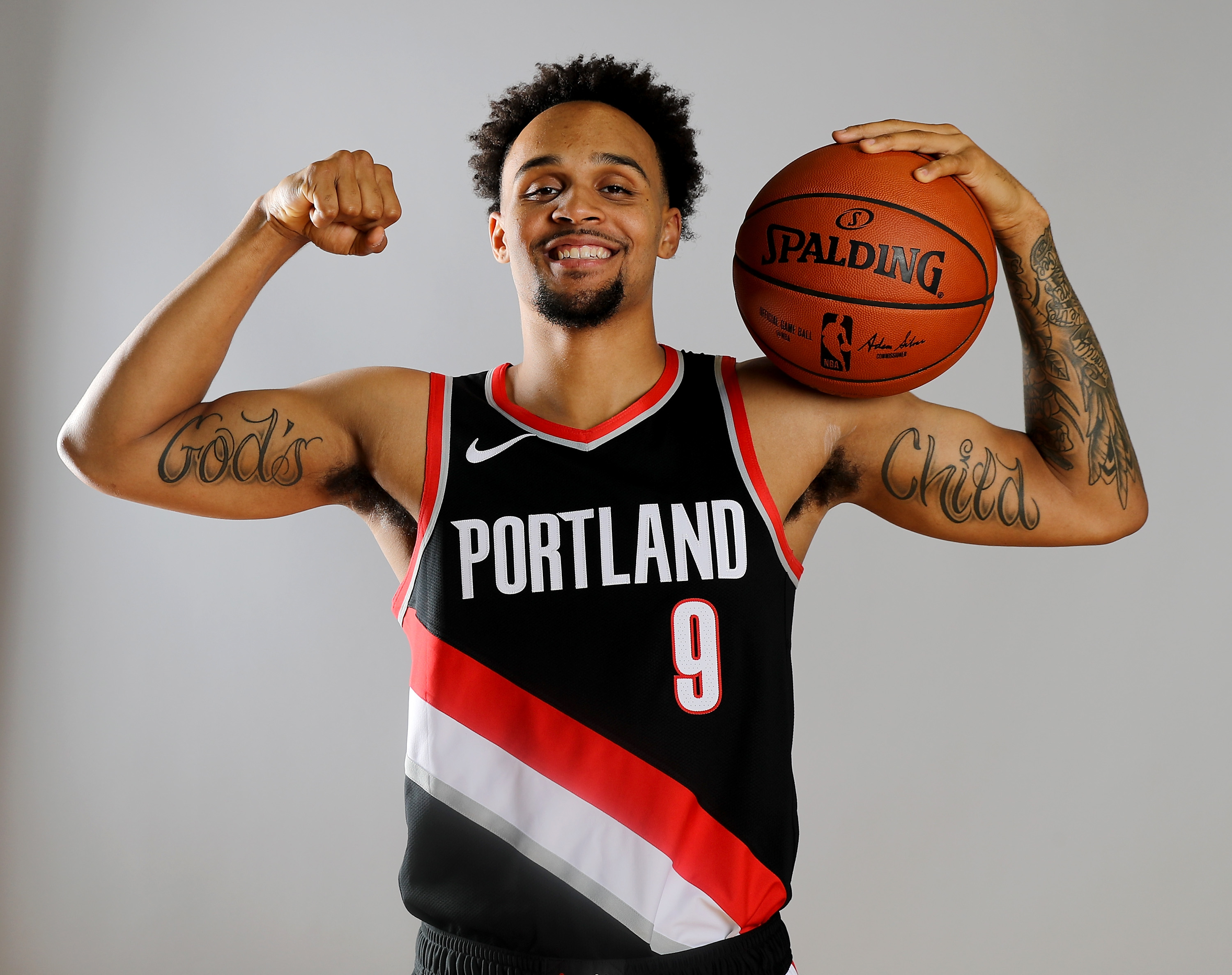 Putting this roster into play assumes a couple of things. First and foremost is that Portland will be able to enact an offensive scheme that allows some of their more limited players to thrive with purpose.
There should be some cause for hope in Rip City given how good Stotts is at doing this sort of thing. Stotts turned Mason Plumlee into a high-post passing genius in 2016, and made Allen Crabbe a valuable shooter despite holes in his developing game.
Let's also set aside health in this conversation about Portland. I've heard a lot about how the Blazers have been the recipients of good health over the past couple of years, but that overlooks significant and untimely injuries to players like Harkless, Nurkic, Lillard, and Turner that have reduced the team's effectiveness. There is this murmur out west that the Blazers are due for an injury and teams like the Denver Nuggets are finally going to be healthy, and I just don't buy it.
Portland's injury concerns are thus: Curry didn't play all of last season with a leg injury, and Harkless is still recovering from last spring's knee surgery. Anything outside of that is just anxiety.
The real pitfall for Portland is the idea of having to integrate new, young players to a scheme that desperately needs to breathe in order to maximize its star players. Collins is set for a big new role with Ed Davis gone, and we don't know if he's up for the challenge given how well he played with the veteran, particularly on defense. It's likely that Stotts will need to play Meyers Leonard as a shooter within his scheme, and that opens up the possibility for further defensive inequities.
The Blazers were a good defensive team last season, ranking 8th in defensive rating and notching the second-best mark in that statistic during Stotts' career in Portland. The Blazers know this, too. Apparently, they spent much of the first practice during Tuesday — up to 75% of it, according to Collins — working on defense.
The reality of the season in Portland is not held in the hands of the rest of the Western Conference getting better. Golden State was always going to top things out, and the Rockets are the most likely pick to finish second. Everything below that is up to chance, health, and chemistry. The Trail Blazers have the benefit of bringing back very good players, and the continued success of the team will rest in the gamble that Olshey has made in moving toward youth while trying to save cap space.