Kevin Durant is set to begin his season-long game of chicken, one in which those outside of his camp — including NBA general managers — try to ascertain what the two-time Finals MVP wants come the summer of 2019.
His situation mirrors that of seemingly every megastar about to enter free agency. That is, there are rumors abound of What Kevin Durant Really Wants, none of the verifiable. The same goes for his contemporaries: Jimmy Butler wants to be in Los Angeles or New York, but as the number one option; Kawhi Leonard wants to be in Los Angeles, but also perhaps he wants to stay in Toronto; Kyrie Irving wants to team up with Butler; DeMarcus Cousins a big bag of money from just about everyone (this one is probably the closest to accurate).
The story around Durant is that he could want to break out on his own, grab a long-term deal, and once again the certified top option on his own franchise. A three-time champion after another trophy with the Golden State Warriors this season, Durant would re-shape his narrative as The Number One Guy with a new team.
Whether any of this is actually true is, truly, unknowable.
We have entered into a version of the NBA in which players are trying to both commodify their talents best they can while obtaining increasing agency over their own careers. It has helped that salaries in the NBA have risen such that top players don't need to barter with franchises to ensure their financial security. Those days are over. If they could, all 30 NBA teams would offer a max contract to Durant on 12:01 AM. He's going to get paid, no matter what.
To that end, players get to make choices based on exceedingly private factors that aren't always known — even with continuing rumors floating heavy — as agents and handlers try to retain leverage for future bargaining.
These factors, by the way, reported early in the season have the distinct disadvantage of time working against them. Remember when Paul George was headed for the Los Angeles Lakers and nowhere else last season? It doesn't matter whether the reports were untrue or if George simply changed his mind. The result is that he remains an Oklahoma City Thunder.
So now for the rumors about Durant.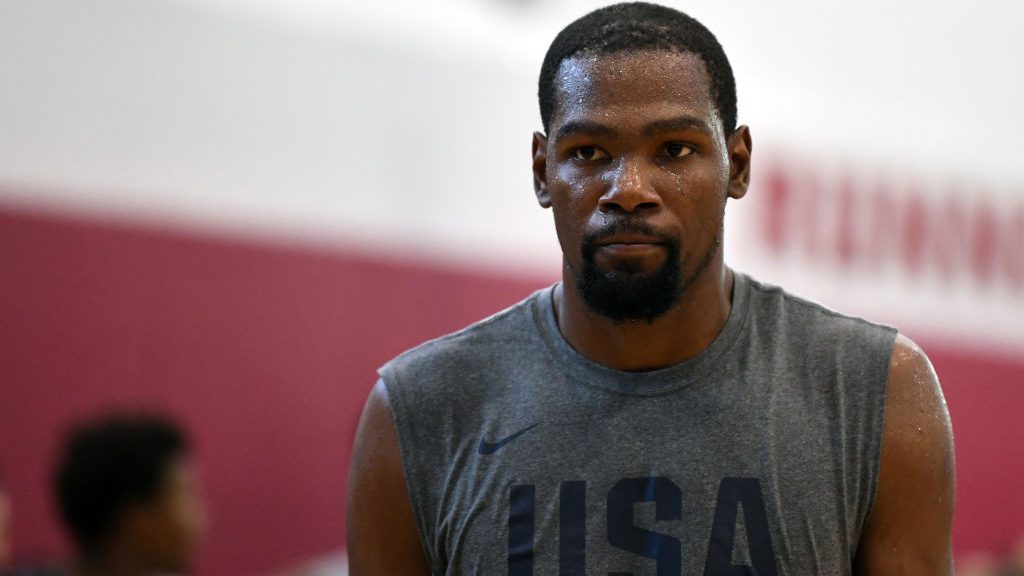 Potential landing spots for Durant include the Los Angeles Clippers, Lakers, New York Knicks, Brooklyn Nets, and even the Oklahoma City Thunder. Durant will no doubt be looking to sign a five-year max deal which probably puts him out of reach for the Warriors, lest they decide to drastically change the plan for their core moving forward. Klay Thompson needs a new deal, and the contracts of Draymond Green, Andre Iguodala, and Shaun Livingston will need tending to the season following.
I tell you all that to tell you this: there is zero sense debating where Durant will land come July 1, 2019. The "facts" are already well-known. They could also all be complete bullshit.
The teams who have the most open cap space are easy to Google. With a little research, it's also pretty easy to understand which of those teams can do a little financial footwork to get in a better standing come summer. As of writing, the Atlanta Hawks, Indiana Pacers, Sacramento Kings, Dallas Mavericks, Philadelphia 76ers, and Chicago Bulls all lead the way in potential open cap space, along with the previously aforementioned Nets, Clippers, Lakers, and Knicks.
Chop out the teams that couldn't sign Durant to save their lives, and you end up with a short list. Chicago, New York, the Clippers, the Lakers, and Brooklyn seem most suited for his rumored wishlist.
While it would be better content from me to tell you with great certainty which team leads the way in the Kevin Durant Sweepstakes, I cannot. It would be disingenuous. Instead, what's most interesting when it comes to Durant is the sociological experiment that has become NBA free agency in 2019.
That is to say that money has become so great in this league that after a certain threshold it just doesn't matter how much it is anymore. It has been posited before that as salaries have risen in the NBA, the ability for players to realistically value dollar numbers of contracts has started to decline. It's hard to wrap your brain around a contract that's a quarter of a billion dollars. What's $50 million here or there when you have the ability to choose with complete impunity?
The summer of 2016 was a boom for a few players, but not for the NBA employment pool at-large. Nevertheless, salaries continue to rise and the cap is projected to go up yet again as we move year-to-year. Along with player agency, the idea that max salaries matter more to players is starting to fade. Leonard certainly didn't think so when he decided to eject himself from San Antonio, giving up the vaunted Super Max contract in the process. With a max deal guaranteed for Durant should he want it, the same could be assumed heading into his free agency period.
The summer of 2019 could be the start of an era in the NBA in which players decide to sign with new teams based off of minutiae unknowable to the public, away from "basketball reasons" and in Durant's case, even championships. Yes, the Chicagos, New Yorks, and Los Angeleses will dominate destinations for big-time free agents. But it might no longer matter that a teams in those locations don't hold any advantages, basketball-wise, over their rivals.
It's a brave new world in the NBA, and the league's superstar-centric marketing combined with ever-rising popularity and TV revenue have led us to this logical nexus between player, cash, and choice. No doubt whatever Durant does, it will be most telling about what we'll see from the signings of max-level players who come after him, in 2019 and beyond.