Kevin Durant is leaving $5,654,150 on the table next season.
Why? Answering that question could go a long way in deciphering his future with the Warriors.
Durant getting his full max salary next season would've required locking in for at least two more years. As is, he signed another 1+1 deal that will allow him to become an unrestricted free agent next summer.
But a 2+1 contract would have guaranteed Durant a $38,506,482 salary in 2019-20 – about equal to his projected max for that season when he reenters free agency. So, there isn't clear financial upside for Durant's decision.
Again: Why didn't he just take the substantially higher salary this season? He didn't sound interested in giving ownership another discount, but he has also only vaguely explained his decision.
Mark Medina of The Mercury News on the "Yahoo Sports NBA: Chris Mannix" podcast:
No doubt, from what I was told when he made this decision, the main driving force – as you alluded to – was the financial flexibility because he can get that five-year, 219 million-dollar deal.
Based on the latest cap projections, Durant will be eligible for a a five-year, $221 million contract with Golden State next summer.
But if he signed a 2+1 deal this summer, his projected max in 2020 would be a five-year, $235 million contract. And he would have earned an extra $5,654,150 this season.
Here's the path Durant is on and what he could've done, this year's actual contract and potential contract in black with exact amounts, the following contract in red with projected amounts (option years in a 1+1 or 2+1 ignored, as they would have just been for insurance and likely declined):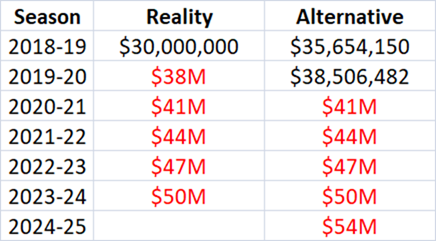 Was Durant concerned he could get a five-year max in 2019, but 2020? That'd be odd for a superstar like him.
Does he prioritize becoming a free agent in 2023 vs. 2024 (assuming he'd get a player option in a five-year deal)? It's hard to see much difference that far out, but even there were, he could have always signed a four-year deal after his 2+1 in the alternate scenario.
I believe Durant and/or the Warriors are describing his current contract as just a way to set up a long-term deal with Golden State. That gives a perception of stability that has otherwise been lacking.
But that explanation just doesn't make financial sense.
Don't lose sight of the simplest theory: Durant sacrificed money next season because he placed greater value on the ability to choose his team next summer rather than being locked in with the Warriors.