Even if he were talking about hot yoga, then-Kings star DeMarcus Cousins perfectly captured the feeling of Sacramento picking Georgios Papagiannis No. 13 in the 2016 draft: "Lord give me the strength."
Ranked No. 46 on Chad Ford's board – which attempted to show league-wide consensus – Papagiannis was an old-school plodding center. He flashed interior skills during his limited playing time with Panathinaikos in Greece, but athleticism was a major concern. He was the type of player teams learned over the previous two decades not to fall for.
While an NBA team picking someone so high should be a positive indicator, it did little for Papagiannis. The Kings' draft record had been miserable under owner Vivek Ranadive and general manager Vlade Divac. They didn't get the benefit of the doubt (though their draft-night trade with the Suns that landed the No. 13 pick used on Papagiannis turned out well).
Every concern about Papagiannis and Sacramento proved justified.
The Kings waived Papagiannis during his second season – absurdly quick for any first-rounder, let alone a lottery pick. His agent blamed the team. Nobody came out looking good.
Papagiannis signed with the Trail Blazers, though he played only one game for them. Portland waived him earlier this summer.
Now, Papagiannis will return Panathinaikos on a five-year contract, the Greek team announced. Will this conclude the 21-year-old's NBA career? It seems more likely than not.
If so, it will be one of the shortest ever for a lottery pick.
Papagiannis' 477 career minutes are the sixth-fewest ever by a lottery pick, excluding 2017 and 2018 picks, who haven't had time to play more.
Fran Vazquez (No. 11 pick in 2005 by Magic) continued playing overseas and never signed in the NBA. Len Bias (No. 2 pick in 1986 by Celtics) tragically died of a cocaine overdose after the draft.
Among lottery picks who actually made the league, only Aleksandar Radojevic (No. 12 pick 1999 by Raptors), Yaroslav Korolev (No. 12 pick in 2005 by Clippers) and Mouhamed Sene (No. 10 pick in 2006 by SuperSonics) played less than Papagiannis.
Here are the fewest minutes played by lottery picks between 1985, when the NBA instituted the lottery, and 2016: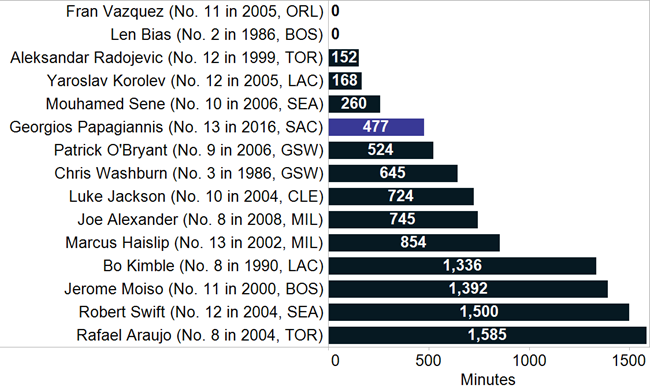 Papagiannis could still drop down the list.
After all, Radojevic left the NBA after two seasons, spent three years in Europe then somehow returned stateside to play 12 games for the Jazz. That NBA comeback seemed unlikely as he shuffled between the Raptors, Nuggets and Bucks while playing only three games (all with Toronto).
Nothing precludes Papagiannis from returning to the NBA, even if he must complete his entire Greek contract first.
But just because one unlikely thing happened before, I wouldn't bet on another happening with Papagiannis.