Submit your questions to the mailbag for next week by e-mailing pbtmailbag@gmail.com.
I haven't been watching a lot of Summer League lately, but I have been watching all of you watch it via social media. Frankly, I just don't get it. I went to Las Vegas last year for the event and I was not impressed. It was 100 degrees outside by breakfast, and the quality of play was, somehow, below college basketball level. I would have much preferred to stay home and watch on my couch where I have things like Doritos and a second bag of Doritos.
That's not to say that I haven't watched a few games here and there. I saw the Blazers beat the Jazz on Saturday, and most of the time I spent thinking about a very specific question. That is, which do you think would be longer?
The average running time of a Summer League Game OR
A video of every airball from all the NBA Summer League games combined into one long lowlight reel
Remember, Summer League rules include four 10-minute quarters, so there's only a total of 40 minutes that we would have to fill with airballs from these games. I figure each airball highlight lasts something like four seconds, because you'd have to include the play leading up to it as well as the announcer reaction to the airball itself for it to be a worthwhile lowlight.
At four seconds apiece you'd have to have clips of 600 airballs sliced back-to-back to meet the 40 minute minimum. They played 67 games at LVSL last year, which means each game would need to average nine airballs. That's only 4.5 per team, per game. I feel like I've seen at least that many this year. Maybe more, and that's just from Trae Young.
In any case, it would be super close. The real question is, which would you rather be forced to watch: every LVSL game or every airball?
Some basketball writers don't even get the choice, god bless them.
Let's get to your questions.
Kate
Can Kawhi Leonard refuse to play/sit out for the Spurs next season? What ramifications could Kawhi Leonard face if he refuses to play for the Spurs next season? Can they enforce the CBA rule regarding the withholding services on him?
Kawhi Leonard has put the NBA in a tizzy, and nobody is sure whether he is trying to control his own destiny or if he's simply gone crazy. Rumors are now swirling about whether Leonard needed to sit out for the majority of last season, and now we are talking about whether or not he would hold out for yet another if he remains in San Antonio.
The procedural answer here is that if Leonard was able to find a way to sit out and refused to play for the Spurs next season, that San Antonio would trigger the clause you are referencing in the CBA. Specifically, it means that Leonard would not satisfy the conditions of his contract and that he would not be able to become a free agent next season. Teams can also fine players for internal reasons, and no doubt the Spurs would likely move to that if they felt Leonard had drawn first blood.
However, there is very little precedent for this outside of the NBA Draft. Teams have been frustrated with players they have drafted before — Jon Barry refused to play for the Celtics in 1992 and they finally traded him halfway through his rookie season. Guys like Steve Francis have forced their way off of teams. And we all remember how Kobe Bryant was never going to play for the Charlotte Hornets, right? But that was all before those guys had ever seen an NBA court. Kawhi Leonard is a dang ol' Finals MVP. It's just … wild.
The real motivating factor to get Leonard on an NBA floor would be the damage he would do around the league to his reputation if he was still controlled by the Spurs and flat out refused to play for them. That kind of open, poisonous relationship with a franchise is not exactly enticing to other teams. That includes ones looking at him in free agency, especially if those same teams have major questions about whether he is actually healthy enough to be worth the big contract he's shooting for.
Historically, teams have found a way to trade trouble players off of their franchise simply as way to get the miasma of their unhappiness out of their locker rooms. That's the most likely case in this scenario, and I doubt we will get too far into the season with Leonard still refusing play for the Spurs. Then again, last season was completely insane when it came to Leonard and that whole dynamic, so I can't rule it out.
Alex
Please, sir, tell me what will happen with my dear, sweet Michael Beasley. (And also what non-Celtics teams should be offering Marcus Smart.)
Look, Alex. We know you love your sweet little B-Easy. But sometimes you can't always stay with your favorite players. Sometimes you need to let them be free, and send them to a farm upstate. In this case, that farm is located on a team in a lower-division Russian league. Not in the fun, tricycle-riding bear part of Russia, either. More like the waiting in line for black bread before you go back into the iron ore pit part of Russia.
Seriously though, it seems like we talk about Beasley being a reclamation project a lot and perhaps that's because he's still just 29 years old. However, not a lot of teams have cash to throw around and Beasley will be a minimum salary player. He's going to end up on a team that doesn't matter, or the Lakers.
Smart should get more looks from teams, although he's not a likely candidate to end up anywhere but Boston and a few select places because of the cap crunch and because taking his qualifying offer isn't the best choice. There are going to be so many guys on the market in 2019 and there are still some teams that can offer a Smart a deal now. Taking his qualifying offer and becoming a free agent next year is one route, and obviously there will be many suitors for him next summer. However, he's not likely on the top of the priority list for many teams and more and more guys seem to be angling for 2019. He could end up in a flooded market, getting the same money next summer as he can right now but having played one year at a reduced salary.
The Kings do make a lot of sense but perhaps that's because of their track record with wing players. Vlade and the boys seem to stockpile a bunch of guys who have one NBA talent they think they can transform into an elite skill. Smart is already an elite basketball player, and adding him to the Kings along with Marvin Bagley Jr. would help solidify them and make them more legit as they build for the future. It's boring, but that's the best answer.
Jeremy
Do you think Tony Parker wore puka shells in 2005?
Let's do some quick back-of-the-napkin math. Parker was born in 1982, which makes him too old to have seen the first wave of puka shell popularity in the 70s. That means he would have had to get into them when they made a comeback in the late 90s and early 2000s.
Adam Sandler was wearing puka shells as Pip in Airheads, which filmed in 1993. Parker would have been 12 at the time Airheads came out in 1994, and he would have been in high school when the necklace hit peak popularity between 1998 and 2002. You also have to realize that Parker grew up in France, with a completely different fashion wave which might not have been tainted by puka shell culture. Looking at my own middle school yearbook, it's obvious the U.S. was heavily influenced by BIG PUKA, but you have to guess those classy Frenchies probably ducked some of our American trends.
By 2005 Parker would have been 23, and no self-respecting young adult would be caught dead wearing puka shells. Plus, I feel like by 2005 things had really shifted.
The real question is: Did Tony Parker wear a trucker hat in 2005? You tell me, Jeremy. You tell me.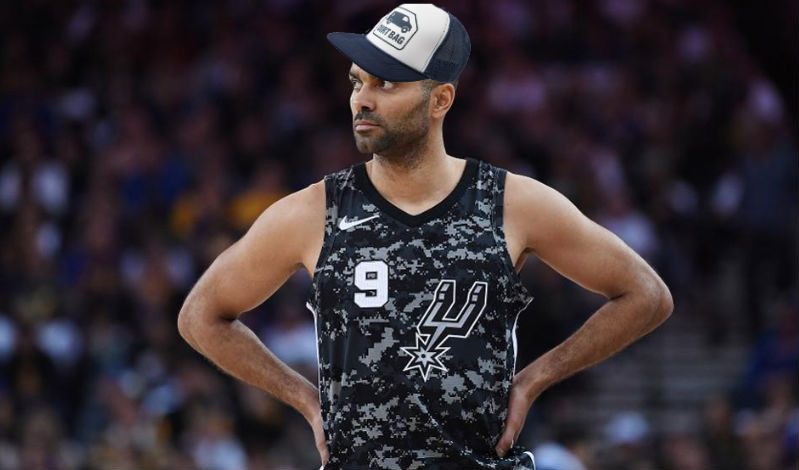 Nick
Does Jake Layman have a nickname? If not, it should definitely be "Jumpin' Jake"
I honestly don't understand the obsession about Jake Layman that Portland Trail Blazers fans have. I mean, I understand what it is, I'm just not allowed to type why they like him.
In any case, as nice a guy as Layman might be, I don't think you can give a nickname to a player who doesn't have an impact on the floor. The guy averaged exactly one point per game last season for the Blazers.
Yes, because Portland decided not to renew the contract of Pat Connaughton it's possible that Layman takes up more minutes this year and we see more of what he can do. But in the meantime, I'm just not ready to give him a nickname just yet. At least not a positive one. Guys who come off the end of the bench usually have negative nicknames, which I'm not in the business of giving.
IF Layman actually produces this season for Portland, here are my top picks:
Yung Kitzhaber
Slayman
Dunkin' Douglas (middle name)
Eric Judy
Thrillard (nobody else has taken this one I think)
King Jake
Dr. Buckets, Esq.
White Hot
John
Is Sean Marks a top 5 executive?

Considering what he had to work with after taking over from Billy King and formed a team foundation using only cap space or late picks, I think the Nets are closer to relevance than people realize. Agree?
Bob Myers, Daryl Morey, Danny Ainge, RC Buford, Dell Demps, Sam Hinkie (legacy).
So, probably not. Also, Marks just got hired in 2016 so he needs a longer body of work to really judge whether or not he's a top five executive in the league. Brooklyn won eight more games last season than they did season before, which isn't exactly a huge jump. Yes, the Nets have made a couple of good moves to build for the future. They snagged D'Angelo Russell, got rid of Timofey Mozgov, and bet big on Allen Crabbe (twice).
Next year seems like it will be a big test whether the Nets are headed in the right direction. They should have the added boost of not having LeBron in their conference, so it will be up to Kenny Atkinson to steer this team near the playoff race. Brooklyn has the ability to create a massive amount of cap space in the summer of 2019 if they renounce most of their cap holds, so whether Marks can convince players to head to New York City will be big. Until then, I'm withholding judgement.
Seriously though, go look at the list of current NBA GMs and tell me most of their fanbases don't want to fire them out of a cannon toward a big parachute.
Alfredo
With Boogie in the Bay, the Warriors have become The Ultimate Warriors (or Team USA Warriors or Monstar Warriors). The growing fear is that the Dubs dynasty has reached Russell-Auerbach levels where they could possibly surpass a 3-peat. The only teams that want to do something about it are the Lakers and Celtics, but I have a problem with this because it paints the narrative of the two legacy teams being the only hope to save competitive basketball. In fact, the Lakers-Celtics rivalry was what gave the NBA its first taste of relevancy in the 1960s (mostly on the Laker side for their connections to Hollywood and entertainment); the rivalry once saved the league from bankruptcy and a bad image problem that would have made itself second fiddle to the NFL. It's like saying, "If the Lakers and Celtics aren't ruling the NBA where they're the main draw in most of the Finals, then the NBA is ruined." What are your thoughts on this hypocrisy between this current Warriors dynasty and the Lakers-Celtics rivalry dynasty? How do you think Warriors will fare vs. both legacy teams in the playoffs and Finals respectively? Will there never be parity in the NBA – and is that okay?
The idea that parity doesn't exist in the NBA is just flat out wrong. Teams float to the top and fall into the bottom all the time. Parity isn't about all 30 teams taking their turns winning the Larry O'Brien. It's about whether teams have a field level enough to allow them to compete and complete that cycle of rising and falling.
Yes, if you look at the list of past NBA champions over the last 15 years or so, it really comes down to just a few teams. The Lakers, Spurs, Heat, Cavaliers, Warriors, and Mavericks just to name a few. But there have been seven different teams to finish atop the Eastern Conference since the 2010-11 season (four out West).
If you are using the number of teams that win championships as the measure of parity in the NBA, then perhaps you have an issue. But this talking point has only risen recently because of the seeming inevitability of the Warriors winning the championship for the next few years. While adding DeMarcus Cousins certainly seems to have an upside in the playoffs this year for Golden State, he will not be a member of that team next season, so I'm not making that the nail in the coffin for either side.
There's no doubt that the league would prefer if the Warriors didn't have a select few players on their roster, Kevin Durant in particular. The real issue Golden State might push into the light is players taking less than their market value to group together on one team. That may benefit some select owners, but several will likely bring up this issue during owners meetings if it continues.
If people feel exasperated because the Warriors are bound to win the championship every season, then they didn't pay attention when LeBron James beat them just a couple years ago in the Finals. Weird stuff happens. Stars get hurt. Guys punch guys in the crotch. There's still some variance you can expect.
Part of being a fan is being along for the ride when your team isn't the best or doesn't have a chance to win it all. You can learn all about how your young players will mesh together and where the future of the team is headed. Each season, 29 teams fail to win the championship. That will never change, and as long as that's the way the season ends every year there's no use giving up watching pro basketball. Get a grip, everybody.
You know what the best way to win a championship in the NBA is? Have someone who's not a doofus buy your favorite team. Honestly. Knicks fans know what I'm talking about.
Abdoulaye
What about a trade of Moe Harkless and Meyers Leonard for Serge Ibaka? Damian Lillard and CJ Turner need a traditional frontcourt. Al-Farouq Aminu needs to play at the 3. A starting five of Lillard, CJ, Evan Turner, Ibaka, Jusuf Nurkic with a bench of Seth Curry, Wade Baldwin, Gary Trent, Aminu, Caleb Swanigan and Zach Collins looks decent.

Ibaka would also bring the best of Nurkic as he plays better with a traditional PF like he did with Noah Vonleh. Small ball is good if you only have one of Dame and CJ or if you don't face a talented big.
I'm not sure this trade moves the needle for either team. Toronto is working on developing a young wing in OG Anunoby already, so Harkless would sort of clog that up. Leonard doesn't seem to have a lot of additional value for the Raptors at this juncture.
Meanwhile Ibaka isn't necessarily a valuable trade asset. He was a negative box plus-minus for a very good Raptors team last year, which sort of shows on paper what some people saw while watching him on the floor last year in Toronto.
I also think your overall assessment of the Blazers roster is a bit off. First, Portland doesn't play small ball. Small ball is what the New Orleans Pelicans used to sweep Portland in the first round. If anything, they play too "big" for some of their Western Conference foes as it is.
Aminu is not a bench player, and he is best while playing the four position. That's been the case for some time, and of course it is much better when the Blazers have a another 3-point shooter next to him like Harkless or Allen Crabbe. It also helps when the Aminu isn't ice cold from 3-point range, but at this point he will be a constant yo-yo player from that spot on the floor.
I have been saying that the Blazers need to take a big swing in order to prove to Lillard that they are willing to compete in the West, but I'm not sure that Ibaka is that guy. The reality is the Portland Trail Blazers are stuck where they are until something comes available for Neil Olshey.
In the meantime, I'm excited to read 17 more clickbait articles about how the Blazers are going to trade Lillard to the Lakers. Love them clicks, boy.
See y'all next week.
Submit your questions to the mailbag for next week by e-mailing pbtmailbag@gmail.com.