The Warriors told all those awkward jokes about Kevin Durant at their championship parade.
Now, he's opting out.
Marc Stein of The New York Times:
Of course, there's still no reason to doubt Durant's pledge to stay in Golden State.
He just sounds as if he no longer wants to take such a large discount. Durant's max salary next season (projected to be about $35 million) will be much larger than his option-year salary ($26.25 million).
Warriors general manager Bob Myers said Durant could name his price. So, what will Durant want on his next contract?
He could re-sign for two years including a player option (1+1), three years including a player option (2+1) or four years including a player option (3+1). Here's the max salary for each structure (projected amounts in italics, player options in blue):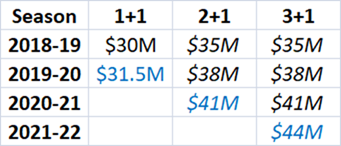 The advantage of a 1+1 contract: It'd allow Durant to opt out and re-sign next summer for a projected $219 million over five years. But that five-year, $219 million contract would have similar salaries in 2019-20 and 2020-21 as Durant could get now on a 2+1 or 3+1. Unless Durant values the flexibility of becoming a free agent again next summer or fears not being able to draw a max contract in 2020, he should maximize his earnings next season with a 2+1 and be positioned to sign long-term with full Bird Rights in 2020.
There's also the possibility Durant takes another, smaller, discount. Who knows exactly how deep his loyalty to Golden State ownership runs?
By opting out, Durant keeps all these possibilities on the table.