LeBron James, according to former Cavaliers general manager David Griffin, corrected a Toronto player on how to run a Raptors play during the fourth quarter of a playoff game.
That's domination.
It's the type of domination that can send opposing franchises spinning. Toronto fired Dwane Casey and replaced him with assistant coach Nick Nurse, and many people believe LeBron is responsible for the change.
LeBron's Cavs swept the Raptors the last two years in the second round. The year prior, Cleveland beat Toronto in the conference finals in the most lopsided six-game series in NBA history.
But if Nurse is going to guide the Raptors to the postseason heights they desire, his challenge is far wider than beating LeBron.
Toronto played nine playoff series in the last five years under Casey. In all nine – even the four wins – the Raptors underachieved based on regular-season performance.
For example, Toronto outscored opponents by 7.9 points per 100 possessions last regular season. The Raptors' first-round opponent, the Wizards, outscored regular-season opponents by 0.6 points per 100 possessions. So, I give that series an expected net rating of Toronto +7.3. In reality, the Raptors outscored Washington by just 2.1 points per 100 possessions – a difference of -5.2.
In the other example from last year, the Cavaliers outscored regular-season opponents by just 1.0 point per 100 possessions. With Toronto's +7.9 regular-season net rating, that'd give the Raptors an expected net rating in the series of +6.9. But Cleveland actually outscored Toronto by 15.1 points per 100 possessions – a difference of -22.0.
Here's how the Raptors fared in every series under Casey: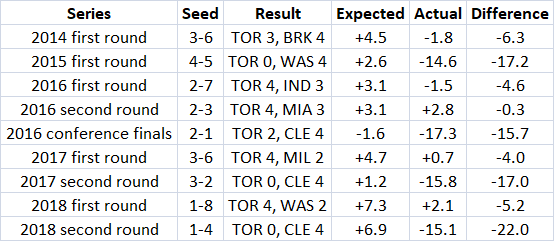 Add all the differences, and it comes to -92.3. That is by far the lowest mark for a team that made the playoffs each season in a five-year span since the NBA adopted a 16-team postseason in 1984: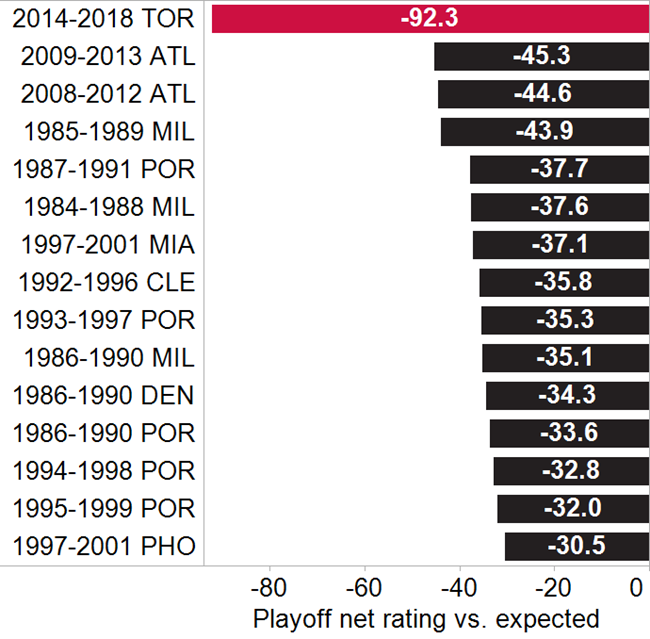 The Raptors offense has stalled in the playoffs. Kyle Lowry's and DeMar DeRozan's isolations became too predictable and easy to shut down.
Nurse has played a role in trying to fix those problems, and maybe an extra year and the top job will help him get Toronto over the hump.
The Raptors' regular-season success is commendable, but it's no longer enough for them. That's evident in Casey's firing and Nurse's ascension. The focus is already on the playoffs.
Nurse can't just wait around for LeBron to leave Cleveland. The Raptors' postseason problems are much more significant than one opponent, even LeBron.