CLEVELAND – The brightest dreams of the Bay Area and the darkest nightmares of everywhere else – especially here – have come to fruition.
The Warriors, already great then supercharged by Kevin Durant, blazed through the field to win their second straight championship and third in four years.
The 2018 title came with a sweep of the Cavaliers, capped by a 108-85 win in Game 4 Friday. It was the first sweep in the NBA Finals since 2007, when the Cavs lost to the Spurs.
Back then, LeBron James was about to start a three-year contract extension he signed the prior year. This summer, LeBron James holds a player option he could use to leave Cleveland – and many expect him to.
A couple days ago, LeBron reflected on leaving the Cavaliers in 2010 because they weren't good enough. These historically great Warriors and Cleveland's inept supporting cast have left LeBron looking spent. Can the Cavs get good enough quickly enough to convince LeBron to stay?
They aren't close.
After Golden State won a competitive six-game Finals in 2015 and the Cavaliers made a historic comeback in a seven-game Finals in 2016, the third and fourth matchups between these teams have been barely competitive. Since signing Durant, the Warriors have dominated – especially on the biggest stage.
The combination of Golden State's record (8-1) and point difference (+94) is unmatched over consecutive Finals.
Only the 2001-2002 Lakers and 1989-90 Pistons equal the record: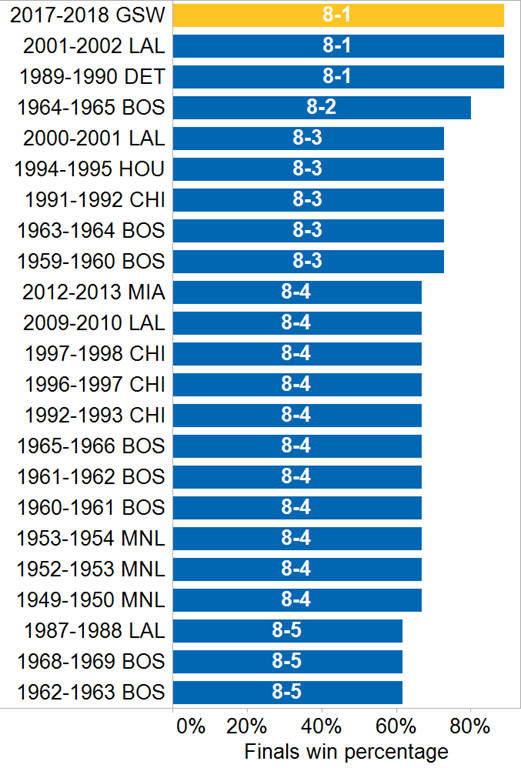 And only a couple versions of the old-school Celtics top the point difference:
Stephen Curry, Draymond Green and Klay Thompson now each have three rings – a significant line in their resumés when it comes to all-time rankings. Curry, with his two MVPs, could land quite high on those lists already. He put his Game 3 dud behind him and enters the discussion coming off a 37-point Game .
Curry (30), Durant (29), Thompson (28) and Green (28) are still young enough to keep the window open for several more years.
The Warriors have now reached four straight Finals and won three of them – a feat matched by only Magic Johnson's Lakers (1985-88 with the Celtics winning in 1986) and Bill Russell's Celtics (1957-66 with the St. Louis Hawks winning in 1958).
Where does this end?
Four in five? Five in six? Six in seven?
For these Warriors, it's easy to let imagination run wild.
For the Cavs, this could be the end of the road. If so, it was a memorable four years with LeBron back. Cleveland will always have 2016 and the unprecedented comeback from down 3-1 in the Finals.
But Golden State has the present and an inside track on owning the future.
What will LeBron do about it? His free-agency decision will shape the rest of a league that has tried in vain to keep up with these Warriors or just surrendered to them.
Upending Golden State's dynasty won't be easy. LeBron knows that as well as anyone.
Nobody has found the answer yet. Any hope to starts with him.