Asked about the notion the the Warriors merely held serve by winning the first two games of the NBA at home, LeBron James didn't linger on the significance of the series moving to Cleveland for Games 3 and 4.
"We want to continue to be uncomfortable," LeBron said. "Just because we're going home doesn't mean we can relax. This is the last team in the world you want to relax against. They've proven they can win on someone else's floor.
"I will continue to stay uncomfortable, and I hope our guys continue to stay uncomfortable no matter with us going back home."
Good news then:
The Cavaliers should be uncomfortable.
Teams down 2-0 in a best-of-seven series after dropping the first two games on the road have won just 6% of the time: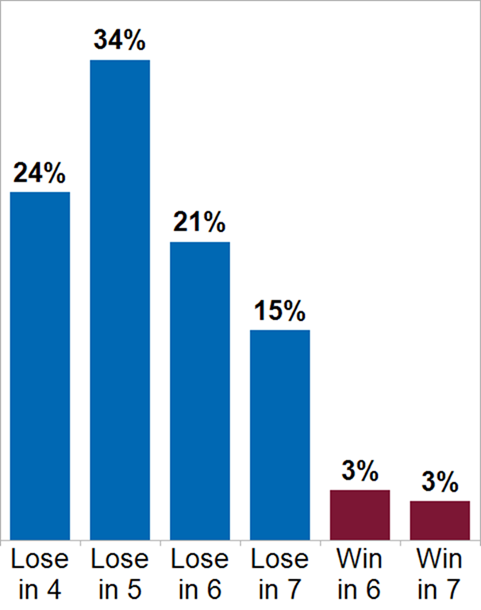 It's not just that the team with home-court advantage gets an extra home game. It's more that the team with home-court advantage showed superiority throughout the regular season. That definitely applies to the Warriors, who – even not dialing in – looked much better than the Cavs.
The outcomes haven't been much different in the small sample of the NBA Finals, teams falling behind 2-0 on the road winning just 14% of the time:
The Cavaliers have fallen behind 2-0 on the road in the last three Finals – including 2016, when they were the last of four teams to come back and win. And those losses were far more decisive.
But LeBron is staying on his (accurate) message. Asked whether he can draw on the experience of going down 2-0 in the Finals, he gave a one-word answer.
"No."