During Games 6 and 7 of the Eastern Conference Finals against the Boston Celtics, Tyronn Lue repeatedly ran early, high pick-and-roll sets for LeBron James in order to force switches. This allowed James to then back out with the ball and attack against the likes of Al Horford and Terry Rozier instead of Marcus Morris, while also creating mismatches the rest of the Boston roster wasn't ready for.
This plan worked like a charm — especially in crunch time — and during the last two matchups against the Celtics James scored a whopping 81 points. It helped push the Cavaliers to their fourth straight NBA Finals appearance against the Warriors. At the same time, this strategy gave Golden State oodles of game film to study and learn from Boston's mistakes.
As Game 1 of the 2018 NBA Finals got underway on Thursday, the Warriors did much of what we saw them do in the last round against the Houston Rockets, who created quite a few mismatches through switches themselves. As James dribbled on the pick-and-roll to get players like Stephen Curry or Kevon Looney switched on to him, the Warriors held and pinched.
It was an ingenius wrinkle we saw Steve Kerr add halfway through the Rockets series, and they employed it again against LeBron on Thursday.
When Cleveland ran a guard across James' man, Golden State's guards made themselves skinny, offering little resistance. Warriors guards tried to make way for James' defender to recover, while at the same time LeBron's original defender employed a holding tactic, allowing the guard defender to slide through.
James, now without much room to spare, decided to play the role of the bully in the second half. As his original defender recovered or as help slid over on drives, LeBron pushed his way to the rim. He was particularly effective during the second quarter, when he made four of his five field goals from inside or directly near the painted area.
As much as we like to act as though James is superhuman, he could not spend the entire game bulldozing defenders out of the way. LeBron shot more from outside in the third quarter, and Golden State pounced. The Warriors, even when they did fully switch smaller or less appealable players onto LeBron, stayed alert of the shot clock, and several times caused havoc in Cleveland's passing lanes with simple digs as Cavaliers players stood and watched.
Golden State played excellent help defense once LeBron took a step inside the 3-point line. The Warriors called out their switches swiftly and quickly, clearly executing a plan for when things broke down and James was barreling toward the paint. As a team, the Cavaliers shot just 27% from 3-point range, and players like Kevin Love and JR Smith were not valuable as corner shooters.
On switches, Golden State's plan was to sell out on every Cavaliers shooter outside of LeBron at the 3-point line, making them shoot inside the arc. The result was several good switches, even from bench players, of which the Warriors used seven.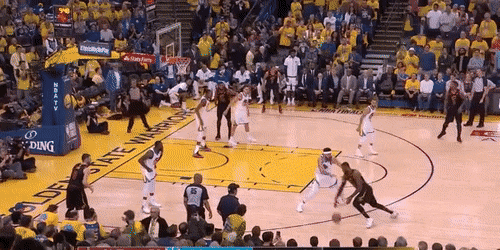 In this play above, after LeBron forced the switch on JaVale McGee, Draymond Green rushed to help from Love in the corner. McGee knew immediately to run toward Love in the corner on the switch, fully giving responsibility for LeBron to Green. The result was an excellent closeout by McGee, a missed 3-pointer for the Cavaliers, and a change of possession in favor of Golden State.
Cleveland played about as well as they could have given the situation, and they might have won if not for a few boneheaded mistakes, like not knowing what the score was at the end of regulation. Lebron scored 51 points to go with eight rebounds and eight assists, although the Cavaliers star racked up five of Cleveland's 11 turnovers. James was a -13 on the night despite all his scoring, and as a team had just 18 assists compared to Golden States 31.
Defensive strategies change from game-to-game, but it will be interesting to see how the Warriors deploy this kind of defensive squeeze on LeBron in Game 2 and as the series rolls along.
Game 2 is on Sunday at 5:00 PM PST.