James Harden looked gassed in the Rockets' season-ending Game 6 loss to the Spurs last season. Though Harden defiantly insisted he was fine, Houston got him help – namely Chris Paul. Harden and Paul led the Rockets to 65 wins and a 3-2 lead in the Western Conference finals this year.
Then, Paul got hurt.
Houston dropped Games 6 and 7, the latter in excruciating fashion.
"In that second half, our pace wasn't there," Harden said. "In the third quarter, I was trying to get the guys, 'Come on. Let's go. Let's go. It's time.'
"But we didn't have that extra juice that we needed."
The tired Rockets got creamed in the second half of their last two games. The Warriors outscored them 64-25 in Game 6 and 58-38 in Game 7. That combined margin is the largest in the second half of consecutive games in a playoff series during the shot-clock era:
And these came in games Houston outscored Golden State in the first half! It's not as if the Rockets were just thoroughly overmatched. They won Game 6's first half by 10 and Game 7's by 11.
That meant Games 6 and 7 hold the largest combined first-to-second-half swings for consecutive games in a playoff series during the shot-clock era: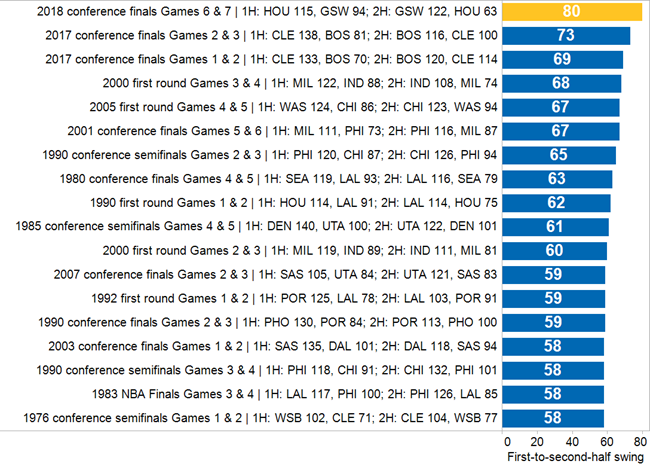 At their best, the Rockets:
Pushed the pace and got slightly easier shots before the Warriors' elite defense completely set
Alternated between Harden and Paul isolating when forced to face a set defense, sparing Harden energy for defense
That all became far more difficult to impossible without Paul – and created no-win choices.
Rockets coach Mike D'Antoni knew Ryan Anderson was a defensive liability against Golden State. That's why, aside from five minutes in Game 2, Anderson never played beyond garbage time in the first six games. But relying on such a limited rotation was wearing down the heavily used players.
So, D'Antoni faced a choice in Game 7: Play Anderson or place even more burden on the team's best players?
D'Antoni played Anderson eight minutes, and the Warriors torched him. They outscored Houston by 12 with him on the floor in a nine-point win.
But sitting Anderson probably wasn't the solution, either. Other players already looked fatigued, and divvying Anderson's minutes among them would have only exacerbated the problem.
Golden State doesn't give an inch. The Warriors are built to exploit nearly any flaw in their opponents.
Once Paul went down, Houston had too many and just had to choose between them.
Credit the Rockets for never quitting, but over 48 minutes, they could no longer keep up.