After falling behind big in the first quarter in Game 6 against the Rockets, the Warriors climbed back in the second quarter and blew the lid off in the fourth quarter.
But they turned the game – maybe the Western Conference finals and maybe even the 2018 title – in their favor in the third quarter. Golden State outscored Houston by 17 in the period.
That third-quarter success is nothing new to the Warriors. In the regular-season, they outscored opponents by 4.5 points per third quarter. That's the best quarter by any team this season: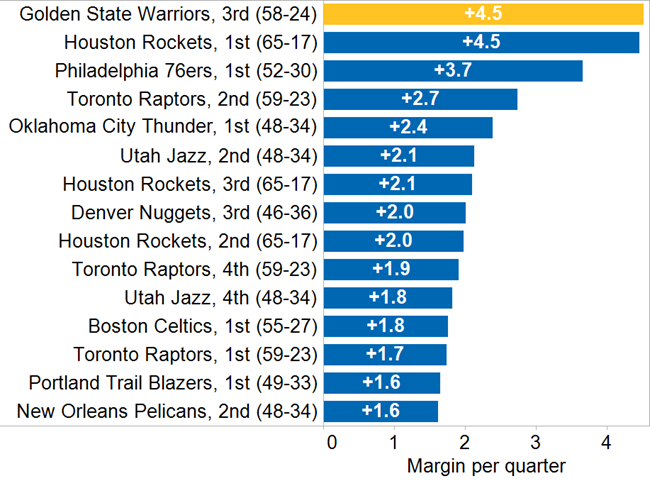 Golden State has been even even better in the playoffs.
At +7.0 points per third quarter, the Warriors are posting one of the best quarters ever for a team in the postseason. Nobody has sustained such a high mark over such a large sample.
Here are the best quarters by teams in the playoffs during the shot-clock era (minimum: two series):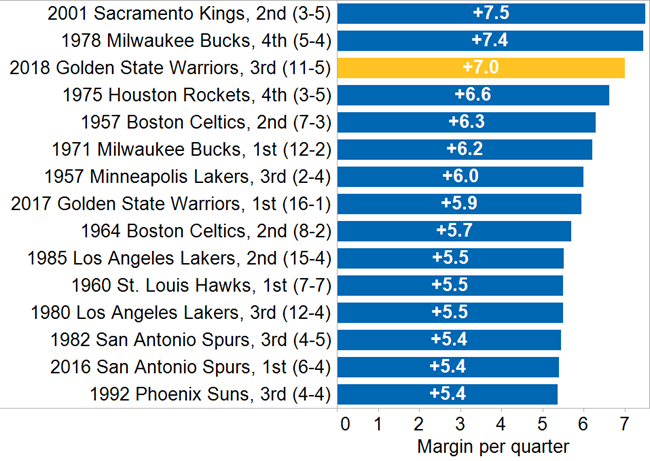 So, why does Golden State dominate the third quarter?
"Just incredible halftime adjustments," Warriors coach Steve Kerr deadpanned. "The coaching staff has done amazing."
Maybe Kerr excels at tweaking strategy during games. Or maybe he's just terrible at devising a game plan that works initially.
But there's a simple explanation: Golden State plays stars Stephen Curry, Kevin Durant, Draymond Green and Klay Thompson big minutes in the third quarter.
Of course, that sparks another question: Why aren't the Warriors as good in the first quarter, when those stars receive similar playing time? Golden State got outscored slightly in the first quarter during the regular season and has been just +0.4 per first quarter in the playoffs.
Kerr might have touched on the reason.
"The one thing I do know is that our guys have a ton of character and con of competitiveness, desire. They're champions," Kerr said. "So our guys compete.
"They may not always focus, but they compete."
The Warriors spent the regular season and even portions of the playoffs looking like a team certain it could win whenever it locked in. That urgency is more likely to manifest in games competitive during the second half than at the start of a games.
Golden State's third-quarter excellence could also be a self-fulfilling prophecy. Even if the success began as even partially random, the Warriors now expect to dominate third quarters. That confidence only helps.
So, whatever happens in the first half of Game 7 tonight, the third quarter looms – and will likely go in Golden State's favor.