Asked about his team isolating so much in Game 1, Rockets coach Mike D'Antoni said, "I mean, that was the best thing we had. I don't know why it's bad."
Asked about his team isolating so much in Game 2, Warriors coach Steve Kerr said, "Yeah, we didn't play well, obviously, at either end of the floor."
Houston's offensive style became a major talking point after Game 1, but Golden State has fallen deep into isolation. The Warriors aren't nearly as comfortable with that tactic, but it's central to their Western Conference finals.
Both teams want to score in transition and semi-transition. Golden State is just far more eager and capable. The goal changes once facing a set, halfcourt defense. The Rockets prefer to isolate with James Harden or Chris Paul. The Warriors want to move the ball and run more complex sets.
But Houston's switching defense was built to shut down that very attack. The Rocket struggled to keep up in Game 1, but they settled in in Game 2 (made easier by scoring more efficiently and getting more chances to set their defense). Houston became especially effective by treating Draymond Green and Andre Iguodala as non-threats to score, devoting more attention to gumming up the works for Stephen Curry and Klay Thompson.
Golden State anticipated this problem a couple years ago and found a highly charged solution – signing Kevin Durant. Durant fits well into the Warriors' dynamic offense, but he's also an elite one-on-one scorer when things break down.
With the offense broken down more often against the Rockets, Golden State kept turning to Durant. And he has answered the call.
He scored 37 points in Game 1 and 38 points in Game 2. He's making 58% of his 2-pointers (21-of-36), 46% of his 3-pointers (6-of-13) and 100% of his free throws (15-of-15) in the series. His combination of usage percentage (37%) and true shooting percentage (67%) is off the charts.
The Warriors can easily get a mismatched defender switched onto Durant. He has cooked James Harden, Clint Capela, Chris Paul and Eric Gordon. But Durant has also excelled against better-equipped defenders in Trevor Ariza and P.J. Tucker.
This is mostly translating to the team level. Golden State's offensive rating with Durant on the floor (113.3) would have led the NBA in the regular season.
So, what's the downside?
There's a ceiling on Durant dominating from mid-range. Sometimes, that'll beat Houston's 3-point heavy attack (102.7 offensive rating in Game 1). Sometimes, it won't (Houston's offensive rating in Game 2: 122.3).
Durant has taken 49 shots this series while dishing only assist. Since the NBA instituted a 16-team postseason format in 1984, players have taken more shots with so few assists in consecutive games of a playoff series just six times: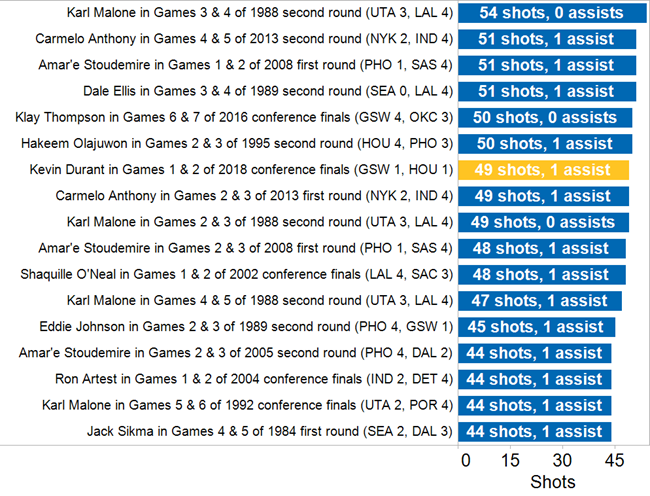 Golden State is just 1-6 this season, regular-season and playoffs, when Durant has scored at least 38 points. That's not because his scoring is harmful, but because the Warriors turn to him so much only faced with other problems.
Durant's isolations can then create new issues.
When the ball is sticking with Durant to such an extent, are his teammates still working as hard off the ball to generate even more efficient looks? Is Durant defending as hard when he expends all that energy on offense? Are his teammates defending as hard when they're not involved offensively?
In a sport with real humans who get fatigued and have emotions, there are downsides to funneling the offense through Durant – even if he directly scores efficiently.
The Rockets have spent all season adjusting to those issues. Golden State isolating so much threatens its identity.
It's working alright for the Warriors so far. The series is 1-1, after all.
But they're aiming higher and surely aren't content to keep playing this way.