Mohamed Bamba is an intriguing prospect likely to go near the top of the draft. A highly touted recruit, he solidified his stock during his freshman year at Texas. He covered a lot of ground defensively, protecting the rim and switching onto the perimeter. It was a lot of work.
Then, he elevated his stock even further simply by extending his arms.
Bamba had his wingspan measured at 7-foot-10. That's the longest in the history of the NBA draft combine, with records dating back to 2000.
The wingspan leaderboard: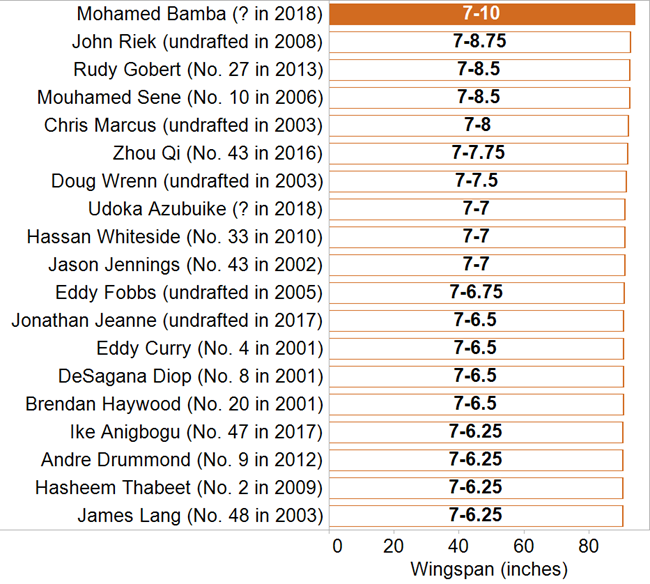 Wingspan is important, because taller people tend to be more clumsy running and jumping. Longer wingspans allow players to mirror the advantages of being tall without the shortcomings.
Bamba measured 6-foot-11.25 without shoes and 7-foot-0.75 in shoes. That gives him the second-largest standing reach in combine history at 9-foot-7.5. The record holder is Pavel Podkolzin, whom the Mavericks picked No. 21 in 2004 (via the Jazz, who officially drafted him). Podkolzin's standing reach was 9-foot-8 (7-foot-3.5 without shoes, 7-foot-5.75 wingspan).
Bamba won't have the longest in NBA history, though. The 7-foot-7 Manute Bol's was reportedly 8-foot-6.