The Celtics dominated the Cavaliers in Game 1 of the Eastern Conference finals Sunday.
Dominated.
Boston built a 21-point lead in the first quarter, led by at least 14 the rest of the way and cruised to a 108-83 win. The Celtics bottled up LeBron (15 points on 5-of-16 shooting, nine assists, seven rebounds and seven turnovers). Cleveland got outscored by 32 with him on the floor – tied for his worst-ever plus-minus in a playoff game.
Afterward, LeBron sounded as if he were just toying with Boston.
"Game 1 has always been," LeBron said, "a feel-out game for me.
"I have zero level of concern at this stage. I didn't go to college, so it's not March Madness."
The NBA playoffs aren't single-elimination. But every game carries significant weight in a best-of-seven series. Should LeBron be so dismissive of what the Celtics accomplished in Game 1?
He has earned the right to be.
LeBron has won just 61% of his Game 1s, his worst mark of any game in a series: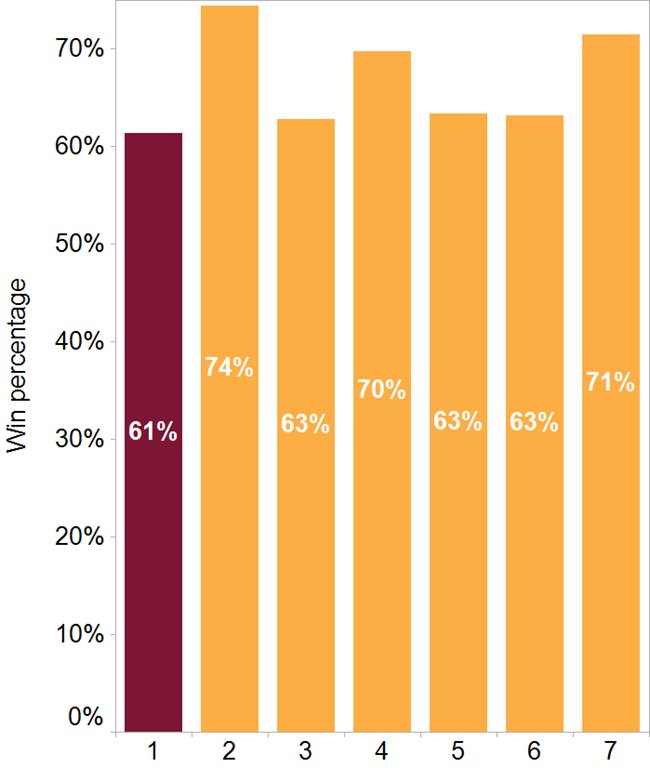 That's especially astounding, because LeBron's teams are usually good enough in the regular season to secure home-court advantage and open series at home. (Game 1 of the 2018 Eastern Conference finals was in Boston.) The Cavs and Heat have played 66% of their Game 1s with LeBron at home.
With a simple baseline of expecting LeBron to win at home and lose on the road, Game 1s are the only time he loses more than expected: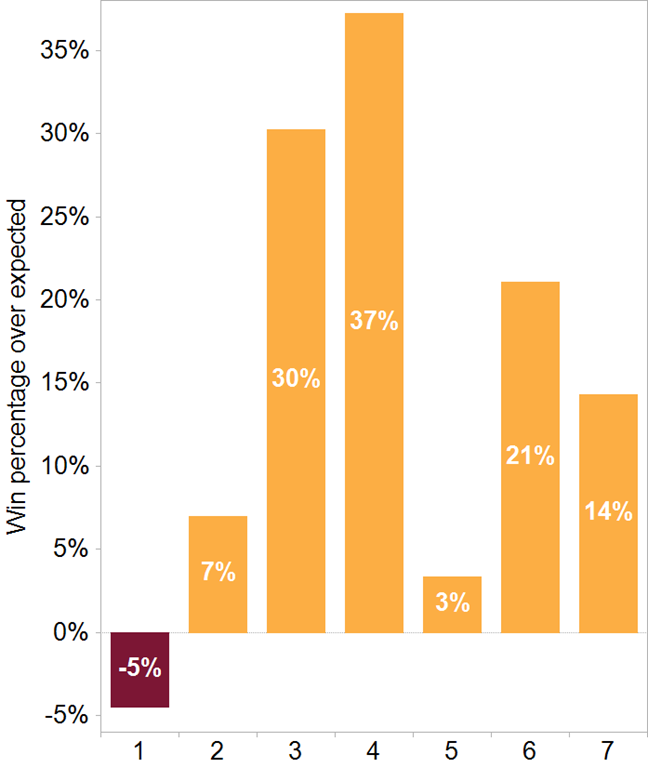 Of course, LeBron's frequent deep playoff runs means he usually turns it around after a Game 1 setback.
Teams that lost Game 1 of a best-of-seven series have won it just 23% of the time. LeBron's teams have won 56% of the time.
Here are the 16 times LeBron's teams previously dropped Game 1, including the nine series victories:
Cavaliers lost to Pistons in 2006 second round
Cavaliers beat Pistons in 2007 conference finals
Cavaliers lost to Spurs in 2007 NBA Finals
Cavaliers lost to Celtics in 2008 second round
Cavaliers lost to Magic in 2009 conference finals
Heat beat Bulls in 2011 conference finals
Heat beat Thunder in 2012 NBA Finals
Heat beat Bulls in 2013 second round
Heat beat Spurs in 2013 NBA Finals
Heat beat Pacers in 2014 conference finals
Heat lost to Spurs in 2014 NBA Finals
Cavaliers beat Bulls in 2015 second round
Cavaliers lost to Warriors in 2015 NBA Finals
Cavaliers beat Warriors in 2016 NBA Finals
Cavaliers lost to Warriors in 2017 NBA Finals
Cavaliers beat Pacers in 2018 first round
So, LeBron can taunt the Celtics a bit by calling what they hope is their breakthrough victory just "a feel-out game."
It's harder down 1-0 than up 1-0, and LeBron has shown cracks this season. There's no guarantee he digs himself out of this hole.
But he, more than anyone, deserves the benefit of the doubt.