The Raptors firing Dwane Casey was both unsurprising and understandable.
There had been signs for days. Really, for years.
And maybe Toronto could use a shakeup after repeatedly faltering in the playoffs, including getting swept by LeBron James and the Cavaliers in the second round the last two years. It's easier to change the coach than the players, especially with Kyle Lowry, DeMar DeRozan, Serge Ibaka and Jonas Valanciunas locked into expensive, multi-year contracts.
Nonetheless, it's still shocking on a certain level to see a coach fired after guiding a team to a 59-23 season.
That's the fifth-best record ever for a team that changed coaches after the season: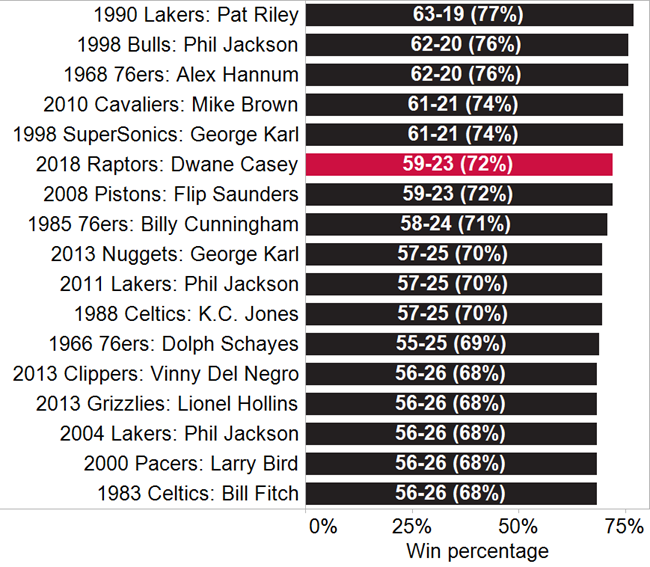 It can murky whether a coach got fired or resigned.
But the 76ers (62-20) definitely fired Alex Hannum in 1968. The Cavaliers (61-21) definitely fired Mike Brown in 2010. The SuperSonics (61-21) definitely fired George Karl in 1998. The Pistons (59-23) definitely fired Flip Saunders in 2008.
They all had final-year records at least as good as Casey's. Like Casey, most of them just didn't advance far enough in the playoffs over multiple years.
The exception: Hannum, who lasted just two years in his second stint coaching the 76ers franchise (previously, the Syracuse Nationals). He won a championship in the first season then got fired after going 62-20 in the second.
So, it could be worse than the treatment Casey received.