The Cavaliers scored on at least* 14 possessions with only LeBron James dribbling in the frontcourt during their Game 2 win over the Raptors last night – at least* eight times with LeBron making a basket, once with him drawing free throws and five times on his assists.
This is the luxury of LeBron.
Cleveland doesn't need risky high-upside plays to generate efficient shots. The best player of his generation creates them in simple actions. And when he's making all those fadeaways, the output is through the roof – 128 points and a 141 offensive rating.
*ESPN didn't show the start of a possession in which LeBron scored without passing while televised.
The LeBron effect is most evident in turnovers. Because the Cavs' offense is so conservative, they rarely turn the ball over when LeBron is locked in to this degree.
The Cavaliers had just three turnovers in Game 2 – tied for the fewest in a playoff game in the modern era (since 1984, when the NBA adopted a 16-team postseason):
Cavaliers in Game 2 of 2018 second round vs. Raptors
Grizzlies in Game 6 of 2015 second round vs. Warriors
New Orleans Hornets in Game 1 of 2011 first round vs. Lakers
Pistons in Game 5 of 2008 second round vs. Magic
And, despite going to overtime, Cleveland had just six turnovers in Game 1 against Toronto. That gives the Cavs – by far – the fewest turnovers in the first two games of any playoff series in the modern era.
Because team turnovers weren't tracked in earlier years, we'll compare only turnovers assigned to individual players. That the Cavaliers have had only one team turnover (in Game 1) only makes this more impressive.
Here are the fewest player turnovers in the first two games of a series since 1984: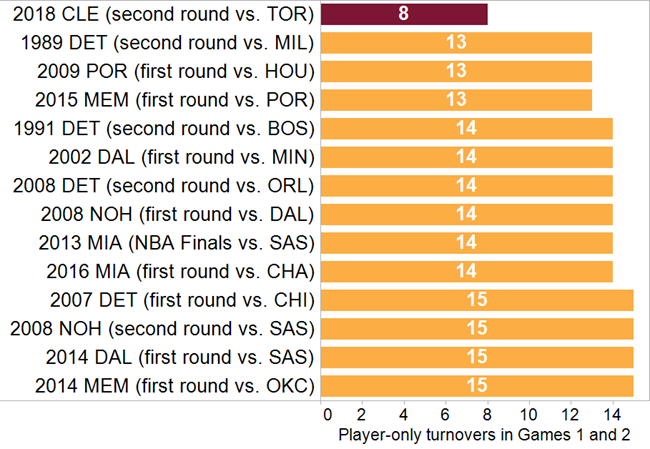 The Raptors were average at forcing turnovers during the regular season. Cleveland just isn't giving them a chance.
The Cavs ranked 27th in the regular season with 273 passes per game. They passed even less in Game 1 (264) and Game 2 (257).
Why toss the ball around when it's so likely LeBron can create a good shot on his own?