To be honest, we learned a lot more than just five things through the first eight games of the NBA playoffs. We learned that the Bucks are a spectacular combination of talented and flawed. We learned the Raptors can win the first game of a playoff series. We didn't so much learn as were reminded that Anthony Davis is otherworldly and Jrue Holiday knows how to defend. Yet none of those made this list.
Here are my five biggest takeaways from the first weekend.
• Of course James Harden was brilliant, but the Timberwolves blew their chance to steal Game 1. This was Minnesota's first playoff game since Kill Bill Vol.2 was in theaters, and it was a rough one. Not because they got blown out — they didn't — or because James Harden looked every bit the MVP (he did).
Rather, this is a tough one because the Timberwolves blew a chance to take Game 1.
We need to start with the obvious — James Harden is incredibly good at basketball. He had 12 straight points in the fourth and finished the game with 44 points on 26 shots, plus had eight assists. He made up for the fact Chris Paul played like he was still in a Clippers' uniform, and he made up for the fact the rest of the Rockets shot 3-of-25 from three. Great players can cover up a lot of flaws, and in their opener the Rockets looked flawed outside Harden.
It took all that from Harden to get Houston a 104-101 win. If you're Houston, it wasn't pretty but you never question a playoff win. Just take it and move on.
If you're Minnesota, you blew it. When you're a massive underdog to an elite team, you can't throw away an off night from the favorite and not get a win. Yet Minnesota did it, and with the same-old issues — starting with Karl-Anthony Towns didn't get enough shots. The Rockets switched on KAT — Houston switched everything all season, Minnesota had to know that was coming — then doubled the big man quickly, throwing different looks at him. It threw Towns off his game. Towns shot just 3-of-9 for the night. Thibodeau said he needs Towns to be more aggressive going forward, and he's right about that, but this felt like a variation of the Minnesota problem of not getting one of the game's best offensive players enough shots all season long. This is a recurring theme.
Add in the fact Jimmy Butler was just 4-of-11 shooting (same with Jamal Crawford) and there's just not enough offense from Minnesota's stars when they needed it, both all game and late in crunch time. Houston is a top-10 defensive team, but Minnesota's stars have to be better than this — especially in the fourth quarter when Towns had one shot and Butler was 0-of-4. That's not good enough. (It's also part of a trend, Butler missed every shot he took this season with the game tied or his team down three or less in the final 10 seconds of games, and as a team Minny struggled in those spots.)
Here's why Minnesota blew their chance: Houston's shot chart from three is not going to be red like this again next game, and likely not all series.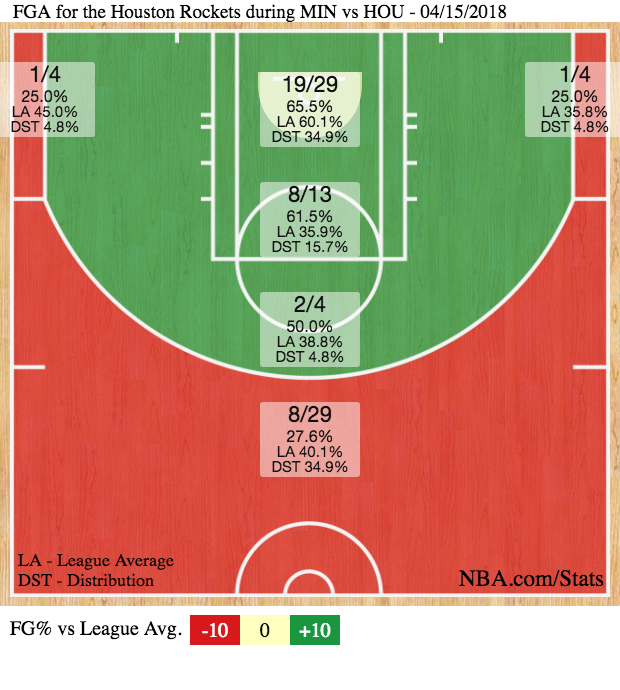 • It's too early to panic about the Cavaliers, but you might want to know where that button is located. If one thing is going to sink Cleveland in the playoffs we expect it to be their dreadful defense, which was 29th in the NBA for the regular season. It wasn't impressive in Game 1 — Victor Oladipo had 32 points and just kept getting switches off a pick, backing out to isolate, starting from out by the center court logo then blowing past anyone the Cavaliers had on him. The help was rarely there in time. Oladipo had 32 points and was the driving force on both ends for the Pacers. Want to re-think that comment Dan Gilbert?
However, in Game 1 it wasn't the Cavaliers defense that was dreadful, it was their offense. Cleveland generated far less than a point per possession — an awful 84 points per 100 possessions — and outside of an okay night from LeBron James and a hot J.R. Smith late, they were terrible on that end. Cavaliers not named LeBron or Smith shot 34 percent for the game. Jeff Green was a disaster.
LeBron didn't do enough either, especially early in establishing a tone. Indiana started Bojan Bogdanovic on him, and LeBron didn't take advantage of it, going 0-of-3 in the first quarter and working to set up teammates (which didn't work out).
It's just one game, and this is a LeBron James team. We should expect them to pick themselves up and perform much better in Game 2. However, we went into this postseason, looking at this reformed roster around LeBron, and were wondering who he could trust to step up when it mattered. Game 1 did not fill him or anyone with confidence. Larry Nance Jr. had moments, Kevin Love will be better, but that's not enough. It wasn't against the Pacers Sunday and it will not be in the postseason. Cleveland did not impress anyone for most of the season, and they did not flip a switch when the playoffs started.
• Yes, Ben Simmons is that good. As a rookie. Ben Simmons is not the Sixers best player right now — and that should scare the rest of the NBA. Because he's insanely good — not just for a rookie, but period. In his playoff debut he was attacking on offense and setting up teammates (J.J. Redick had 23 second-half points for Philly when the pulled away from Miami), plus scoring himself when needed. and making defensive plays, too.
The key thing about that win and Simmons in Game 1 — it keeps the pressure off the Sixers to race Joel Embiid back. Embiid has cleared the league's concussion protocol and can play in a mask, but he will sit out Game 2. Which is good. Remember Embiid played 63 games this season after playing 31 the season before and zero the two seasons before that. It's a lot. Embiid feels ready and wants to get out there, but if I'm the Sixers I'm happy to rest him one more game, just to be abundantly cautious.
Simmons lets the Sixers do that.
• Kawhi Leonard speculation is running wild… probably for no good reason. There's nothing to talk about with the Golden State/San Antonio series, the Spurs have no answers for Kevin Durant and the Warriors athleticism, all of which will make this a short series.
Instead, the focus has turned to why Kawhi Leonard was not on the bench supporting his teammates in Game 1 — as Stephen Curry was doing on the Warriors' bench — and instead was working out in New York and talking to his doctors. Leonard is going to miss the entire postseason. Which has fueled speculation the Spurs and Leonard have grown distant, that he wants out and they will oblige, and other teams are trying to put together trade packages.
Put the brakes on all that.
Are other teams going to call San Antonio up and ask if he's available? Of course. They should. Also, teams are going to talk to the Sixers this summer and try to see if Simmons and Embiid are available — this is what GMs do. They probe and test the market. It doesn't mean a guy is going to get moved, or that a team is even considering it.
Remember what one exec told Sam Amick of the USA Today about the possibility of the Spurs trading Leonard: "It would be a mistake." When have you known the Spurs to make that kind of mistake?
Here's what to watch for: On July 1 (or soon after) do the Spurs offer Leonard the $219 million designated veteran max extension he is eligible for? (The deal Russell Westbrook and James Harden got.) The answer will probably be yes, Leonard will sign it, and next September when the Spurs come to camp Leonard and Gregg Popovich will lock arms and sing Kumbaya.
If the Spurs don't make that offer, then things get interesting. Why didn't they, what do they know? And will they listen to those trade calls? However, we're a long way from that.
• Utah's defense was best in the league, but it was Oklahoma City's defense that won Game 1. What we all wanted to see in Game 1 of Oklahoma City vs. Utah was the showdown between Russell Westbrook's attacking game and Rudy Gobert's defense in the paint. Gobert had an impact — in the regular season Westbrook got to the rim for 39.5 percent of his shots and took 31.4 percent of his shots from the midrange, but in Game 1 he was at the rim just eight times (32 percent of his shots, and hit only hit half of them) but took 40 percent of his shots in the midrange. Thing is Westbrook hit those shots (6-of-12). If his midrangers fall — and if the Jazz don't find a better answer for Paul George — the Thunder offense will be fine.
However, that's not the side of the ball that made it look like OKC could make this series a little easier than we thought.
In the regular season, the Thunder had a top-10 defense and it was on display Sunday — the Jazz had trouble getting penetration into the paint to break down OKC's defense. Donovan Mitchell had a good game of 27 points on 22 shots, and he got into the paint some, but the Thunder made him really work for those buckets — with defenders other than PG13 on him. George shut down Joe Ingles. Meanwhile, the Thunder helped off Ricky Rubio all game long and dared him to shoot, giving the Spaniard all the space he could want, and he shot just 5-of-18.
How will Utah adjust in Game 2? I'd like to see them go at Carmelo Anthony more. Give Alec Burks more of a role, he was strong in Game 1. The Jazz are not a dominant offensive team, and their defense needs to tighten up (and eventually Westbrook will miss some from the midrange), but Utah has to find a way to get more buckets to have a real shot in this series.