DETROIT – Fred VanVleet remembers sitting on the end of the Raptors bench with teammates like Delon Wright, Jakob Poeltl and Pascal Siakam last season. None held a permanent rotation spot, and they discussed what they would do better if they got an opportunity.
"If you're made of anything, nobody likes sitting on the bench," VanVleet said. "So, we're all kind of pissed off."
They've gotten a chance to channel that frustration into production, and they've sure capitalized. Those four and C.J. Miles, who signed with Toronto last summer, lead the NBA's best bench and comprise one of the league's top lineups.
"The question has been whether we're going to keep them in, that group, during the playoffs," Raptors coach Dwane Casey said without even being asked about the postseason, a time most teams shrink their rotation. "And why not? Until they prove us wrong and prove that they can't perform in the playoffs, that's our plan."
Toronto is outscoring opponents by 9.4 points per 100 possessions with mostly reserves in, one of the best marks in the last couple decades. Here are the top benches by net rating since 1997, as far back as NBA.com data goes (with offensive rating/defensive rating/net rating):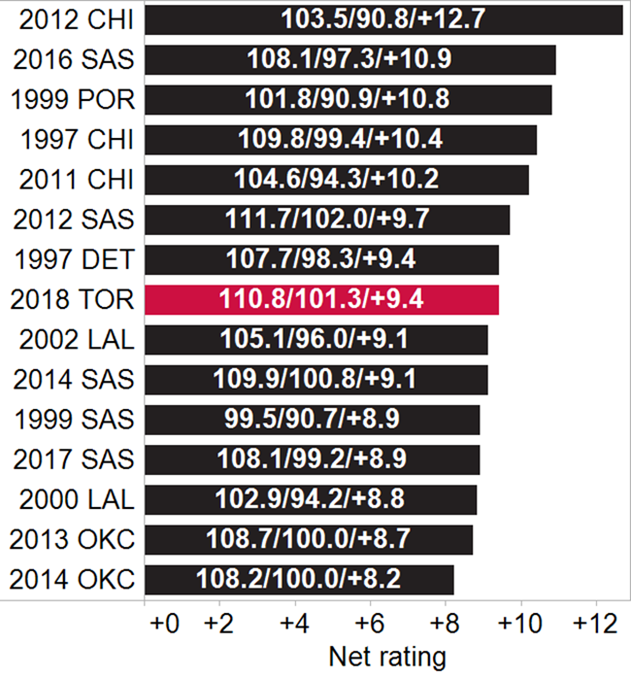 Many productive benches ground overwhelmed opponents into submission with tough defense. The Raptors' reserves excel offensively and defensively. Their 110.8 points per 100 possessions ranks third among benches since 1997 (behind only the 2012 Spurs and 2018 Rockets).
Other benches are propped up by staggered stars who carry backups. Not in Toronto. The all-reserve lineup of Wright, VanVleet, Miles, Siakam and Poeltl is outscoring opponents by 22.2 points per 100 possessions. Of 43 five-man units to play 200 minutes this season, only the Timberwolves' Tyus Jones/Jimmy Butler/Andrew Wiggins/Taj Gibson/Karl-Anthony Towns lineup has fared better (+23.4).
Here are the top lineups with at least 200 minutes (with offensive rating/defensive rating/net rating):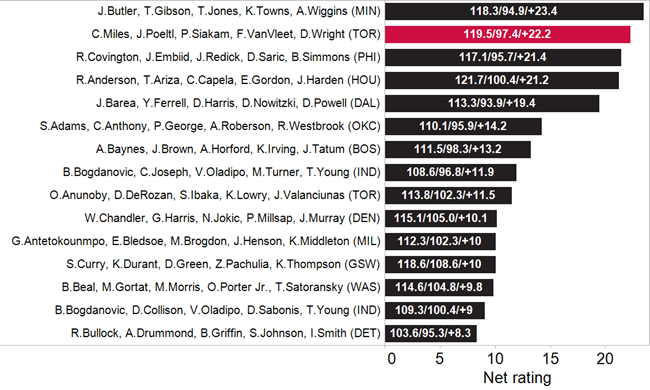 Casey said he has seen opponents juggle their rotations to play more starters against his bench. Yet, the reserves have held up. That's a big reason he has so much faith in the group for the playoffs.
But Casey didn't have much choice to entrust these recently deep reserves with bigger roles initially.
The Raptors lost DeMarre Carroll (traded to Nets), P.J. Tucker (signed with Rockets), Patrick Patterson (signed with Thunder) and Cory Joseph (traded to Pacers) last offseason. Shedding that depth was necessary to re-sign Kyle Lowry and Serge Ibaka and remain under the luxury-tax line.
Of course, Toronto knew it had developing players who might have been ready for larger roles. But the way everything has come together has been incredible.
These players mesh so well. They space the floor and pass willingly. Wright, Miles, Siakam and Poeltl all have the length and mobility to swarm defensively, allowing the pesky, but undersized, VanVleet to aggressively pressure the ball.
They've formed an identity without commonality, the outliers adapting to the group.
They like to talk about how they're young players trying to prove themselves. Wright is 25, Siakam 24, VanVleet 24, Poeltl 22. But Miles is 30 years old and in his 13th season
"The exuberance they have and the way they play the game, it keeps me in it," Miles said.
They bring how they've all been overlooked. Wright and Siakam were drafted in the 20s. Miles was a second-rounder. VanVleet went undrafted. But Poeltl was a top-10 pick.
"I feed a lot off my teammates' energy, also," Poeltl said. "I'm the type of guy that, if we all get fired up, I get dragged along with that. And then, at that point, I also bring a lot of energy to the table. That drags my teammates with me."
Another trait contagious among the group: unselfishness.
Some emanates from Wright and VanVleet. Both essentially point guards, they were competing for a spot on the depth chart a year ago. Now, VanVleet is in a contract year, and Wright will be eligible for a contract extension this offseason. Both admitted some trepidation about playing together.
"It would be easy for me to be selfish going into my contract year," VanVleet said. "It would be easy for Delon to try to make his mark going forward."
Yet, they make it work. When VanVleet initiates the offense, Wright cuts. When Wright initiates the offense, VanVleet spots up.
"It was really our first stint of having a role on a team," Wright said. "So, I don't think there's no time to be selfish when you're just getting your opportunity."
Of course, that attitude can't last forever. The Raptors' reserves are tasting success and hungering for more.
"People are asking why we're so good. It doesn't take a rocket scientist," VanVleet said. "We've got good players.
"We know most of us, if not all of us, can start on other teams. And that's something that we hold to our heart."
VanVleet probably won't overtake Lowry or DeMar DeRozan to start in Toronto's backcourt. But as a restricted free agent this summer, he'll have the first opportunity to seek a starting job elsewhere. Toronto faces a potential luxury-tax bill next season and might decide not pay VanVleet, especially with Wright there.
For now, the Raptor reserves are just gearing up for the playoffs and enjoying each other's company.
"The camaraderie we have as a unit is unbelievable," Miles said. "It's non-stop laughter, not-stop joking."
The newcomer, Miles saw that brewing when he arrived over the summer. He recognized a group of young players who bonded over their lack of playing time and thought back to his first few seasons, when he was in the same boat. He told his emerging younger bench-mates he wanted to be part of what they were doing, not an outsider.
Now, they're dominating.
"It's really special when you think about it," Miles said.