When Kevin Durant got ejected in December, he said, "I got to shut up and take it." When he got ejected in January, he apologized for acting like a "diva" and "jerk."
But he has barely, if at all, changed his approach with referees since either incident.
Durant got ejected from the Warriors' loss to the Bucks last night. It was his fifth ejection of the season, tying Larry Sanders (2013 Bucks) for the most since Rasheed Wallace got ejected seven times each in 2000 and 2001.
Here's the single-season ejection leaderboard since 1993 (as far back as Fox Sports' records go)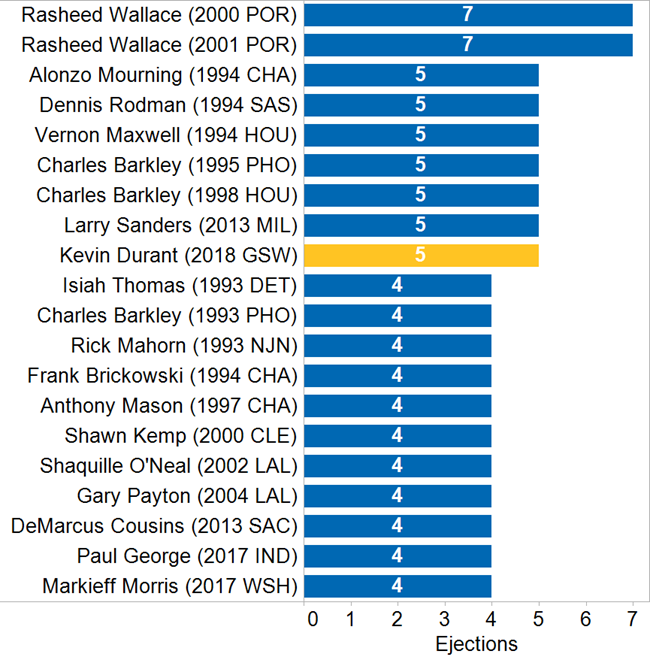 Durant's latest ejection came to close the first half. Others came later in decided games, including one in December for getting into it with DeMarcus Cousins.
Anthony Slater of The Athletic then:
Durant:
Every time I got ejected, I make sure it's late in the game. I'm not messing up like that in the first or second quarter. I make sure it's late in the game if I want to do something, but I've got to be more focused than that, I've got to be more poised. I can't let anybody take me off my game. I've been in the league too long.
Is it troubling Durant, so eager to play after injury sidelined him, got ejected earlier last night? He insists this issue won't linger into the playoffs.
Slater:
I tend to believe him. He was so locked in during last year's playoffs. He knows how to shift gears.
But he also didn't spend last regular season developing the habit of lashing out whenever he dislikes calls. And it's easier to dial in when he was chasing his first championship.
So, becoming more cordial with referees in the postseason might not be as easy as he expects.