Los Angeles – When LeBron James became the youngest-ever NBA All-Star MVP in 2006, he said during the trophy presentation: "I'd like to thank the fans for voting me in as a starter."
Twelve years later, he sounds similar, maybe just a little more thoughtful: "It's always been my fans who voted me in. For 14 straight years, my fans have voted me in as an All-Star starter, and it's been up to me to go out and let them know and show them, listen, I appreciate that, and here's what I'm going to give to you every time you vote me in."
He plays similarly, too.
LeBron again won All-Star MVP, leading his team to a 148-145 victory Sunday. He finished with 29 points, 10 rebounds and eight assists.
"Every night I step on the floor, I have to lead my guys or prove to myself that I'm still able to play at a high level," said LeBron, 33. "I feel great."
The 12-year gap between LeBron's first and last All-Star MVP – he also won in 2008 – is the longest in NBA history. It tops the 10 years between Michael Jordan's first (1988) and last (1998).
Here's the difference between the first and last All-Star MVP for every multi-time winner: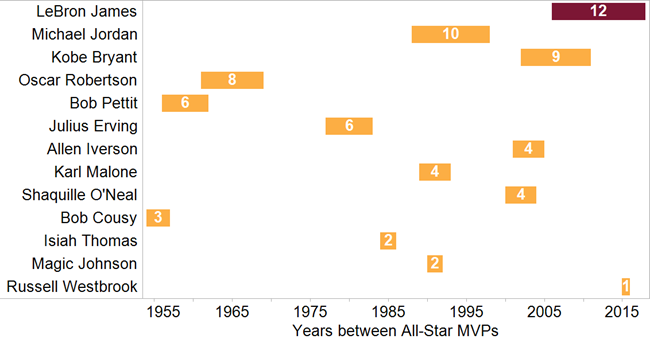 Players' effort in this exhibition game comes and goes, but LeBron appeared invigorated .
When LeBron's team trailed by 15 in the second quarter, he checked in and quickly led it back into the lead. When his team fell behind by 13 midway through the fourth quarter, he again led a spirited comeback. He hit the go-ahead bucket.
Despite playing a game-high 31 minutes, his intensity lasted all the way through the final buzzer.
His coach, the Raptors' Dwane Casey, said he asked LeBron whether to foul or defend on the final possession while up three. LeBron said defend.
"If he says that, or any great players say that, you want to go with them because it was their idea, their belief, and he had it," Casey said. "…He got the guys jacked up and juiced up as far as wanting to get a stop."
LeBron and Kevin Durant swarmed Stephen Curry, who couldn't shoot and could barely pass. Curry's team didn't even get a shot off:
"As you can hear in my voice, that tells how competitive it was," LeBron said scratchily.
Again, his message echoed 2006: "We're competitors, and our competitive nature kicked in and said let's get some defensive stops."
A lot will get made about the format change, and it might have mattered.
But maybe LeBron is just uniquely capable of embracing and dominating this stage all these years later.