As Jared Dudley pointed out, the Suns are getting disrespected, because they're playing like a team that doesn't deserve respect.
Phoenix lost games by 48 and 42 points in the first four days of its season. But the Suns fired Earl Watson, promoted Jay Triano and traded Eric Bledsoe. Phoenix got more competitive and appeared to leave its biggest troubles behind. Losing by 48 to the Spurs last week could have just been an anomaly, the type of thing that randomly happens to ordinarily bad teams.
But a 46-point loss to the Warriors last night fuels a different perception: The Suns are historically prone to getting crushed. Not only are they bad, they fold in uncompetitive games, allowing the margin to soar.
Phoenix has already lost four games by more than 40 points this season. That's unsurpassed, and it's not even the All-Star break. As the Suns tank to the finish, the next couple months could get even uglier.
Here are the teams to lose the most games by more than 40 points in a season, with their record and margin of those losses: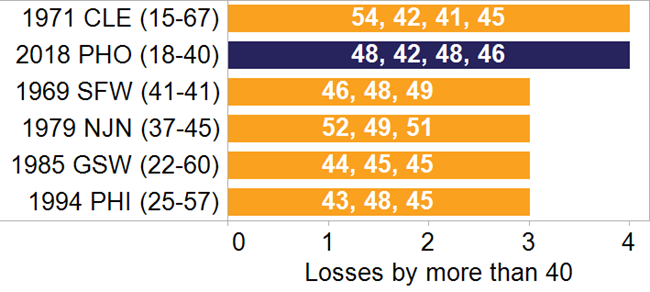 The 1969 San Francisco Warriors and 1979 New Jersey Nets made the playoffs. I wouldn't count on that for Phoenix.