Lonzo Ball's shooting woes this season have been well chronicled. Maybe even beaten to death — but when your father is a hype man, and Magic Johnson says you're the "face of the franchise" it invites a whole new level of scrutiny. Doesn't matter if it's fair, it's reality.
Rather than a cold recitation of the numbers, a look at Ball's shot chart for the season says a 1,000 words worth.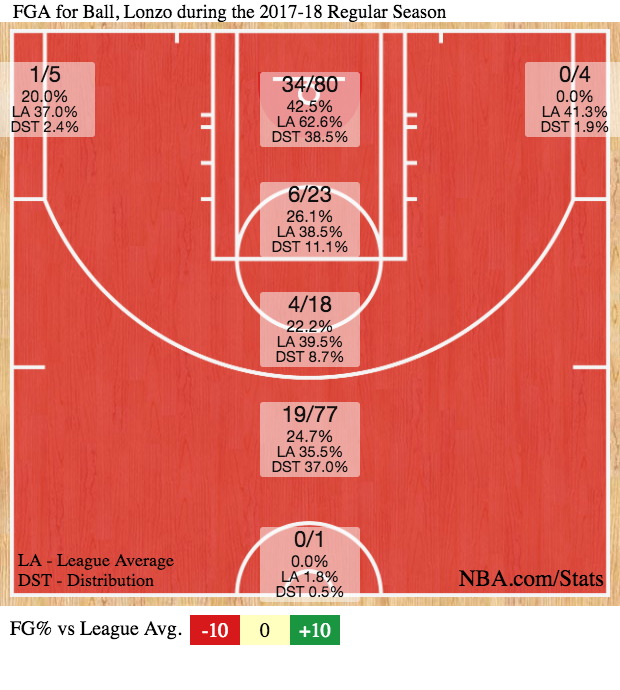 Ball has admitted frustration but has said throughout he expects things to turn. He reiterated that in an interview on the Mason and Ireland Show on ESPN LA Radio. He likes the looks he's getting, thinks they will start to go down. (Hat tip Lakers' Nation.)
"I'm just missing shots. I definitely like the looks I'm getting. Most of them are wide open, people are going under screens. I feel like they're going to fall. Just have to keep shooting and shooting with confidence."
Ball is right. He is shooting 28.2 percent on shots where the defender is 4-6 feet away (22.9 percent from three on those), and 21.3 percent when the defender is 6 or more feet away (19.1 percent from three).
Those shots may start to fall — Luke Walton has preached the same thing to Ball, just keep shooting and it will come around. Right now Ball is in his own head about this, maybe guiding the shots rather than just firing away, but the Lakers aren't going to rebuild his shot mid-season. He should just keep shooting.
Maybe of more concern is that 42.5 percent in the restricted area — if he isn't a decent scoring threat on drives, it will hamper his entire passing game. He's a rookie, he needs time to adjust to the speed, length, and physicality of the NBA, it's far too early to say what he is and isn't yet. But those finishing numbers are ones to watch.