When Gordon Hayward went down just 5:15 into the season, one of the themes that came up was that the door had opened for the Wizards to make the Eastern Conference Finals and challenge the Cavaliers. (Turns out the Celtics are just fine, and the Cavaliers are the ones with pressing questions.)
However, the Wizards are 5-5 to start the season, they have an unimpressive defense that is 20th in the league, and they have lost to Dallas, Phoenix, and the Los Angeles Lakers.
You could say the Wizards look nothing like a contender. Or, you could be far more colorful and direct, as Marcin Gortat was talking to NBC Sports Washington.
"Sorry for my language, but we are in a s***hole. We've gotta get out of that hole and start to win some games," he said. "We've gotta show up, show up at the game as NBA players who want to compete and play hard every possession. Take pride in what we do. That's the most important thing…

"This is super disrespectful. Bottom-line, I feel embarrassed for those games," Gortat said. "We definitely owe a huge apology to our fans for our performance. That's not who we are and that's not who we want to be in the future."
He's right. After the loss to the Lakers a couple of weeks back, Bradley Beal was honest and said Washington did not take Los Angeles seriously, and it cost them. That has been true other nights this season as well.
Maybe the Wizards need Scott Brooks to go Durham Bulls' manager to burst into the showers postgame.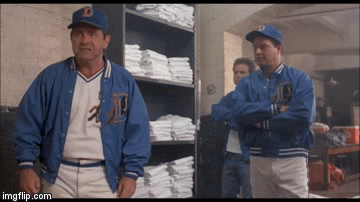 Beal and John Wall also talked before the Wizards took on the Cavaliers, about how they think they can play with and beat the team that has dominated the East the last three years. LeBron James then went out and dropped 57 points on them and handed Washington another loss.
Here's the thing: LeBron brings it nightly. He has another gear he saves for the playoffs (or specific nights, or even possessions, during the season), but the man is averaging 28.9 points on 58.9 percent shooting, 9.1 assists, and 7.5 rebounds a night this season. For going on 15 seasons, LeBron has had guys targeting him and going at him every game, and he rises up to that — he is mentally tough. The Cavs are stumbling to start the season, but that's not on LeBron (mostly, anyway).
Can you say that about the Wizards? Gortat has your answer right now.