DETROIT – Giannis Antetokounmpo expected to be a 3-and-D player when he came to the NBA. Though outside shooting is now known as his weakness, he attempted 28% of his shots from beyond the arc as a rookie.
Then, the Bucks hired Jason Kidd.
"Coach Kidd came and told me to not shoot," Antetokounmpo said. "He did. He told me to not shoot. 'If you shoot, I'll take you out.'"
In his first season under Kidd, Antetokounmpo had his 3-point rate plummet under 6%. Forced to contribute other ways, Antetokounmpo started going inside more. The next year, he became a more involved passer. In his fourth season, he won Most Improved Player.
Now, Antetokounmpo is bursting out (again) with a game unlike anything we've ever seen.
Antetokounmpo is the poster child for futuristic position-less basketball. Basketball-Reference lists his position as "Shooting Guard and Power Forward and Point Guard and Small Forward." The only traditional position missing: center.
Yet – despite being listed at 6-foot-11, 222 pounds – the slender Antetokounmpo is scoring inside like an old-school center. He's averaging 19.6 points in the paint per game. Here's the leaderboard for points in the paint since 1997 (as far back as NBA.com records go):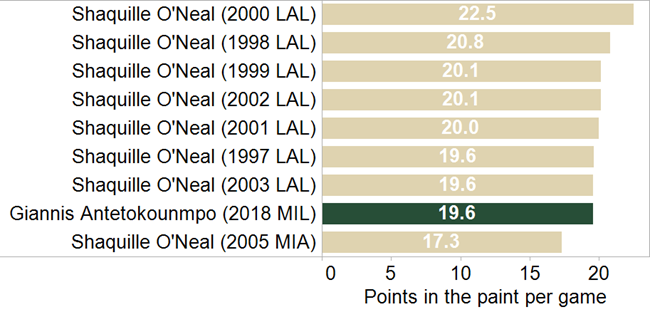 Antetokounmpo is a terror in transition – quick with long strides. He gets to the rim faster than Shaq ever did, but the Milwaukee star still spends more than his fair share of time bumping with behemoths inside. His footwork has advanced, and his length is a weapon for getting off shots from atypical angles.
"He goes and gets to his strength no matter what his opponent is trying to do," Kidd said. "He understands what he has to do. And he's been the one that has hit first."
Antetokounmpo didn't realize how physically taxing this style would be, but as usual, he's listening to his coach.
"It's hard," Antetokounmpo said. "It gets harder every night, because every night, they bump you, they hit you. But that's what I do. I've got to keep doing it."
Burlier players Dwight Howard, Karl-Anthony Towns, Al Jefferson and Amar'e Stoudemire are the only others besides Shaq to record more than even 14 points per game in the paint over a full season. (LeBron James and Anthony Davis are also on pace this season).
Antetokounmpo separates himself with his passing ability. Double-team him, and he has the vision to swing the ball to an open teammate. The Bucks have become accustomed to making the next play – not just an open jumper, but a drive or pass – against a scrambled defense.
Now, they just traded for Eric Bledsoe, who should only help – both when Antetokounmpo plays and when he rests. Milwaukee plays at a 43-win pace with Antetokounmpo on the floor and an 8-win pace without him. If Bledsoe boosts that latter mark, it'd go a long way toward the Bucks (4-5) making the playoffs and Antetokounmpo winning MVP.
Antetokounmpo has put himself firmly in the conversation. His 31.0 points per game lead the league, and his 9.9 rebounds, 5.0 assists, 1.7 steals and 1.4 blocks are eye-popping. His combination of load (34.1% usage) and efficiency (64.3% true shooting) is unprecedented.
He might even be the MVP front-runner. If he maintains these incredible marks – not to be assumed, given we're dealing with a small sample size early – he might just need the Bucks to win enough to claim the award.
Antetokounmpo is also in the running for another honor: Most Improved Player.
Even after winning last year, Antetokounmpo has vaulted his play to another level. Though his all-around game deserves plaudits, many postseason honors become one-dimensional – and Antetokounmpo has that dimension covered. His scoring average has increased by 8.1 (from 22.9 to 31.0), one of the biggest improvements in the league:

Most Improved Player winners have never placed higher than 12th in a future season (1990 winner Rony Seikaly in 1997 with a single vote). Though he's a longshot to win with Kristaps Porzingis looking like the early favorite, Antetokounmpo has a chance to best Seikaly's finish.
That'd be nice recognition for someone who has put in so much work to get stronger, smarter and more skilled. Though still thin, Antetokounmpo never could've handled playing in the paint so much as the beanpole who entered the NBA. His ability to read defenses has taken his passing ability from a nice tool to a feared weapon. He has also improved his free-throw and jump shooting, keeping defenses honest.
Yes, his hands are huge. Yes, his strides are unbelievably long. Yes, his natural fluidity is downright unfair.
But his nickname – Greek Freak – sells him short. Antetokounmpo earned this.
Of course, any implied slight, intentional or not, from his nickname doesn't bother him. He shakes it off like a defender in the paint.
"A lot of it could be called freakish, the things I do on the court. I might take a dribble from the halfcourt and finish and stuff like that," Antetokounmpo said. "But, at the end of the day, I know I'm a smart player."