Every day in the NBA there is a lot to unpack, so every weekday morning throughout the season we will give you the three things you need to know from the last 24 hours in the NBA. Sunday was so busy we're not even going to get to the ridiculous Carmelo Anthony ejection Sunday night (can't wait for the Two-Minute Report on that one).
1) Things that matter far more than basketball. We're going to keep talking NBA hoops here, because that's what we do (and that's why you're reading this), but in the wake of the devastating shooting near San Antonio that left 26 dead, Spurs' coach Gregg Popovich summed it up well.
Pau Gasol and LaMarcus Aldridge Tweeted about it.
Then after the game, Gasol got a little more political and spoke for much of the world, which finds the American gun culture incomprehensible.
"I mean, to me it's gotten out of control," Gasol said. "The situation, the laws, the gun regulations, they need to be addressed. It's anywhere — concerts, schools, churches, kids. I mean, it's devastating. But it's a reality that needs to be addressed. I'm unaware of how or the powers behind the gun laws and gun organizations in this country, but you need to protect the innocent. It's happened down the road. It could have happened to any of us. It could happen in the supermarket next time. It could happen anywhere. It's gotten to a point that it's really worrisome. Really worrisome."
Amen.
2) James Harden has one of his best games ever. And that's saying something. Harden is coming off an MVP-caliber campaign, and even in that context what he did Sunday night was a stunning and impressive display of basketball — 56 points on 25 shots, plus 13 assists. He scored or assisted on 91 points in the game.
According to ESPN, Harden is the first player to hit at least 75 percent of shots in 50 point game since some guy named Michael Jordan back in 1996. What put Harden over the top was the 7-of-8 shooting on above the break threes (he was shooting 45.3 percent on those coming into this game). Then again, look at this shot chart, he was hitting from everywhere.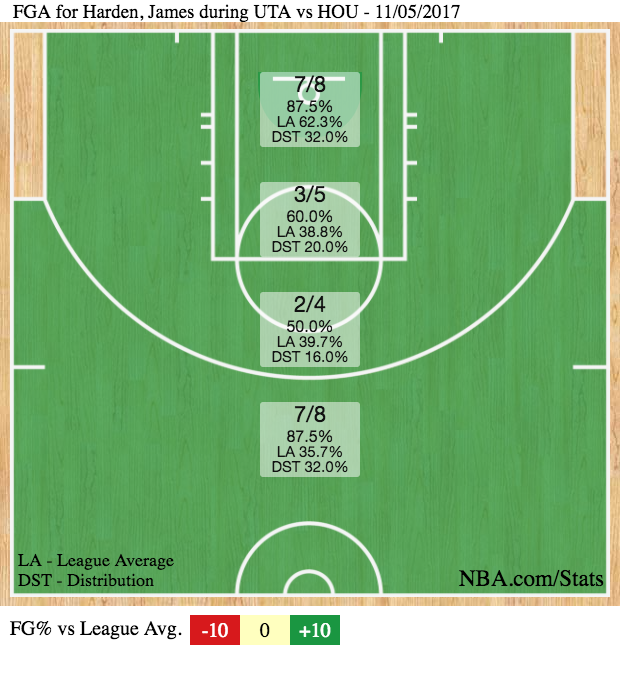 3) Kristaps Porzingis drops career-high 40 points, leads Knicks to win. The Knicks are an above-.500 basketball team nine games into the season and there is one reason — Kristaps Porzingis.
KP has taken a big step forward this season is second in the NBA averaging 30.2 points per game. He took it to a new level Sunday with what he did  Madison Square Garden — he scored 24 of his career-high 40 points in the final frame, plus he blocked shots (six on the night), he pulled down rebounds, and he assisted on the go-ahead three-pointer by Frank Ntilikina with less than two minutes left.