DETROIT – Taj Gibson is experiencing déjà vu – to a point.
Gibson played for the Bulls in 2010 when they hired Tom Thibodeau, who exhaustively drilled his trademark defense with his players. Now with the Timberwolves – who hired Thibodeau as president/coach last year – Gibson said Thibodeau is scheming and teaching his defense similarly.
But the results have been radically different.
Chicago ranked No. 1 in points allowed per possession Thibodeau's first season then second, sixth and second before slipping to a still-above-average 11th his final year. Minnesota ranked 27th last season and is not only dead last this season, but is allowing the most points per possession of all time by a wide margin.
"The only thing about Chicago, we just did what he told us to do – every game," said Gibson, whom the Timberwolves signed last summer to provide defense and toughness. "If he said A to Z, we did A to Z every single game. And in practice, we did A to Z.
"That's the only thing we're trying to work out here now, have us work on things from A to Z. And sometimes you don't want to do it, but you're going to have to do it if you want to be successful in this league."
Gibson didn't pinpoint why the Timberwolves didn't follow Thibodeau's game plans as well as the Bulls did. Minnesota's roster is less experienced and maybe lacking the defensive capabilities of Chicago's. Joakim Noah won Defensive Player of the Year and Luol Deng and Jimmy Butler also made All-Defensive teams for Thibodeau's Bulls. Gibson and Omer Asik were no slouches on that end, either. The only Timberwolves with notable defensive accomplishments are… Butler and Gibson.
And Thibodeau.
Thibodeau was expected to immediately overhaul the Timberwolves – install an impenetrable defense and lift them into playoff contention. He was an overnight success in Chicago, winning Coach of the Year and guiding the Bulls to 62 wins and the conference finals his fist season. Why couldn't he duplicate that speedy ascension in Minnesota?
His first year there was bumpy, to say the least. The Timberwolves went 31-51 and finished 27th in points allowed per possession.
The common reaction: Pundits, in hindsight, probably overrated Thibodeau's ability to instantly transform a moribund franchise. The failure to meet expectations was seen as a failure of those setting the expectations, not Thibodeau. Give him another year, and everything would turn out alright – especially once he acquired Butler.
Yet… everything is not alright. Not even close.
Minnesota (2-3) is allowing 114.0 points per 100 possessions, per NBA.com. No other team is close: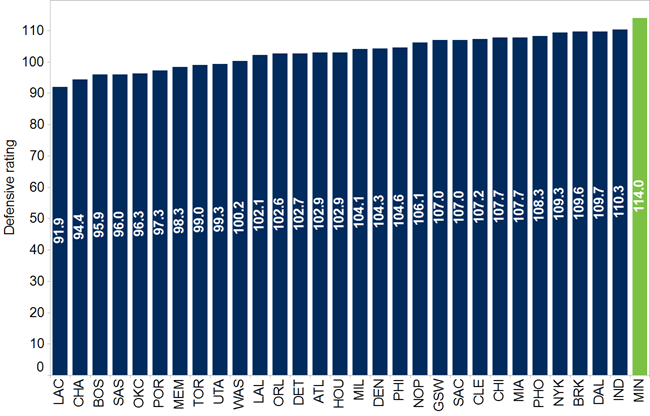 Five games are a small sample, but it's not as if the Timberwolves have faced a murders' row of offenses. They've played the Kawhi Leonard-less Spurs, Jazz, still-figuring-it-out Thunder, Pacers and Pacers.
"We've got to be better," Minnesota center Karl-Anthony Towns said. "It's only five games in. We have a lot more time. But we don't have that much time. It's too damn much. We've got to be better."
The Timberwolves were missing Butler (illness) for their worst two defensive performances of the season, Indiana and Detroit. When he returns, that will patch some problems. Not only is he the Timberwolves' best defender, the strong wing unlocks small-ball lineups that allow Minnesota to handle more matchups.
At power forward, the 32-year-old Gibson sometimes looks too slow to handle smaller stretch fours. Butler was a masterful addition, but with a two-year, $28 million contract, Gibson is an expensive band-aid. Despite Gibson's deficiencies, Thibodeau wanted the big's reliability.
The real problem: Thibodeau can't find that elsewhere – especially his franchise cornerstone younger players, Towns and Andrew Wiggins.
Towns is a mobile 7-footer with ideal physical tools and improving defensive effort. Yet, his awareness lags far behind, as this play clipped by Dane Moore of Zone Coverage illustrates:
Like Towns, Wiggins, entered the NBA with high defensive expectations. Rangy and quick, Wiggins looked like he could hawk opposing wings. Instead, he has turned into a score-first player with limited complementary skills. He's not nearly aggressive enough defensively even to tell whether he gets it.
The Timberwolves are lucky they fleeced the Bulls for Butler, because he covers what would have been major growing pains around Towns and Wiggins (and Zach LaVine, another minus defender). Minnesota has allowed an astounding 134.0 points per 100 possessions when Towns and Wiggins share the court without Butler.
"You need everyone committed to playing defense," Thibodeau said. "It can't be left upon one or two guys.
"If one guy is resting or taking it easy, it's going to make the whole group look bad. I think that we still have to have an understanding of how hard we have to play and how hard we have to close out and challenge shots and get in the fight to rebound and things like that."
Minnesota has been torched in transition, not getting back quickly enough and losing track of opposing players. The Timberwolves surrender steals only slightly more than average. Sometimes, they crash the offensive glass too hard, but they're only middling at actually securing offensive rebounds. So, there's no good excuse for getting beat down court as often as they are.
It hasn't been much better in the halfcourt, where they're slow to close out and plagued by miscommunication and poor angles against screens and handoffs.
"We're better, but making mistakes that we made last year," Towns said. "So, we've got to fix it."