LOS ANGELES — Hollywood is built on hype. The Lakers know hype like no other NBA franchise.
Lonzo Ball has been at the heart of the Lakers' hype factory summer, and it had been working overtime. From being drafted No. 2, through selling out Summer League games in Las Vegas and winning that league's MVP, through selling out meaningless preseason games the Lonzo hype in Los Angeles had reached epic proportions.
Thursday night it met reality.
Reality in the form of the Clippers' Patrick Beverley being in his face from the opening tip, giving him no space or quarter. Reality in the form of Clippers defenders cutting off most of his look-ahead options in transition (although Ball had a few). Reality in the form of his shot not falling — he was 1-of-6 — and reality in the form of his teammates missing when Ball did make a good pass.
Reality in terms of a 108-92 loss where the Lakers were not competitive with Blake Griffin and the guys they share the building with.
"We got blown out, so I didn't play too well," Ball said.
"I just had to set the tone," Beverley said of his physical play from the start. "I told him after the game, due to all the riffraff his dad brings he's going to get a lot of people coming at him. He's got to be ready for that, and I let him know after the game…
"(I had to) welcome his little young a** to the NBA."
That's cold — and it's far kinder than what he yelled outside the Rockets' locker room after the game.
Thanks to a combination of his father, his game, and the yearning of Lakers' nation to have their next superstar, Ball entered the game with ridiculous amounts of hype — and unrealistic expectations. Magic Johnson was a national champion and a No. 1 pick when he first came to the Lakers, and he said there was far less hype around him.
"It wasn't even close to this," Johnson said pregame. "You didn't have social media, you didn't have talk shows like this….
"I was known, like he's known, you know that whole high pick (thing). And the NBA played it up like they're playing it up now. But it wasn't even close to this. From the social media standpoint, and ESPN and Fox Sports and all if it, this is so much bigger than I can ever imagine. And then I wasn't from here. This young man is from here, he wanted to be a Laker."
Magic also won his first game (then ran over and hugged a surprised Kareem Abdul-Jabbar).
Lonzo's Lakers got thumped.
Ball finished the night 1-of-6 from the floor, his one basket a three-pointer in the middle of the second quarter. Ball sat the fourth quarter of the blowout. In half court, Clippers defenders were playing off Ball and daring him to shoot. He couldn't drive around Austin Rivers a couple times in isolation. Ball did pull down nine rebounds, and he had four assists — he could have had more, but his teammates were missing. The Lakers were 11-of-42 outside the paint and desperately missedKentavious Caldwell-Pope's outside shooting and floor spacing (he is suspended the first two games of the season due to a DUI). Look at the Lakers' shot chart.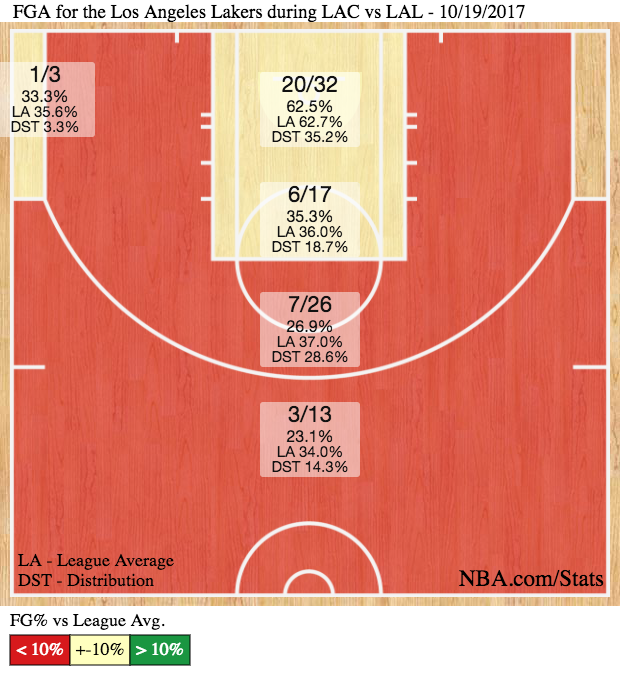 The problem with the young Lakers is those missed shots on offense got into their head on defense and they didn't give the same effort on that end. It showed. Blake Griffin finished with 29 points on 23 shots, was 3-of-6 from beyond the arc, and had 12 boards in an impressive performance. DeAndre Jordan had 14 points and 24 rebounds, and Danilo Gallinari had 11.
It was a good win for a Clippers team with playoff aspirations. They played hard, meshed well for a lot of new faces, and played pretty good defense for stretches.
After it was over, the Lakers chalked it up as a learning experience. They will have a lot of those this season.
"It was good for (Lonzo)," Lakers coach Luke Walton said of the rough first night. "Beverley is as good as anyone, if not the best, at the point guard position of getting into other people and getting under their skin. I thought Zo kept his composure."
He needs to keep his composure because the hype and pressure aren't going away. Not in Los Angeles. Not with Lakers fans, who consider contending for a title their birthright.
"That's what happens when you play in L.A.," Ball said. "Everybody expects you to do well, and if you don't they'll get somebody else to do it…
"The good thing about the NBA is we have 81 more (games). We're 0-1. It's only one loss, tomorrow we can bounce back."
The good news for Ball is the defense he faces should be a little softer Friday night against the Suns.