The NBC/ProBasketballTalk season previews will ask the questions each of the 30 NBA teams must answer to make their season a success. We are looking at one team a day until the start of the season, and it begins with a look back at the team's offseason moves.
Last Season: 28-54, most wins in four years
I know what you did last summer: The 76ers cashed in some of their immense assets, extra draft picks and cap space. They traded up for the No. 1 pick to get Markelle Fultz and signed J.J. Redick ($23 million) and Amir Johnson ($11 million) to one-year contracts.
THREE QUESTIONS THE 76ERS MUST ANSWER:
1) Will Joel Embiid stay healthy? The 76ers found their first sliver of success in years around Embiid. Of the 45 players to play at least 250 minutes for Philadelphia in the last five years, Embiid is the only one with a positive plus-minus: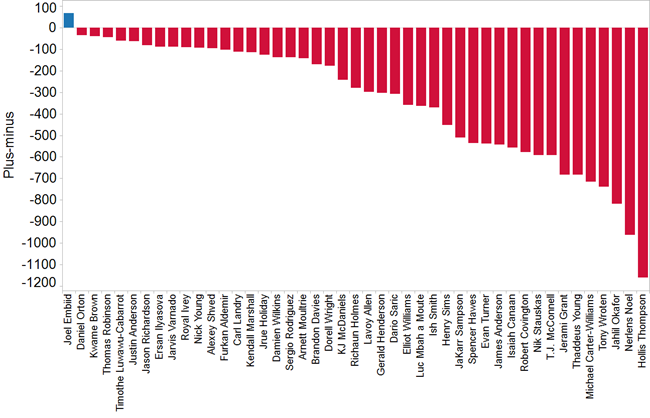 Embiid looked like a star when on the court. He was the best defensive rookie in years, and he was relentless on offense with his inside-outside game.
Of course he played just 25.4 minutes per game in only 31 contests last season, his first on the court after sitting his first two professional seasons due to injury. His injuries issues clearly aren't completely behind him.
There's a direct link between his health and Philadelphia's chances of making the playoffs. It's the team's biggest variable, but it also leads to a smaller one…
2) How will the 76ers handle Embiid-less time? Not only did Embiid miss most of Philadelphia's games last season, he played just about half the minutes in the ones he played.
There's going to be a lot of time the 76ers must manage without him on the court. The better they do that, the more margin for error they'll have for him missing games/having a minute limit.
They have enough centers to throw at the problem – Richaun Holmes, Jahlil Okafor, Amir Johnson. The key will be improved production from perimeter players, who'll be tasked with greater roles when is Embiid is out.
Redick will help with his floor spacing, and Robert Covington's 3-point shooting regressing to his mean after a down year would compound the effects. But Philadelphia really needs at least one of its younger players like Dario Saric, Nik Stauskas, T.J. McConnell, Justin Anderson and Timothe Luwawu-Cabarrot to step up.
3) Is Philadelphia's rookie starting point guard ready to win? Whether it's Markelle Fultz or Ben Simmons, the 76ers will probably start a rookie point guard. Teams with rookie point guards usually struggle.
Maybe Fultz and Simmons can lean on each other, Simmons running the transition game and Fultz leading the half-court offense. Together, they might not face as large a burden as one rookie point guard would alone.
But neither Fultz nor Simmons is experienced in the nuances of NBA play, and while it's generally fine for them to learn through their mistakes, Philadelphia is trying to make the playoffs this season.
T.J. McConnell is a nice safety blanket, but his upside is limited. It's clearly better for the 76ers if they can get Fultz and/or Simmons going – particularly if they don't have to balance present-vs.-future with that choice.